Todd Solondz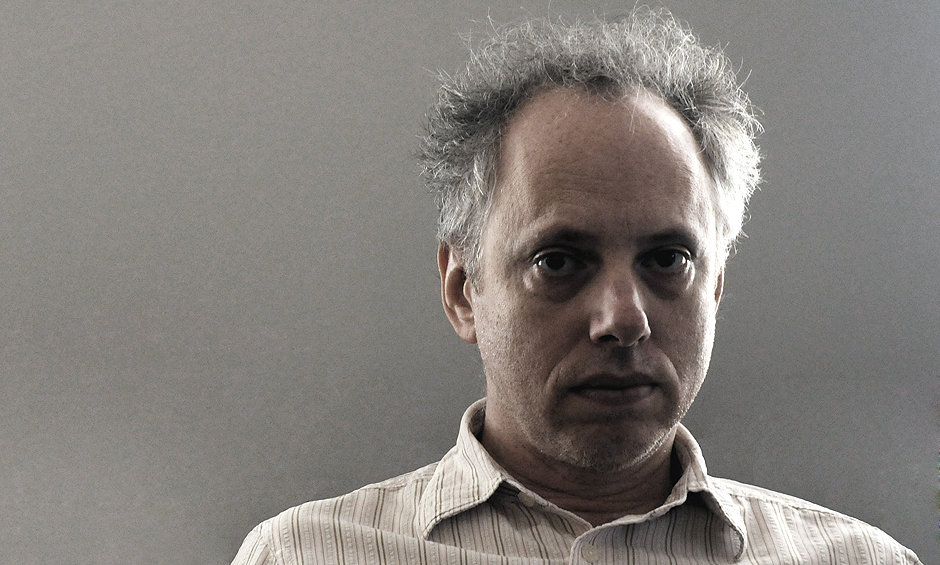 CHRIS NEUMER: Yup, the last interview we did was 10 years ago… and by phone.
TODD SOLONDZ: Wow.
CHRIS NEUMER: I realized that I don't think I've ever seen you smile either.  So I was looking forward to that too. …
CHRIS NEUMER: Yup, the last interview we did was 10 years ago… and by phone.
TODD SOLONDZ: Wow.
CHRIS NEUMER: I realized that I don't think I've ever seen you smile either.  So I was looking forward to that too. 
TODD SOLONDZ: I never smile?
CHRIS NEUMER: In all the pictures I see, you're very stoic.
TODD SOLONDZ: (smiles naturally) Yeah.
CHRIS NEUMER: It's good you got that in here now, because if by the end of the interview I hadn't seen a smile, I was going to have to tickle you or something and that would just have been awkward.
TODD SOLONDZ: I didn't realize that—maybe people want me to smile and then it doesn't feel very natural.
CHRIS NEUMER: I can see that.  I saw Dark Horse recently and I enjoyed it.  I've always enjoyed your films though, so that's not anything new.  I was really interested in talking to you because, as I was doing research on you, I noticed that no one ever talks to you about anything outside of this one very focused slice of pie.  Where do your ideas come from?  How do you deal with the characters?  You're very fond of saying, "How do you know where writing comes from?"  I thought, "I would love to see a reality series of Todd going about his day-to-day life, going to 7-11, CVS, eating dinner."  To me, that would be interesting because it's a perspective on you that I never, ever see.
TODD SOLONDZ: I'm afraid that it would be very disappointing.  I don't think the ratings would be high since I don't think the day-to-day element of my life is any more compelling than most people's.
CHRIS NEUMER: But the new perspective would be compelling.  That's what I was struck by.  I've done hundreds upon hundreds of interviews while publishing the magazine and I don't think I've ever asked anyone any personal questions; you know, things about who they're dating etc.  I contemplated doing that with you because the only view that America has of you is through your films.
TODD SOLONDZ: That's right!
CHRIS NEUMER: For some reason, I found that fascinating.
TODD SOLONDZ: But, I think for most people what matters is the work itself.  My day-to-day life—in a sense that might only complicate things and not in a good way.  The understanding of what I do.  I do think that the work has to speak for itself ultimately.  Whether I've had a particularly cush sort of life or troubled sort of life is ultimately beside the point; everyone has their troubles.  I don't think mine are any more terrible than another person's troubles.  It's just the way you look at these things.  So, people don't tend to ask me personal questions, but then, why should they?  We'd have to know each other a little better before you get a better sense of my life outside of my work.
CHRIS NEUMER: If you read any interview with Reese Witherspoon she is constantly being asked about her life, her children, who she's dating—
TODD SOLONDZ: But she's a movie star, I'm a director.
CHRIS NEUMER: Something is known about Spielberg, but he is large.  I don't even know that there's a question in my original statement.  I just found it interesting.
TODD SOLONDZ: I don't know.  I don't know what to tell you!  (laughs)
CHRIS NEUMER: Let me ask you this then: do you think that people having extra and different perspective on your life could bring new light and insight into your work?
TODD SOLONDZ: It's possible, of course.  They have all sorts of biographies of people that weave together the facts of their life and the way it forms and shapes the work that they produce.  I suppose if I were working with a biographer that would be different, but you're not trying to write a biography on me!
CHRIS NEUMER: (laughs)
TODD SOLONDZ:  It seems—the wisest tact is to just focus on the work and see what one gets or doesn't get from it or the way in which one engages or responds to what happens on screen.  The mess of my life, so to speak—people are always saying, presuming, asking if my work is autobiographical.  And I always say that it is entirely… even if none of it actually happened.  What I mean by that is that there is a sensibility that's reflected in what I did.
CHRIS NEUMER: It's colored by your experiences.
TODD SOLONDZ: Of course, it's all filtered through a certain perspective.  That's—for better or worse—what defines me as a filmmaker.  But it's always a little bit of a slippery slope when people try to get literal about these things because everything is kind of smoke and mirrors.  There's a slight of hand.  Once you start saying that's Todd and that's what he thinks, you get into a bit of trouble.  You get into trouble if you start making certain assumptions.  I'm all there, but maybe not in the way that it might seem.
CHRIS NEUMER: It's funny you mention the presumptions.  In your work and the characters in your work act almost as a Rorschach test for the people watching it.  Probably most notably Bill the pedophile in Happiness.  People come up to you and say, "That was hysterical!" "He was awful!"  "He was sympathetic!"  The thing that struck me about it was that no matter what people come to you with, you never say, "Yes, that's true, that's what I was going for."  You always say something like, "That's a great interpretation, but there's this other side too!"
TODD SOLONDZ: It's interesting, even on the poster they put up here [for Dark Horse], they put some blurbs on it and one of the blurbs is about how brutally funny and acidic and cruel the movie is and another critic is about how gentle and endearing it is.  Which is correct?  You have my sensibility, but each member of the audience has his own interaction with what he sees.  It's as telling about me as it is with the audience engaging.  The work is always fraught with ambiguity, that's a price I suppose I pay, and it makes it a little charged for me.  The response may not always be what I hope for but sometimes people surprise me with their responses in a way that is very gratifying.
CHRIS NEUMER: Has your perspective on the work that you've done changed over time?  The things you were saying about how you looked at your films—that they were fraught with ambiguity—and how you wanted people to respond to them, seemingly hasn't changed since we last spoke… ten years ago.  You got it!  You got your position early!  I think about what I was doing ten years ago and cringe.
TODD SOLONDZ: I don't know.  I don't have control over how people will respond.  I'm happy with the movie, I put it out, will they embrace it?  Will they run away from it?  I don't know.  I never do.  It's always a mystery to me.  Things I assume people will get without any trouble can, I discover, be very troubling or confusing.
CHRIS NEUMER: Is there anything specific you have in mind when you say that?
TODD SOLONDZ:  You know, I suppose with this movie, I use a lot of dream/fantasy material in the story that is woven in.  I didn't think too much of it.  I didn't think it was so out there or radical, but some people found it a little bit confusing in ways I didn't anticipate.  For some it pulls them out.  For me, I feel closer.  It starts out almost as if it was a Judd Apatow movie.  Some people feel cheated or robbed because they wanted it to be that movie and it's not.  Others feel impatient because of the Judd Apatow section and finally finds itself when it gets into the more surreal aspects of the story.  The audience is somewhat at odds with each other there.  I can't please everybody, you know.
CHRIS NEUMER: I found this out about seven years ago: I stopped asking questions in interviews that I thought people would want to read about and started asking questions that I was interested in knowing the answers to.  As soon as I did that, I felt very free!  I lost my corporate overlords, so to speak.
TODD SOLONDZ: You're always going to get at places that are more interesting if you are pursuing what you yourself are compelled by not matter what your endeavors.
CHRIS NEUMER: I got a screener of the movie and I watched the opening shot 5-6 times.  I watched it and had a giant smile on my face.  Everything about it was brilliant.  It was long, complicated and choreography and acting!  When Selma Blair gives Abe the cold shoulder, she does about five different things.  I remember her last sigh was perfect.  I wanted to ask you specifically, was that something that you had envisioned like that?  Or was it something that you threw to her and let her take it away?
TODD SOLONDZ: I give her the credit.  We talked about what I wanted.  The danger—and I always let her know that she not be mean to him.  She might have had that impulse, but she had to restrain it.  So I think she was sensitive to that, to never be cruel to him.  That struggle makes it believable.
CHRIS NEUMER: True.  I thought the filmmaking of that scene was really well done.  I was hooked right there.  There aren't very many movies where I can literally say, "I was in from the first shot forward."
TODD SOLONDZ: Thank you.
CHRIS NEUMER: This was something else I noticed: there were a lot of little details in this film that gave it depth.  If you look over Abe's shoulder in one scene in his room, you see the box sets of Simpsons DVDs.  Was that something you wanted?  Or was that the production designer?
TODD SOLONDZ: The production designer and Jordan [who plays Abe] were both of the same generation and knew the references of growing up in the time of this character better than I did.  So I left it to them to—once we could see what was clearable—to see what would be most appropriate for this character.  I'm a little older so it's difference references for me.
CHRIS NEUMER: Do you have a sense of—if I was looking to wardrobe a character who was nebbish and loserly, I'd put him in a navy blue, hooded, zippered sweatshirt.  Metal zipper.  I've always associated that particular wardrobe choice with down-on-your-luck.  Were there any things in Dark Horse that you wanted to make sure to put it?
TODD SOLONDZ: Well, going to work dressed in a casual way is an act of hostility towards his father.  Yes.  It was no accident the way he was groomed.  It's not from lack of caring, it's an act of war.
CHRIS NEUMER: A passive-aggressive swipe.
TODD SOLONDZ: Yeah.
CHRIS NEUMER: Having worked with Selma before, did you find that you developed a short hand with her?  She 'got' what you were looking for and that it was easier this time?
TODD SOLONDZ: I can't say that it was easier.  I had a great time the first time working with her.  I loved working with her then and I loved working with her now.  I think she's super talented and she got the part.  She understood what I was trying to do.  She was always there for me.
CHRIS NEUMER: It just dawned on me that I don't think I've ever read you discuss any of the technical elements of your filmmaking with you either.  Are there any little things that you like to see—both of an actor or actress's eyes in camera if they're facing to the side—that you had conveyed to her previously that she picked up on for this project?
TODD SOLONDZ: I wouldn't get to technical really.  You want to be—you have to stand back and look and make sure that what the actor is doing feels truthful to the reality that you're setting up.  I never want to call attention to any cleverness.
CHRIS NEUMER: What do you mean by cleverness?
TODD SOLONDZ: Anything that feels show-offy.  Anything that feels self-conscious.  Anything that would get in the way of an audience engaging and immersing itself in the world that I'm setting up.  That's the last thing you want.  Something where it becomes, "Look at me!" or "Look at how clever this idea is!"  You want that all to be, the manipulations to all be invisible.
CHRIS NEUMER: You have a very laid back, relaxed approach about things.  I would love to not care about what other people think.  Most filmmakers that I'm aware of—and most of them do work with studios, which you generally don't—are very concerned about how everyone else interprets their work.  They want it to be seen in a very specific and certain light.  You are on the opposite end of that spectrum, it seems.
TODD SOLONDZ: I guess, look, I mean, I do have a weak character in the sense that I like it when people like the movie and I feel disappointed when they don't.  I wish I was impervious to people's responses, but I'm not.  That said, I have no control over these things—
CHRIS NEUMER: That's precisely the point!  I aspire to have no control over things and be able to, in turn, not worry about them.  My hat is off to you.
TODD SOLONDZ: I try to be zen!  But look, I feel I am incredibly fortunate that I've been able to make these movies, to get financing one way or another, to get these movies out there and these are movies I would like to see if I weren't a filmmaker, so I feel like I'm a very lucky person.
| | | | | | | | | | | | |
| --- | --- | --- | --- | --- | --- | --- | --- | --- | --- | --- | --- |
| Columns | Columns | Running Commentaries | Columns | The Ten Minute Guide | The Ten Minute Guide | Running Commentaries | Columns | Columns | Articles | Columns | |