Nora Zehetner Interview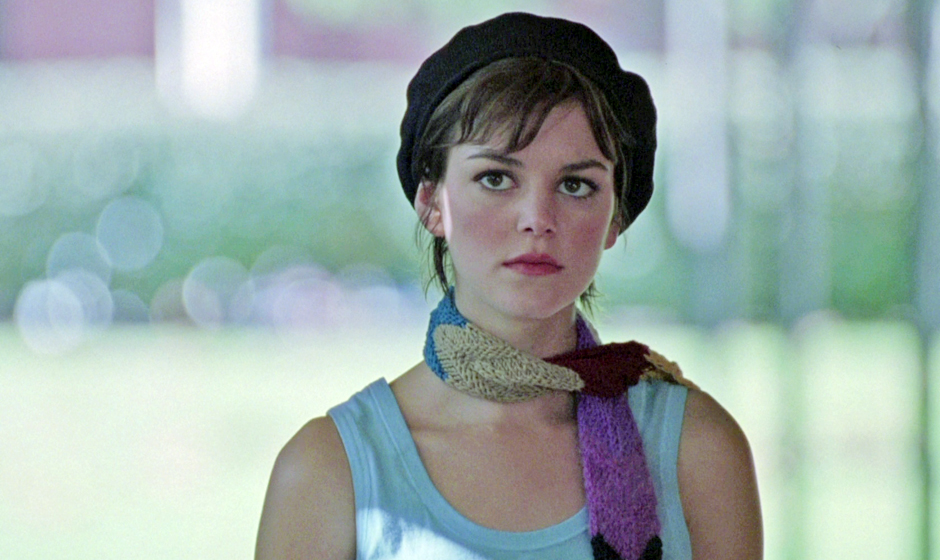 Being an actress is a most unusual job. Chris Neumer speaks to up-and-coming actress Nora Zehetner to get the skinny on her career path. Neumer and Zehetner get into the awful nature of auditioning, why reporters shouldn't wear sweatpants and whether Natalie Portman looks hot with very short hair.
CHRIS NEUMER: Is this your cell phone? It sounded like I was calling 1970's Britain from the ring.
NORA ZEHETNER: Really?
CHRIS NEUMER: It was weird. It did the double ring.
NORA ZEHETNER: How strange!
CHRIS NEUMER: There's also the ring that trails off at the end. My brother's phone has that sometimes. It freaks me out, I'm not sure why. You ready to talk?
NORA ZEHETNER: I am. I'm going to go outside because it's a nice day out.
CHRIS NEUMER: So we've got all sorts of things to talk about. Long hair vs. short hair, living in LA vs. New York and how you deal with the panoply of annoyances that come up. And helping nothing is the fact that, from what I've learned so far, I'd be the worst actor ever.
NORA ZEHETNER: What do you mean?
CHRIS NEUMER: I was on some message boards looking at some stuff on you during the last week and I thought, "I'd be the worst actor ever." I'd read all this stuff about myself and then just get angry and then I'd go after people.
NORA ZEHETNER: (laughs) Oh, so you stumbled across a mean message board.
CHRIS NEUMER: Are there any other kind? Some people were like, "Nora is so cute and charming," and then others were like, "What is she thinking wearing this dress? Who is she?" How do you deal with this?
NORA ZEHETNER: (laughs) I try not to look! That's not to say that I don't ever, or haven't ever, but it's best not to look. If you're feeling fragile, it makes you want to cry.
CHRIS NEUMER: Yes, I can imagine. This is one of the things that I find amazing about actors. When I started interviewing people six or seven years ago, I shied away from interviewing actors because I didn't know exactly what they did. I know they're acting, but the life of an actor is, I'd argue, the exact opposite of anything else anywhere.
NORA ZEHETNER: It is strange.
CHRIS NEUMER: I don't know how you keep your head on straight. Do you have a core belief or something that you can come back to after you see these message boards?
NORA ZEHETNER: No, I have nice friends and a nice boyfriend and a nice mom. I think if I do see something like that, I think–it upsets me–and then I think, "What if I was really famous?" (laughs) It could be a million times worse and those people deal with it. If you put something creative out in the world you just have to expect that you're going to have the good and the bad. It is the way it is. If I think that I did something good, it's kind of silly to let myself be talked out of that by people or critics.
CHRIS NEUMER: One of the other things that I've found fascinating while doing this article is how much of success–well, not success–but how much of the acting job description isn't actually acting. It's playing the role in public and doing press and attending the right parties and things like that. Does it ever strike you as an interesting contradiction that you spend so much of your time doing things other than acting?
NORA ZEHETNER: That is interesting, but I don't really do that much of that. Maybe I'd be better off if I did. I'm kind of a mess half the time, especially if I go to an event of something. I don't have the hair and makeup person. Half the time, I don't even realize that I'm going to an event. My friends will come meet me here and I'll be in jeans and a T-shirt and no makeup. I don't know, I guess I would fall out of the spectrum on that. I stay in more than anything. I don't really like to go out–occasionally it's fun but… I'm sure in the future I'll have to do it more, but right now, I blissfully don't have to.
CHRIS NEUMER: Wow, it sounds like you're really not looking forward to the time when you might have to.
NORA ZEHETNER: (sighs) I'm not going to say, "It's so awful." So many people would be thrilled to go to these parties and things.
CHRIS NEUMER: They'd be thrilled for a month. Then pissed.
NORA ZEHETNER: Yeah. But I don't want that to consume my life. I think you make choices. Some people go occasionally to things or do things just for their movies; press for their movies. It's all very proper. There are other people who just like to be in the limelight, so they go out all the time.
CHRIS NEUMER: And you're more the former.
NORA ZEHETNER: Yes. Yes.
CHRIS NEUMER: Let me revisit this just once more: is there a lot of time, or much time at all, that is spent on things other than the acting with you? Or do you consider auditioning, researching, meeting with casting directors and agents part of the acting description?
NORA ZEHETNER: I consider it part of it because there's so much time spent with that. I don't know. I'm not sure what I'm doing half the time.
CHRIS NEUMER: Somebody was telling me about an Excel sheet they'd set up. If they went somewhere and met with some people, they'd write it all down and what was talked about and she told me, "That's my job," and I said, "As an actress?" Apparently that's a hidden feature of the acting job description that no one outside of the industry understands.
NORA ZEHETNER: Yeah, I mean, it's interesting how little time we actually get to spend acting. I wish there were more of that and less time with meetings and auditions and all that. But, you know, you have to do all that if you want to get to act.
CHRIS NEUMER: And then once you get to a certain level it starts evening out.
NORA ZEHETNER: I would think so. But then I'd assume you'd have more other stuff to do. Publicity and things like that.
CHRIS NEUMER: Vanity Fair covers and the like.
NORA ZEHETNER: All those horrible things.
CHRIS NEUMER: God yes. Have there been any things–and I'm assuming you have a path planned out for Nora the actress–have there been any things that you're attempting to do with a specific goal in mind in the end?
NORA ZEHETNER: Honestly, I just really want to do things that make me happy. Things that I feel happy about and get to be creative in. I know it might sound silly.
CHRIS NEUMER: No.
NORA ZEHETNER: It's true though! There are so few good projects and good roles especially for–I'm in some weird age range right now.
CHRIS NEUMER: Which age range is that?
NORA ZEHETNER: I don't know.
CHRIS NEUMER: I know how old you are–
NORA ZEHETNER: I'm 25.
CHRIS NEUMER: But, I'm curious if there's a metaphoric age that you're describing or it's being 25.
NORA ZEHETNER: It's kind of–I'm a little on the young side of things to play a professional in their mid to late twenties, even though I'm 25, but I look a little younger. But I'm too old–even though they still send me scripts–for the high school stuff. So there's this weird grey area and they don't make too many movies for characters in that age range.
CHRIS NEUMER: That is true, isn't it? Apropos of nothing, what do you think that's attributed to?

NORA ZEHETNER: I have no idea. Maybe they don't find that an interesting time.
CHRIS NEUMER: Now that I'm thinking about it–and I just turned 30–I realized that prior to last year, I'd never interviewed anybody who was within two years of my age. I'd interview 25 year olds when I was 28 and 28 year olds when I was 25, but never vice versa. Then I interviewed Brian Herzlinger, the guy who did My Date with Drew, and he blew that out of the water because we were born on the exact same day and ever since then I've shut up about it. It is interesting to consider that there isn't a whole lot out there for 24, 25 and 26 year olds who are being 24, 25 and 26.
NORA ZEHETNER: Actually, I think 26 you're getting more on the even track or something. It's trying to play between 18 and 24 where there's a big gap.
CHRIS NEUMER: Have you said that you're not going to do any more high school roles? Or is it on a case by case basis?
NORA ZEHETNER: I try to say that, but then they send me something amazing. But then I'll say I'll look at it and it's amazing and then I go, "I'm too old." I have gone out for a couple when they've been amazing.
CHRIS NEUMER: For example?
NORA ZEHETNER: There was this script I loved and it was pretty funny. It was this movie with Michael Douglas, so I went back and I read with him and there were a couple of other girls reading with him. Mine went horrible. But the other girls who were reading with him were actually 16 years old. They were born in 1990. I went and looked in up on imdb later and was like, "Oh my god, this person was actually born in 1990!" It was amazing to me.
CHRIS NEUMER: I'm curious to know why you think your reading went poorly.
NORA ZEHETNER: Ugh, it just did.
CHRIS NEUMER: It's a fact? Or that's your opinion?
NORA ZEHETNER: It's a fact.
CHRIS NEUMER: I have zero training as a journalist. Even though I started the magazine and brought it to what it is, I have zero training. I've succeeded in part because I take the interviews that I'd want to have, not the ones where people are promoting Scooby Doo Part 4. C'mon, that's work. But even with this in mind, there are still interviews where I'm excited about doing them.  I research, I prepare and then I get to lunch with the person and it's just a train wreck. They don't get my sarcasm or find some of my questions flippant or whatever and those just don't work. I've gotten to the point where I can write some of these interviews off; it's like, "We just didn't mesh, but I'll still be able to write something about him." I'm wondering if auditioning is kind of the same thing. You know, I'm sure you've showed up late or hung over or sworn at somebody you shouldn't have, but I'm talking outside of those instances, do you find that there are a lot of other extraneous factors that can affect your auditioning style?
NORA ZEHETNER: Yeah, of course! The person reading with you or you can walk into a room and feel like they've already sized you up and they have no interest. That will definitely throw you off. There are definitely a lot of factors: nerves and all that too.
CHRIS NEUMER: Are you still feeling the effects of the nerves though?
NORA ZEHETNER: Yeah! It never goes away for me. Unfortunately.
CHRIS NEUMER: How many auditions have you gone on at this point in time? Hundreds? Thousands?
NORA ZEHETNER: Auditions? Thousands probably. A thousand. A lot.
CHRIS NEUMER: And it's not getting easier?
NORA ZEHETNER: I don't go on as many as I used to. I'm trying to be picky. So I really don't have that many now. When I do have one now though I think I put too much importance on it. I haven't auditioned in a while so I feel rusty. That whole thing.
CHRIS NEUMER: You said that sometimes when you go it they've already sized you up. Is there an image or a type that you often get sized up as?
NORA ZEHETNER: No. I hate, I hate, I hate going in for TV auditions because there are very few casting directors, especially during pilot season,that I feel organize things well and are polite about the process. Otherwise, it becomes this thing where you just walk in and the producers look at you and they decide whether you look the way they want you to look because I think that means a lot more to them than the actual acting.  Then you read. They're like, "Thank you, good bye." It's not a creative process where they give you direction or want to work with you, you know?
CHRIS NEUMER: I'll preface my next question with a story. Jeremy Piven went in for an audition once and it actually said on the call-sheet that they were looking for a Jeremy Piven type and he didn't get the role. Stuff like that seems like it could really weigh on a person. Do things like that affect you in any way?

NORA ZEHETNER: My name isn't on the sheet yet. Nobody needs a Nora Zehetner type yet.
CHRIS NEUMER: I know, but if you're going in for the part of a 25 year old brunette with short hair who played a femme fatale in a critically acclaimed high school movie and they look at you and say, "We're looking for somebody with a little shorter hair," do you ever think, "I'll cut my hair then. Let's make this work!"
NORA ZEHETNER: There's not that much–right now, my hair is really short. If my hair is really short, I think people have a hard time imagining me with long hair. I'm like, "I can put in extensions or dye my hair." They don't see that though. Some people have a little bit more vision the more your career progresses.
CHRIS NEUMER: But I've got to figure if there's a Mia Farrow biopic coming up, you're near the front of the pack with your present hair cut.
NORA ZEHETNER: Yeah, maybe. I don't think I look like Mia Farrow though. I did go in and read for that Natalie Wood movie a couple years ago. I didn't get it and I was really bummed because everyone's always told me that I look like Natalie Wood. So I thought I had a leg up on that one, but nothing ended up happening. I did meet with Peter Bogdanovich though, which was really interesting since I liked Paper Moon.
CHRIS NEUMER: He is very interesting. I was debating about whether this next question was so stupid that it became interesting. It curled all the way around the edge and become worthwhile again. We'll see. I was thinking about the length of your hair. I've mostly seen it short, but I saw some pictures where it was longer and then one where it was really long, like shoulder-length, and I started trying to figure out whether, as a young actress, having short hair in any way could help you succeed, so I ask: has having short hair in any way impacted your career?
NORA ZEHETNER: It's not always short. A lot of the time it tends to be in this weird I'm-trying-to-grow-it-out length. (laughs) Then I just pull it back. I've finally given up on the growing it out thing and cut it all off. I think in one way it kind of suits me more. It probably does make me stand out a little bit more, which can be a good and a bad thing. On the other hand, I've had my hair really long and I think that gives me more options. They always think, "I can cut her hair," but they rarely think, "I can put hair on her." It's easier for them to imagine me in more roles when my hair is long. For some reason they like it better.
CHRIS NEUMER: That's funny. And I say this at the risk of having this topic take on a life of its own so that, after the interview, you can go tell your boyfriend, "Omigod, you are not going to believe what we spent ten minutes talking about…", but if you have 1,000 women I'd argue that 1 1/2 of them or maybe 2 of them are women who genuinely look good with short hair. It's not something that you can usually pull off that easily.
NORA ZEHETNER: Right.
CHRIS NEUMER: Just because Natalie Portman shaved her head doesn't necessarily mean it's working.
NORA ZEHETNER: Right, although I think she looks great. You don't think so?
CHRIS NEUMER: I'm not saying that she's not attractive, I'm saying that she looks better with longer hair.
NORA ZEHETNER: Really? I always thought that she looked great with her hair that length. Like when she was in The Professional, I loved her hair life that.
CHRIS NEUMER: Even that was longer than what I'm talking about. That was a bob. I'm talking like less than two inches of hair short.
NORA ZEHETNER: But even now I think she looks good.
CHRIS NEUMER: Then we'll call her the woman number 2 of the thousand. It's just so hard to pull off really short hair on a woman.
NORA ZEHETNER: Are you saying that I don't pull off the short hair?
CHRIS NEUMER: I'm glad you could read between the lines and see exactly what I was saying. No, of course not. I was saying you were woman number 1.
NORA ZEHETNER: (laughs)
| | | | | | | | | | | | |
| --- | --- | --- | --- | --- | --- | --- | --- | --- | --- | --- | --- |
| Columns | Columns | Running Commentaries | Columns | The Ten Minute Guide | The Ten Minute Guide | Running Commentaries | Columns | Columns | Articles | Columns | |