Luis Guzman Interview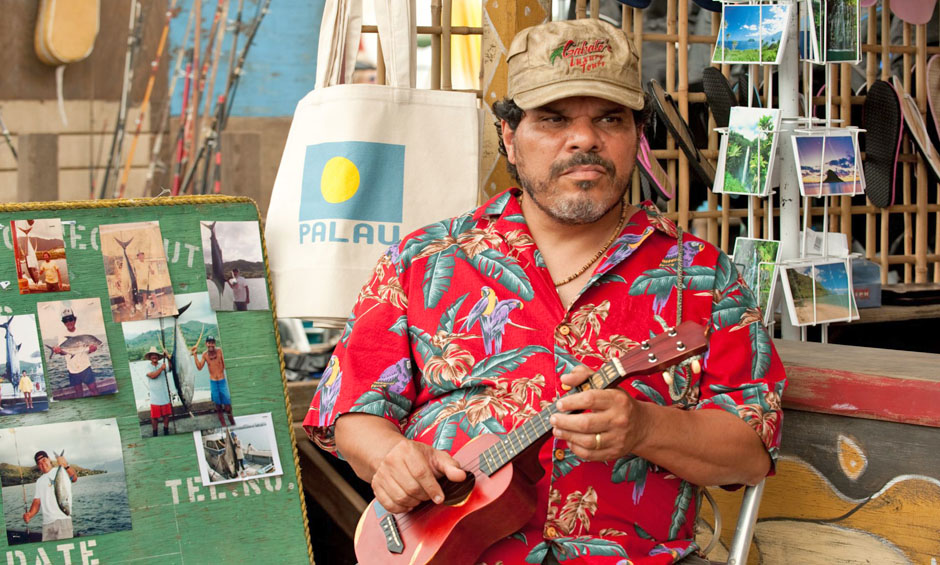 Luis Guzman is one of the most recognizable character actors in Hollywood. He talks to Chris Neumer and gets the trust he needs to have in a director, why having fun on set is imperative and why he will drop everything for Steven Soderbergh.
CHRIS NEUMER: I'm curious: Not necessarily how, but why did you get into acting?
LUIS GUZMAN: Why? Bro, it was a fluke, man. I was walking down the street on the Lower East Side, minding my own business, a guy came up to me and said, "This is a phone number, call it up, maybe you could get a role", Next thing I know, I'm co-starring on Miami Vice. Had no clue what I was doing. I was doing it for six years after that as a way of making extra money–I was a social worker in New York's Lower East Side. And that's how I became an actor. It wasn't something I was looking for, man. All of a sudden I said, "Shit, I can do this, man!" you know? And I got better and better and understood the crap and the art, and I've just gone with it ever since.
CHRIS NEUMER: And given that you understand the crap and the art, this has to be a good point in your career for you where you're in one talented ensemble cast after another, with big time directors behind them?
LUIS GUZMAN: Yeah.
CHRIS NEUMER: How did you get in with PT Anderson and Steven Soderbergh?
LUIS GUZMAN: Well, PT Anderson sent me a script of Boogie Nights which I let lay around my house for about three months.  One day I'm cleaning my office and decided that I'd better read this before the guy calls me back. I never put it down, bro. It was like one of the finest piece of written material that I have ever read to this point in my life. And I did the movie and I hit it off so well with him and he's become such a wonderful human being in my life. And with Soderbergh, it's basically that he sent me a script of Traffic with an offer to do that particular role. I went in, I did it, I said, "Wow, what a cool dude, and the rest is history with those guys".
CHRIS NEUMER: But you had been in two other Soderbergh films before Traffic…
LUIS GUZMAN: Well, yeah! That's what I mean. My first movie for Steve was Out of Sight.
CHRIS NEUMER: Okay…
LUIS GUZMAN: And we hit it off really well.
CHRIS NEUMER: And I suppose it helps that you do well in your roles?
LUIS GUZMAN: Oh yeah, absolutely. He sent me The Limey when I had just gotten back on vacation with my family–I was in love with that movie–are you kidding me? I read it and was up to page 4 and I was on the phone saying, "I'm doing it, I'm there." And I can't say enough about Steve–he's a great person, you know? Great artist, and somebody that I totally trust in the work that I do. I have no qualms whatever with Steve, you know.
CHRIS NEUMER: Working with him has to be better than working with Alan Smithee (read Sidney Lumet) on Q&A, huh?
LUIS GUZMAN: Well, like I said, we all grow. We all learn new things. And we all–our visions change, you know? It's like looking through a camera lens. You start out by taking a couple of pictures and little by little you say, "Shit, this is how you can focus more" and all that.
CHRIS NEUMER: You've become a fixture on the independent scene in recent years, what do you think of the state of American filmmaking today?
LUIS GUZMAN: State of American filmmaking?
CHRIS NEUMER: What's going on in Hollywood right now.
LUIS GUZMAN: Well, you know, from one end, as the independent filmmaking world goes, I think it's a wonderful thing. It's not all these projects tied into all these big time major studios. It's not all the politics. And in the same manner, I think a lot of the studios are catching on and doing projects that are a little more laid back. They don't have that whole stressed out thing going on and that we have to make a great movie and stuff like that, you know? We saw what happened a few years ago at the Academy Awards. A whole bunch of movies were nominated and the majority of those movies were independent films. And I think this is wonderful for the independent film world. It's like we can compete with the big studios. But then, the big studios are more into the action packed special effects things where the independent films are more emotional and spiritual process of life. Did you understand that?
CHRIS NEUMER: Would you think that the studios could take their films to a higher level if they infused some of the emotion and spirit from the independent films into their movies?
LUIS GUZMAN: That's hard to answer because you could take it either way you want to take it. You could be a big time studio and say, "Instead of making this $100 million movie, we're going to make ten $10 million movies and we're going to put it in the hands of these people and just let it go." I don't think it's about stealing from one another, I think it's about working to complement each other. I don't think there's any friction there. Some guy could come along and make a movie for $10,000 and that could have much more of an impact on an audience than some movie that cost $100 million, you know? But you could do the same thing backwards, you know?
CHRIS NEUMER: How do you think Traffic fit into the film world? Do you think it effectively bridged the gap between the independent and studio worlds?
LUIS GUZMAN: Well, I think that, I don't know how we play into that. With Traffic, it was just: here we are man. We were just making a good movie, bro, and having a good time making it. We had an incredible cast and a really really well written script, a great director and a wonderful crew of people and that's how we approached it. We're not thinking, "We're going to kick some major big time studio in the ass, because we're making this little movie."  Although little movies now can cost $30 or $40 million, you know what I'm saying? But that's not how we approached it. It was like, look at all these great people we have working here, let's have a good time, let's do it. So, when I make a movie, I'm not thinking about what the studio wants to do, I'm thinking about myself as an artist in relationship to the piece.
CHRIS NEUMER: But now, looking back at the impact that Traffic had on the film world–with Soderbergh's choosing to even shoot it himself–do you think that this movie will have an impact on Hollywood and the way future films are made?
LUIS GUZMAN: That all depends upon the director. If a director says, "I want to shoot this," if some producer just kind of backs off and lets that director's creative processes flow–it all depends from bottom to top and top to bottom how people approach the project. If it's a big time studio movie and stuff like that, it's like people have so many hands in it that it could effect the creative flow of the process. But it all really depends on what the movie is. You just don't know. There's probably thousands of kids in film school right now who want to become the next Soderbergh, because it's like, "He takes good risks! This works!"  So maybe more studios are going to open up and say, "We've got to give more of a free hand to the directors." Again, it's all about the material and the script and all those things. A director does not make a movie, you know?
CHRIS NEUMER: Well, as an artist and an actor, you've got to appreciate working for a director who is familiar with the creative process and can control the reins to a project, right?
LUIS GUZMAN: I only said one thing, it's all about trust. You work with someone like SS and you trust what he's doing and he trusts what you're doing. It works. It really does work. And it's a good feeling to have that.
[editor's note: Guzman actually said 'SS'.  That is not a place saver or a typo.]
CHRIS NEUMER: It's got to be good working with the same members of the cast and crew then too?
LUIS GUZMAN: Yeah, they know what you're doing and you know what they're doing. Even if you come across a whole new thing, a whole new crew or director, understand that you can still trust what they're doing and they can trust what you're doing.
CHRIS NEUMER: And if you don't trust what they're doing, you just don't get involved in the project in the first place. Seems rather easy.
LUIS GUZMAN: Well, sometimes you get involved and then it's like, "Oh, shit, what did I get myself into?" Sometimes you don't see it, sometimes people can talk a good freakin' talk, you know what I mean?  Sometimes people can talk a good talk, but that's it, you know? However, sometimes people can back it up.
CHRIS NEUMER: You'd acted with Don Cheadle, your acting partner in Traffic in several other films, did that harmony and rhythm you had with him translate to better performances for both of you?
LUIS GUZMAN: Again, we were just two guys who trusted each other.  We were out there to have fun–it wasn't about me outdoing Don or Don outdoing me–it was just about these two guys who loved their work. And I think that was the most important thing we had going there, that trust we had. I really dug that.
CHRIS NEUMER: How did you react to seeing your character blown up in a car bomb on-screen?
LUIS GUZMAN: Like a bad Bar-b-que experience, man. I didn't really think about it all that much, because it's not a good feeling, you know? It's part of the story though and just something I did. It was just something I did that I didn't think all that much about.
CHRIS NEUMER: Do you have any plans to write or direct in the future?
LUIS GUZMAN: I want to direct my kids in some movie. And something with Eddie Murphy in the fall.   I just got a furniture delivery that I've got to take care of.  I've got to run.
| | | | | | | | | | | | |
| --- | --- | --- | --- | --- | --- | --- | --- | --- | --- | --- | --- |
| Columns | Columns | Running Commentaries | Columns | The Ten Minute Guide | The Ten Minute Guide | Running Commentaries | Columns | Columns | Articles | Columns | |