Klaus Badelt Interview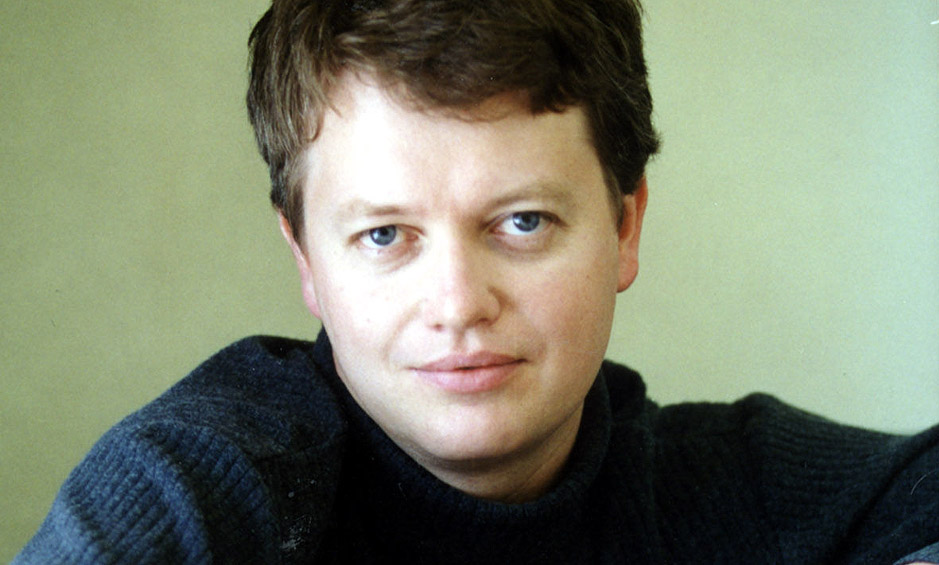 Klaus Badelt got his start in Hollywood when he literally walked into composer Hans Zimmer's studio and asked for a job. Since then he has gone on to score some of the biggest movies in the world, including Pirates of the Caribbean. Badelt and Chris Neumer discuss creating movie music, why Mahler's 2nd is amazing and whether a one-note score could ever work.
CHRIS NEUMER:  It was kind of funny.  Your assistant was sending me a copy of the Pirates of the Caribbean score.  Someone who used to work in the office out there with you, his name is Kaz Boyle.  I don't know if that name rings a bell.
KLAUS BADELT:  Oh yeah.  I know him.
CHRIS NEUMER:  I went to high school with Kaz in Chicago.  Kaz had stopped by and he said, "It was so weird.  I went into the office and there is this package going out to you."  It's pretty strange.
KLAUS BADELT:  Small world.
CHRIS NEUMER:  It really is. I was putting together a list of people who I thought had really break-out years in the film world this year.  Even though you had done some scores prior to 2003, like K-19 and a couple of others, I felt with your performance scoring of Pirates of the Caribbean, which I am a really big fan of, I thought, "Why not put a composer on this list?  So that was what I wanted to speak to you about: working on Pirates, what your 2003 was to you, things like that.     
KLAUS BADELT:  Great.  Thank you.
CHRIS NEUMER:  And don't worry about using technical terms.  Feel free to get as technical as you want.  If I have questions or can't keep up with you, I'll definitely stop you to ask things.
KLAUS BADELT:  Are you in Chicago?
CHRIS NEUMER:  Yes.  Roger Ebert makes it okay to live in Chicago and write about films, so we do.  We really don't have any film industry.  I went to Toronto and people were trying desperately to bring it back.  I read an interview, something you did somewhere.  I can't remember where it was off the top of my head.  I read it but I didn't believe it.  You were telling the story about how you first got associated with Media Ventures.  You said you just walked in on a vacation and said "Hello".
KLAUS BADELT:  That's a thing you shouldn't tell anybody.  After I said that, we got literally hundreds of letters saying, "I want to talk to Hans just like that guy who came through the door."  I didn't know at the time that you couldn't just do that.  I come from Germany and just walked through the door and said, "Hey."   To be honest, I applied for an internship.  I was on vacation and thought maybe next time I was on vacation I could just stay here a little bit and see how they were actually doing it.  We talked about it all the time back in Germany.  I have found similarities in the studios, in the setups.  I had a good time with these big sound walls.  Basically the same thing we had too in Germany.  I was writing the same way.
CHRIS NEUMER:  What way was that?
KLAUS BADELT: With an electronic synthesizer.  I spent time involving the orchestra.  It's not a style exactly, but it's a way of working and using samples to write and not to mark up the score.  To finish the production basically while you are writing.  Then depending on the merchant, if there is an orchestra, have the orchestra play it.  Same thing I did there.  It's just on a much smaller scale.
CHRIS NEUMER:  Do you have a preference with working with a real live orchestra or just using the samples on it?
KLAUS BADELT:  There is no way I would ever say that I prefer samples.  The accepted idea is that I'm not using samples to replace live players.  I'm using samples to produce and show—to have something to talk about to the director.  Then as much as I can, I try to have a real orchestra and live players.  Here, you basically always record live and there's no question about it.  It's a better way.  It brings things literally to life.  I have a way of writing.  There is a computer set up which allows me to orchestrate and write without—I don't like working with directors who tend not to have imagination regarding musical terms.
CHRIS NEUMER:  So the director needs to have the imagination as well?
KLAUS BADELT:  In the old days what happened was you played your ideas maybe on the piano or in newer days on a very hokey markup or less hokey markup.  On a markup you put down some strings and all that.  But that's not the way I write.  The way I write is that I orchestrate it out completely; all the lines, every string what it is supposed to play.  I use sampling and computer programming to do that.  It takes quite a while to do that.  Then you are ready to play it for somebody and it sounds pretty much like the real orchestra.  I mean there is really very little difference.  The difference is actually not so much in sound, but if there is a difference it is in the soul.  The heart of it.  If you sample and you play the same note twice, exactly the same note twice, when you ask the string section to play the same note twice, you have a little symphony.  That's the difference.  To answer your question, you always prefer a live orchestra, a professional orchestra.
CHRIS NEUMER:  How closely do you work with the directors on these things?  I know every director is different.  I'm sure some are more hands on than others, but how closely do you generally work with the directors on the score?
KLAUS BADELT:  My idea or my approach is that I'm actually more of a filmmaker than a composer.  When I was twelve, I wrote music but I would also shoot little films.  My neighbor had to be the actress in it.  I involve the director very much.  I think that writing music for a movie is as much a powerful process as shooting it and cutting it.  That's what I'm trying to do. I'm trying to involve the directors and depending on how much time we have, how early I am in the project more and more I have the opportunity to involve everybody.  It's just like the writing process of the script. I even write some themes that come out in public before the film for the writer to be inspired by.  So he's writing the script and having these scenes in mind. That's my ideal situation.  Really involve the people who are making the movie.
CHRIS NEUMER:  When you were working on Pirates, this had a very big sound to it.  I mean it had some similarities to previous scores that Hans Zimmer has done.  Was there ever as sense that you were trying to create something that was that big or did Gore [Verbinski] or Jerry [Bruckheimer] ever come up to you and say, "We want something big; we want something exciting." Or did they ever bring clips of things and say, "We want something like this, instruments like this"?
KLAUS BADELT:  Jerry will come and say a few things, but I want to be really honest and I don't want to diminish any of Hans' [scores].  But what I actually say is, "It sounds like a Jerry Bruckheimer movie."  Definitely.  It doesn't sound like a conventional or traditional pirate movie.  If there were two ships, ship-to-ship battle I call it, I consider that the car chase.  That's how I look at it.  I talked to the director about that. You heard about that. I thought that's why I actually could do it.  I felt much more comfortable, a little bit more Rock N Roll than the traditional Errol Flynn pirate movie.
CHRIS NEUMER:  I will be the first to admit that I am barely a lay-person when it comes to describing music or talking about it.  There's a reason that I write about film and that's because I don't have a clue about anything remotely musical, but to my lay ears bits and pieces of the score reminded me of some of the earlier works of Hans Zimmer.
KLAUS BADELT:  I think you can say the sound is probably close to the scores he made for Jerry.
CHRIS NEUMER:  Very much so.
KLAUS BADELT:  That's what I mean.  It's very much Jerry's style.  It's not so much Hans.  Some people still think he's the guy who did this or that this sounds like Crimson Tide.   It's very offensive, I think.  Look at his audio work in the meantime.  I had the pleasure of working with him on The Thin Red Line.  That's Hans too.
CHRIS NEUMER:  That's a very interesting point because no one ever thinks about it like that.  There's sort of another extraneous factor that's allowing this: this is what Bruckheimer wants.  I guess most people just figure it's Hans or even you to a certain degree, but then you just figure it's the producer working with that.  That's interesting.
KLAUS BADELT:  If you work with Jerry, you know that you either deliver the sound that he wants or you are not doing the score.  It's lots of fun; it's great. You know what you're getting into and you try to push the effort.  I had a few things in there that I thought were in error and Bruckheimer, he's the guy known for–he's so secure in his vision.  He comes back a week later, you play him something that you played for him before and he knows that in bar 76 one note was changed.  You turn around and he may look at you and, oh yeah, he noticed.  Even though he is not the music guy, he has very clear idea of what he wants.  I tried to push the envelope here and there with the Pirates score.  I had the idea of the clowns with the chain saw in mind.  That's the image that I thought of.
CHRIS NEUMER:  Clowns with the chain saw?
KLAUS BADELT:  Clowns with the chain saw.
CHRIS NEUMER:  That's an interesting image.
KLAUS BADELT: Scary clown music.  I didn't think Jerry would go for it and he did.  Fine, great, what's next?  Sometimes he is always up for a surprise, but that's more the exception.  You will sound like a Jerry Bruckheimer movie.  I think that's nothing to be worried about.  But it's definitely unfair to Hans.  Look what he did in the meantime.  If it's Driving Miss Daisy or Gladiator.  How is it different?
CHRIS NEUMER:  I'm not sure if you worked on Gladiator, but Black Hawk Down is another Bruckheimer film, but it's completely different.
KLAUS BADELT:  I'd say that's more of a Ridley Scott movie than a Bruckheimer movie based on Hans' longtime collaboration with Ridley.  They were both able to just do what they thought was right.  They had much more power in that movie.
CHRIS NEUMER:  Now bearing this in mind, what type of music or of film do you feel would be for your strongest suit.  Is there anything that you are interested in doing like a romantic comedy or a slapstick comedy?
KLAUS BADELT:  It's interesting that you ask because I just did a romantic comedy right now.  It is something I really like to do and always wanted to.  It's very easy to get type-cast as big adventure movie composer since I also did The Time Machine.  I guess people think of me as drama and adventure.  I come from record production and before I came to America I never really worked in an office.  I like to surprise myself and I like to surprise people.  There's nothing more boring than doing the same thing twice.  The next movie I want to do has to be completely different, otherwise it's just the same stuff.
CHRIS NEUMER:  One question for you about the romantic comedy.  This is actually sort of a two-fold question.  Are you ever walking down the street or playing with your daughter and you get a 5 to 10 note jingle in your head and you say that you would really like to apply that to something?  Is there a sense that you would like to try romantic comedy because it's a slower or softer paced type of music?
KLAUS BADELT:  I like to do that because I think I like to go and watch a movie and after seeing it, I like to feel better. I have a little bit of heart-warming moment and maybe I learned a little bit from it but I have a good feeling about the movie.  Unlike the movies I did so far.  Most of the time everybody died.  These kind of ideas I really like.  I like listening to music that people listen to.  I listen to very different scores to the old masters to new bands.  I like Overseer.  I like that kind of stuff.  It's really what people listen to.  There are many others like Goldfrapp that are coming to fame too.
CHRIS NEUMER:  Oh yes.  They did that song "Human" right?
KLAUS BADELT:  Yeah.  It's cutting edge.  That's what I like to do as well.  I think there are some things we can do–forget about what you usually do.  Just do what people actually want to listen to and what you listen to yourself.
CHRIS NEUMER:  You had said that you like to do different things, is there any type of sound, be it the zither or the tambourine, that you wish to explore or that you have a hankering to delve into more deeply than you have been able to thus far?
KLAUS BADELT:  I guess that's the guitar.  Something more authentic. If you go out there and listen at the clubs–I live in LA.  The first time I came here, I came here to listen to that.  I was always a big fan of musicians.
CHRIS NEUMER:  Any specific band or just a band in general?
KLAUS BADELT:  At that time I was an outsider.  I liked the musicianship, if you will.  I still do.
CHRIS NEUMER:  But you weren't traveling across the country to see like Guns 'n Roses or something like that.
KLAUS BADELT:  Not Guns 'n Roses but at the time I loved Steve Lucander.   He was my hero.
CHRIS NEUMER:  What time frame was that when you first went to LA?
KLAUS BADELT:  That was in '97, '98 and I still love him.  I was crying when Jeff Pecaro the drummer died whenever, was it in '93?  I was in tears for days.  That's one of the reasons I came here to all these great musicians.  I remember when I came here I had a concert with Yhe Yellowjackets.  That was a rock era.  That kind of stuff I loved at the time, still do.  Guitar playing.  One day, I hope I get to work with him on something.  You don't find that anymore.  But you know, at the same time now, I love these fresh new bands.  They have something new to say and express the lifestyle.  I think that's what I ultimately want.  I express what will be close to what the audience feels and how the characters feel.  Depending on the movie I try to do that, but why not.  The Pirates of the Caribbean was a period piece in a way.  Refer to the size of the score, everything was in there. I like to try things.   I might be wrong some of the time, but mostly there is a chance to do something good.
CHRIS NEUMER:  Even if you try it you know you can always come back to it again and realize you don't like it and be better off for that.
KLAUS BADELT:  If there's one thing that I learned from one of my favorite producers.  He said one day, "You have to kill the baby every day."  That's because what happens, you have an idea and you have to strip it down for the project.  It's really hard but once you can do that, you have the potential to become better.
CHRIS NEUMER:  Let me ask you this.  This is completely tangential here.  You were talking about The White Stripes earlier.  Are you familiar with the song "Dead Leaves and the Dirty Ground"?
KLAUS BADELT: Yeah, I think I know which one you mean.
CHRIS NEUMER: There's one point in time, it's like the second or third chorus of the song, Jack White, the lead singer is singing just over this guitar.  It's just one note of the guitar played maybe 10 times and then they shift to a different note, but that same note is just being played over and over.
KLAUS BADELT: Yeah, I know what you mean.
CHRIS NEUMER: In a weird way it reminded me of points of the Eyes Wide Shut score which was just that one-note piano thing.  I'm curious to know if you think you can actually make something like that into a score?  I realize that all of music is actually one note following the other, but do you think that you could ever do a score or even one piece in a score in a movie with just one note played repeatedly, maybe 10 times, followed by a different note that is played 10 times just softer, louder, staccato so that it would work?
KLAUS BADELT:  It is an interesting thought.  Look it's been done.  In a way it's asking how minimal can music be to evoke emotion right?
CHRIS NEUMER:  That certainly would be a challenge for someone like yourself if the director came to you and said, "Klaus, we need to make a score of one note.  You get to pick what note it is, but we need to make it work."
KLAUS BADELT:  That's a challenge.  I'd like to do that. That's an interesting idea.
CHRIS NEUMER:  That it is.  The last thing I have for you: I don't have much of a background on you.  I know you were a record producer over in Germany and I know you came over here and just walked in to Media Ventures.  How did you first become interested in music or writing music?  More specifically, why did your talents go to scoring films or scoring commercials as opposed to collaborating with vocalists and forming songs that would be released?
KLAUS BADELT:  Actually, I would like to do both.  As a matter of fact what I did in Gladiator–
CHRIS NEUMER:  Hence the reason I was asking.
KLAUS BADELT:  We never had time to release anything that we always wanted to do after the movie.  Maybe one day we will but hopefully.  Music gets interesting for me if it has to do with life.  As a filmmaker, I feel I have so many ways of expressing life and emotion and music is just one.  That's why I probably tend to be close to film because we have so many ways of saying something.  We would be in some audience sessions or meeting the director and I'm the one who probably says, "I don't think we should have done this or that."  I'm not someone who fights for the proposal of music there and there.  I like to just be all over the place.  The only style element or signature is that it always sounds like something you like to listen to.
CHRIS NEUMER:  That's a good description.
KLAUS BADELT:  Is it a style?  Hopefully, it's mine.
CHRIS NEUMER:  Are there any scores that other composers have written in recent years or if you wish to extend it back to days of Alfred Newman or things like that, that you look at as sort of being near perfect compositions?
KLAUS BADELT:  In film music?
CHRIS NEUMER:  Yes.
KLAUS BADELT:  I don't even know what was out there other than a few things by Korngold.  Honestly I don't really know.
CHRIS NEUMER:  You do see a fair number of films though?
KLAUS BADELT:  Yeah, but then I try to be a member of the public and try not to analyze it too much.  Maybe if I look at it a second time…   Let me think.
CHRIS NEUMER:  I was just curious to know if there was a style that you respected.  In a similar 'best of' question, is there any music that you have written during your career, let's say if we can stick to the features you have worked on here while in America,  are there any particular pieces or scores as a whole that hold personal satisfaction to you for one reason or another?
KLAUS BADELT:  I still think the piece I really like, I haven't written yet.  If you really twist my arm, there was a movie I did for Werner Herzog, the filmmaker, called Invincible.  I thought I wasn't ready for that type of film because it went really, really deep and I was there looking inside myself and trying to find what I can actually contribute.  If you look around and we're just a bunch of people trying.  But if you look at the handful of big masters in the world in the last 300 years they created, you can only be humble.  Compared to that I have to see if I can ever get to anything close to one piece.  I'm a biggest fan of Gustav Mahler and I'm afraid you can hear it sometimes way too well in my scores.  If you ask me my favorite score, Mahler's 2nd Symphony.  If you ever have a favorite score, that's the one.  Everything you need to know about scoring is in that symphony.
CHRIS NEUMER:  I will have to listen to it as a crash course.
KLAUS BADELT:  You will listen to the last movement and the direction and you will know what I mean.  It's like unheard of.
| | | | | | | | | | | | |
| --- | --- | --- | --- | --- | --- | --- | --- | --- | --- | --- | --- |
| Columns | Columns | Running Commentaries | Columns | The Ten Minute Guide | The Ten Minute Guide | Running Commentaries | Columns | Columns | Articles | Columns | |