Josh Lucas Interview #2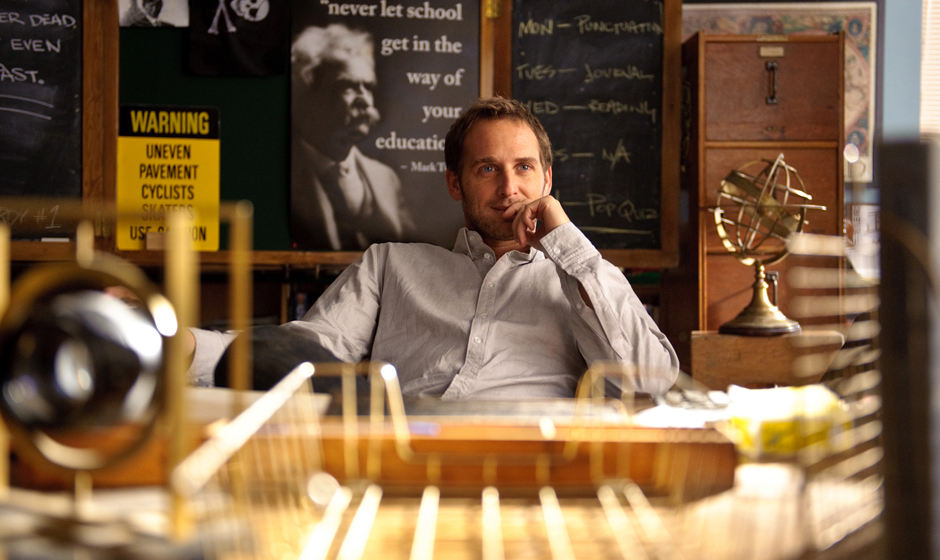 Josh Lucas is one of Hollywood's most talented actors. He can do the role of the psychopath better than anyone, can also do 'sweet', 'wholesome', 'gruff' and 'sexy'. Not only that, he holds his own opposite history in Glory Road and a boat in Wolfgang Peterson's Poseidon.
JOSH LUCAS: The last time we did this it was right here in Chicago right?
CHRIS NEUMER: Yeah, for Sweet Home Alabama.  Here we are now.  I was fascinated by how you went from psychotic to sweet in this film.  There was one moment where you were walking down the hallway and the point guard throws his jersey down  and says, "I'm not doing this any more."  I can't remember if you grabbed him or whatever it is, but you come down and you look at him and I thought,  "Here it is, here's the look in the eye.  That's Josh.  That's the Josh I know, that's the one I love."
JOSH LUCAS: You know what's funny in this movie is that, the first time that I met Don Haskins, that's what he did to me.  He can actually physically freeze you with how intense and bordering on violent the look in his eyes is.  It's intimidating.
CHRIS NEUMER:  You have to have that look to be a basketball coach.
JOSH LUCAS:  Yeah, particularly a great one.  He's the opposite of Bobby Knight.  He never gets violent with his players, never swears, but his intensity was beyond anyone's in the game.
CHRIS NEUMER:  I thought that those were Bobby Knight's two main features, getting violent and swearing.
JOSH LUCAS: Exactly, but I guess not.  When all is said and done, most of his players loved him because he takes them to such a new level.  He's remarkable that way and I think part of it is that Haskin's duality is strange because he is beloved.  Particularly in El Paso, people just freak out over how extraordinary a man he is and yet his coaching technique is very, very tough.
CHRIS NEUMER:  Yeah.  I played college ball myself, Division III so it wasn't anything big.  That and I was really bad.  But I couldn't remember who won this game.  I knew Texas Western got to the finals, but I couldn't remember if Kentucky won or they did.  I thought, "How come this hasn't been done before?"  If you were trying to create a story that would have an inspirational  but good movie about it, this was it.  It's like ten years down the line Kurt Cobain is going to have one hell of a biopic and somebody is going to get Oscar raves for it.  
JOSH LUCAS: Sure, sure.
CHRIS NEUMER: You can't create something better than that.
JOSH LUCAS:  No, I agree it was pretty amazing.  You know what's funny too is that people will say, without a doubt, that there are obvious Disney sports cliché moments in the movie.  Just the little things in the movie like when the mother says, "Well, my son Harry can answer that," or when the guy runs out in the catcher mask.  And they are all blatantly true.  The only thing that Haskins was frustrated about when he saw the movie, the real guy, was why didn't Willie Cager have two strokes during the season.  Cager did have two strokes and I had to tell Don, "At a certain point Don, people will start to dismiss the movie for being overly sentimental [even if it was true]."  The story is just so awesome and dramatic.  Last night we did an interview, a long interview with Bill Good.  It was with the last couple of the real Texas Western players and Bruckheimer and everyone was asking that same question.  They were wondering whether it was racial or they'd ask, "What were the pieces that made the story take the length that it took to get told?"  And I guess the boring, unfortunate truth of it is: it was simply a matter of rights.  The rights were split up all over the place because each person sold them separately so it took a very long period of time to unify the group.
CHRIS NEUMER: The other part of it is that there are so many different things that happened that seemed like they would have been made up.  It will occasionally happen to me.  I'll go, "It happened to me, but if I put this in a movie, nobody would believe me."  This brought about a kind of interesting idea that I've been wondering about: the inherent  highs and lows of the different characters.  Everyone is talking about Joaquin Phoenix and Walk the Line and Phillip Seymour Hoffman and Capote right now.  Everyone keeps talking about how amazing they are and I have been wondering–and I realize this is blasphemy–there are good actors, talented actors, but you take a look at the stories of Johnny Cash and Truman Capote and the ingrained highs, and just the range that the characters have just based on the scripts,  I'm wondering as an actor, how much did the scripts emotional peaks and valleys influence your performance?
JOSH LUCAS: That's a very interesting question actually.  Joaquin and Jamie Foxx have a very different responsibility or undertaking in a sense because their stories are known so widely; I should say their characters are known so widely.   People really can say, "I watched Johnny Cash my whole life, I watched Ray Charles my whole life."  Yet Haskins only had a small group of people who could say that about him.  Most of El Paso and certain basketball fans.  For me though, there were certain moments where you have to walk a line.  You have to figure out ways to say, "Okay, this is the truth of who Haskins was."  There were certain times where I would even disagree with Don because he'd say one thing, [telling me that I was doing something wrong] and I'd say, "You know Don, you were a different man after you won the National Championship.  Your ego kicked in.  The legend of Don Haskins kicked in."
At one point, he came to me and said, "I never wore a tie."  I said, "Don, I have 700 photos of you and you're wearing a tie during that season. " After the season he stopped wearing a tie and he started wearing cowboy boots.   For that season, he hadn't fallen into his own sense of himself.  He was such a force of intimidation.  He wouldn't allow his players to speak on the basketball court.  It's at moments like those were, again, you have to step back and say, "How do you establish a film where no one is allowed to speak?"  At the same time, I found out the guys were like, "That's not true at all, at least for that season.  After that season, it was true." So the highs and lows were a little bit different from what they ended up becoming, but, as you say, the truth was so interesting and the highs and lows are so dramatic.  There are certain things that we had to leave out obviously.  They threatened to kill his children.
CHRIS NEUMER:  I just sort of went along with that.  I figured all the racists would hate him, talk about fire bombs, things like that.
JOSH LUCAS: It got much tougher afterwards because the game changed so much within the course of just one year because of the fact that an all black team won the championship.  All the different conferences immediately started playing blacks but Haskins took the brunt of [the hatred].  He was the bad guy who had started this thing.
CHRIS NEUMER: How much did the highs and lows of Haskins' life help your performance?  Is it easier for you to display genuine passion or screaming rage when you have that wide range?  Or is it easier to act in something where it is closer to the middle where there are not so many highs and not so many lows; it's just sort of everyday stuff where you don't have to worry about going over-the-top?
JOSH LUCAS:  It's easier to act in something that has wide ranges of emotions because  if you play a character who isn't particularly expressive or emotional, it gets to be difficult.  It's difficult to be good and interesting [playing a boring character] and to have an audience want to watch the entire movie.  I think Around the Bend is an interesting movie that way.  I struggled throughout the shoot and shut down emotionally in many ways.  I couldn't figure it out.  "Where do I go until the obvious dramatic explosive moments appear?"  "How do I find this character's passion?"  That's what it always comes down to.  This movie is, at its core, about an incredibly passionate man, who has an incredibly passionate conviction to do something and highs and lows are inherent as opposed to something very average.
CHRIS NEUMER:  So middle ground is definitely–
JOSH LUCAS:  Middle ground is the state of television.  You wouldn't want to see someone crazy on TV.  It's hard to be interested in someone who is seemingly quite normal, seemingly quite standard.  It's like you go with a manic-depressive character; they are fascinating to watch, but horrible to be around.  The reason that middle ground is for television is because of the shorter time period that you, as an actor, have to carry an audience.  It's easier to have people watching you be boring for 22 minutes, rather than 90 minutes.
CHRIS NEUMER:  I think probably the greatest challenge for any actor is to play a bad actor.
JOSH LUCAS:  Sure.
CHRIS NEUMER:  And to pull it off believably, so that the audience can't sense that they are trying to be bad.  There was a great quote, a favorite of mine on the subject of acting, in the movie The Rocketeer of all places.  A director is trying to explain acting to someone and he says, "Acting is acting like you're not acting.  So act, but don't act like you're acting."  I don't know how you could act like a bad actor without ever acting like you're acting like a bad actor.  Yeah, that came out right.
JOSH LUCAS: (laughs) You know who I think is really incredible at this exact question?  William Hurt.  It's interesting that you are asking because I have been fascinated by this exact thing.  William Hurt can play very normal men and make them incredibly fascinating and do it without a lot of highs or lows even if, for example in The Accidental Tourist, he's dealing with the death of his child.
CHRIS NEUMER:  Sort of a reverse Owen Wilson.
JOSH LUCAS: (laughs) That's funny.  An intellectual Owen Wilson.
CHRIS NEUMER:  I'm saying that Owen Wilson can play a really bad character in much the same way as John Cusack… like Cusack in The Ice Harvest.  He plays this horrible, horrible character who owns strip clubs, has kids that he refuses to see anymore and audiences are a little sympathetic because it's John Cusack.
JOSH LUCAS: I think it would be great to play someone who is a bad actor and then be interesting and not be a bad actor.  I'd also like to try being someone who is, to some extent, a little bit boring and yet not be boring [to an audience].  Very, very tough.  I remember seeing a Sean Penn movie, The Indian Runner, and thinking, "By the time I'm 35, I want to be able to play both these characters. [ed. note: The Indian Runner focuses on two brothers (Viggo Mortensen and David Morse), one of whom is a headstrong criminal with a temper, the other is a peaceful family man.]  I think if you combine both those characters, that's a particularly difficult thing to do; someone who is capable of horrible violence.  I didn't see The History of Violence, but I understand its value.  It's the sort of thing where you have a good person who is capable of very bad things.  But it is a very, very good thing about Crash; you are watching people with all sorts of dualities, all sorts of complexities.
CHRIS NEUMER:  I didn't particularly like Crash, but I understand what you are saying.  Last night at the reception a lot of people were mentioning that this was a Bruckheimer film and how great it must have been to just work with him.  Then I got to wondering: is there anything that you, as an actor, look for in a producer?  Are there any traits to working with a producer that you like more than others?  Are there any traits that a producer has that impacts your job on set more than others?
JOSH LUCAS:  Well, Bruckheimer is definitely in a class by himself.  I mean he is the only one who is a little bit old school in the sense of David O. Selznick or one of those guys who has such a dominating force on his movies.  Neal Moritz might have a style that his movies basically fall into, a similar sort of genre or a similar type of film.  It's interesting how I've gotten to know Bruckheimer on this tour and everything.  He's an extremely passionate and a very, very creative filmmaker.  He's bringing very, very clear sense about what he believes makes his film popular and what makes a film acceptable.  A lot of that has to do with humor.  A lot has to do with making the movie playful and move at a very specific pace.  James Gartner's a new director even though he's made 2,000 commercials and is in his 60s.  He's a grandfather and I think that helped him mold the film that way.  I think honestly Bruckheimer is doing that with Ridley Scott with Tony Scott with Michael Bay.  He's taking those guys and saying, "I know you make these types of movies very, very well, but let's consider this."  He's incredibly hands-on that way.  This is not a departure for him, but in a sense it is.  The social significance and all sorts of different things are going on in this movie.
CHRIS NEUMER:  Somewhat similar to Remember the Titans.
JOSH LUCAS: Yeah, I guess what you have in Bruckheimer is someone bringing his sensibilities to this kind of movie.  He's a guy who makes brilliant car chase sequences so [it becomes], "How can we shoot the basketball sequences in similar ways?"  We figure out how to give the director access.  I think a lot of the things that Bruckheimer gives to a film–and this is the thing that you look for in a producer–is the ability and commitment to make it as well as you possibly can.  Sometimes people are just about the bottom-line and Jerry is absolutely not.  Jerry is someone who will continually pour money into a movie.  Particularly in something like this, where you go into it and you realize the story is way better than any of us anticipated and way more interesting in certain ways than the script originally. There were certain true moments that weren't necessarily there and Jerry is seeing that as well.  He's listening to all the people come and tell their stories and incorporating and changing and adding .  That's what you look for; because if someone is bottom line, it usually means there is going to be a creative lock down at one point and that's not going to be what they are interested in.
CHRIS NEUMER:  When you say a creative lock down, how would that affect you?  Are you talking in a metaphoric sense?
JOSH LUCAS: By 'creative lockdown' I mean if the movie is literally being stopped.  I don't mean stopped production, but stopped in its ability to grow or transform because someone has freaked out about money.  I've seen it consistently.  That's usually the case with independent film particularly.  You're in a situation where we need to get another shot or we need to get this and there's something else and you have to just move on.  The magic of independent film then comes from that pressure, that stress, or that structure in a way.  The mistake, and there's not a lot of mistakes in this movie in the sense that there are creative mistakes often in low-budget independent films, you just go with them.  Sometimes mistakes can become great or they can become what the movie is celebrated for.  By mistakes I'm talking about something where you don't get what the director was after as opposed getting exactly what you want.  In a movie like this, because of Bruckheimer, you really get it the way you want it.
CHRIS NEUMER:  Everything you see on the screen is everything you want to see on screen.
JOSH LUCAS: Yeah.  There's a lot more shot, a hell of a lot more shot that's been culled and people spend time figuring out which stories are the strongest, which stories are the most exciting and which ones fold together the best and which ones don't give away certain aspects of the story.  There's a whole other side subplot to this that needed to be pulled out because it made it too obvious the way that the character Haskins was going to go.  His best friend is black.
CHRIS NEUMER:  Let me ask you this.  This is another sort of more general back from the project thing.  Last night, I noticed that you had arrived when suddenly there were spotlights everywhere, flash bulbs popping and there were a lot of people taking photos of you and without hitting the bong, I started thinking, "How much of this guy's life is actually on camera?" To a certain extent I would assume you were playing Josh Lucas last night.  I just wanted to find out… it's sort of a two-fold question.  Part one: is it difficult constantly being 'on'?  And, part two: is there a really big difference that you can notice between being on for the cameras at an event like last night versus shooting?
JOSH LUCAS: It's not necessarily been true because I've been working so much.  I definitely try to keep myself out of the press' eye or out of the red-carpet reality.  The only thing about [doing press for this film] though is that people seem to have such a lovely, consistently joyful response to the movie that it's not that hard to be a part of that and part of that joy.  But yeah, I do have a responsibility I feel sometimes, particularly in this case, to go out and be that in a way; to be 'on' is what it is, I guess, and to be acceptable.  I will tell you, it's not very honest is the truth of the matter.  It's not something that is a regular reality.
CHRIS NEUMER:  So you don't go home to your hotel room, fall asleep and dream about watching Tivo?
JOSH LUCAS: [laughs] Absolutely not.  My parents got all upset about me recently.  I was bitching about  being all over the place. They said, "You have all these different TV shows.  How come you don't tell us?"  I don't know when all that's going on.  I'm  not that interested in all that.  Selling a movie is I think very, very important, particularly if it is a good one… particularly if it is one that people like watching I guess is what it comes down to.
| | | | | | | | | | | | |
| --- | --- | --- | --- | --- | --- | --- | --- | --- | --- | --- | --- |
| Columns | Columns | Columns | Running Commentaries | Columns | The Ten Minute Guide | The Ten Minute Guide | Running Commentaries | Columns | Columns | Articles | Columns |