Jennifer Westfeldt Interview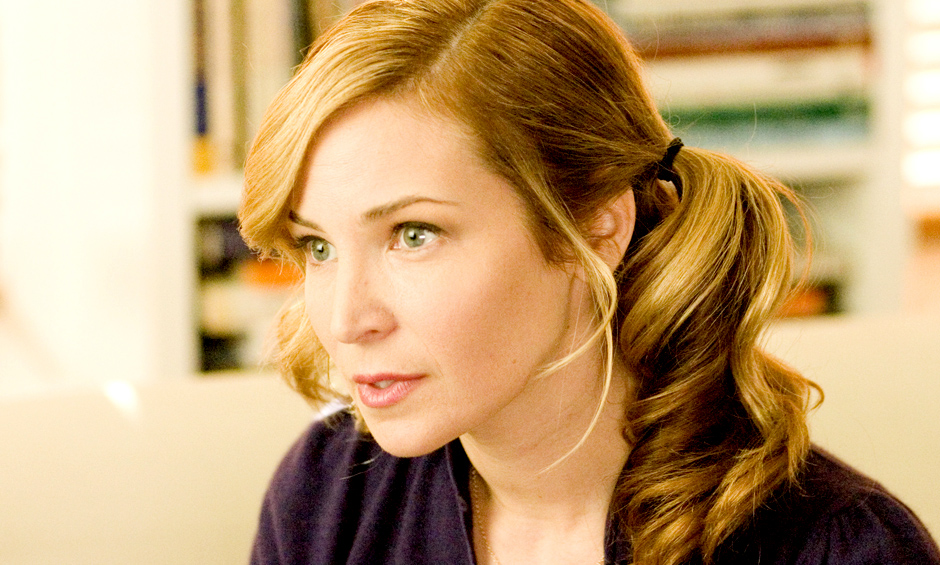 Actress/screenwriter, Jennifer Westfeldt, was one of the major driving forces behind the delightful indie, Kissing Jessica Stein/. Chris Neumer chats with Westfeldt about frat boys watching lesbian romantic comedies, creating a female Alvy Singer and why happy endings aren't always the best way to go.
JENNIFER WESTFELDT: Have you talked to Brad Zions yet?
CHRIS NEUMER: No. Should I?
JENNIFER WESTFELDT: He was the only reason that it got made.
CHRIS NEUMER: He supplied, what, half the cash on this?
JENNIFER WESTFELDT: Something like that.
CHRIS NEUMER: And I recall that you guys had to match him dollar for dollar?
JENNIFER WESTFELDT: Not the other half, really. We were going to raise $400,000. We ended up raising less than that because some of the stuff we raised was 'in kind' services. That was what we thought we'd have to do, but we didn't end up doing that. We did end up raising about $350,000.
CHRIS NEUMER: Were there any truly guerilla attempts at–
JENNIFER WESTFELDT: Everything was guerilla in raising the money. Absolutely everything.  We talked to everyone in our lives. Literally. We went to every person we'd every met. Every friend, family member. Heather and I always had readings with 10-12 actors of the screenplay. We'd do these fully rehearsed performances to raise money to get interest from people. Brad came to one of those which is how he got interested after reading the script.  That's how we got Eden [Wurmfeld] on board and some directors interested. That was our MO throughout the process even before we went indie, we were doing that for years at the studio too. (laughs) We'd mount these productions basically of the screenplay and then hand out investor packets and hope that somebody would nibble. Later when we were running out of money in post, we'd do the same thing but with rough cut screenings. We were constantly showing wherever we were in the process and hoping that people would step up. More often than not, everyone who invested was a friend or a friend of a friend or a family member and that was kind of how it went.
CHRIS NEUMER: And there was a lot of in kind gifting as well?
JENNIFER WESTFELDT: There were a lot of favors. I mean certainly all of our friends and families helped us with donating their apartments to shoot in and helping us house the crew and that kind of thing. The only legitimate business transaction in kind we had was for our post production services. We basically made a deal with Merick. In exchange for them finishing the film, they were getting a certain number of shares. That was the only legitimate deal that was not finagled.
CHRIS NEUMER: Did you find that people were eager to help you guys given that you were first time filmmakers?
JENNIFER WESTFELDT: Yeah, uh, not at all. (laughs) No one was. Not at all. Everyone who knows about moviemaking and knows specifically about independent filmmaking knew what a bad investment it was. So really the people we tapped were naïve. They didn't know enough to know it was a bad investment.
CHRIS NEUMER: But it seems like when it got picked up by Searchlight, it ultimately turned out to be a good investment for those people.
JENNIFER WESTFELDT: You know, we haven't seen any money from Searchlight beyond the two box office bumps we that hit and with those box office bumps, based on how our company was structured, we paid back our investors 125% of their cash, so they got their money back plus 25%. Which was pretty good, given what the market was last year. It's unlikely that we'll see any money at this point, unless the video/DVD thing was just enormous (laughs), I don't think we'll see another penny.
CHRIS NEUMER: I don't think it was exactly Monsters Inc., but it'll be close, I'm sure.
JENNIFER WESTFELDT: Everyone's always like, "It made seven times what it was worth!" but I'm like, "Yeah, but Fox spent, at least they say they've spent, more than it made in publicity," So they're still very much in a hole, apparently. It's a very complicated situation financially for [everyone]. You don't really know whether you're in the red or black until two years after the release.
CHRIS NEUMER: I just enjoy the fact that on paper, every movie ever has managed to lose money.
JENNIFER WESTFELDT: (loudly) I know! Isn't it incredible?
CHRIS NEUMER: It really is. Everyone is getting well and everyone is losing money. If I operated a magazine with that principle in mind, I don't know where the hell I'd be.
JENNIFER WESTFELDT: It's quite baffling, really, the way it's all done. We were told as our company, as our LLC, you have to audit for two years and then maybe it'll be 10¢ and maybe not (laughs). It's all so crazy to me.
CHRIS NEUMER: I know this was a labor of love and I know you've told this story billions of times by now, I'm sorry that I have to even ask, but I need to get it on tape, could you talk a little about the original concept and where it came from.
JENNIFER WESTFELDT: If you've spoken to Heather, you've probably got this already.
CHRIS NEUMER: Oh, I've got it. From Heather and everyone else I've spoken to. From the production notes and previous articles I've read, I just have to get it from you, sadly.
JENNIFER WESTFELDT: I understand. It was a very haphazard genesis in that I had met Heather very briefly for five days in a theater lab in 1996. We sort of noticed each other because we were writing about the same topic.  In kind of an off-handed way, we said, "Someday we should just rent a theater and put on a night of our writing." Soon after that I got a play and then I was in Colorado for a while and I came to Los Angeles to basically visit a friend, took a few meetings while I was here and I ended up getting an agent and a TV show in the first two weeks.
CHRIS NEUMER: What was that for?  All I knew you were in was Two Guys and a Girl.
JENNIFER WESTFELDT: That was a pilot that went. I was kind of one foot in LA and the rest of me was in New York, but here I was: "Omigosh, now I'm in a show here and it's going and I have to get an apartment." It was a strange time because I didn't intend to come out to LA, it just sort of happened to me. I was about to start shooting and here I was in an apartment with rented furniture and a rented car and not really loving being on LA. I was supposed to start work on a Monday and they pushed back shooting for two months. I was so frustrated to think that I was going to have to twiddle my thumbs for another two months in LA waiting for this job to start. I told my agent that I was going to go back to New York until the job began and just be there and all my friends were there and I started to miss the theater. It had been now about six or seven months since I'd been in a play which was a long time for me. So I just called Heather out of the blue and said, "I have seven weeks off, I don't know if you remember me from last summer, but I just feel like doing something creative, do you want to rent that theater and do a night of our writing."
CHRIS NEUMER: Really, boredom played a large part in this.
JENNIFER WESTFELDT: It wasn't boredom, it was feeling like a little creatively bereft because I had just moved to Los Angeles. Prior to that I worked in theater and did like five plays a year.  I was always somewhere doing a play, either in regional theater or off Broadway. I had never not been in a play, you know what I mean? (laughs) Coming out to LA and suddenly being immersed in this world and TV auditions and all of that, it was just a different life. I just missed doing theater. The role I was playing on the TV show was the sort of sweet thankless girlfriend part.
CHRIS NEUMER: Deep, three dimensional and fully fleshed out.
JENNIFER WESTFELDT: Yes. Very complicated, kindergarten teacher from the Midwest who loves her boyfriend. It really was a little–I wanted to fill up these two months with something fulfilling and Heather at the time was struggling with a one-woman show and trying to break into the business because she had been in another career.
CHRIS NEUMER: What career was that?
JENNIFER WESTFELDT: She was working in advertising and kind of doing theater on the side. Doing showcases and one-woman shows in New York trying to get an agent. I remember she called me and asked me, "How does one get an agent?"  She was in the muck and the mire trying to break into the business. I think she was excited to work on something with someone else because she'd been working on one woman shows and was frustrated with it a little bit. So she was like, "Okay!" It was really like two little kids putting on a play. It was that kind of vibe. Basically, during those seven and a half weeks, we worked with a director friend of mine from school–
CHRIS NEUMER: School being Yale?
JENNIFER WESTFELDT: Yeah. And his name was Robert Davenport, he was our first director of the play. It wasn't going to be a play, it was going to be a night of scenes and then basically as we started working with the director and the actors and started writing.  I'm sure Heather told you this, the one scene with two women deciding to be lesbians, negotiating that kind of took over the night. It became clear that there was a more interesting linear narrative that we could present at the end of this six weeks of rehearsal than just a scene night. So we sort of shifted in mid-stream toward that and by the end of it, we had a pretty interesting little play, Lipschtick (laughs).
CHRIS NEUMER: This was '97?
JENNIFER WESTFELDT: That was in October of '97. We put up the play six nights in this teeny tiny theater–I was making the sound cues at three in the morning on cassette tape and my mom bought the props–we had two café tables and a backdrops of a city skyline with red lipstick, that was the whole set. Our little play ran and it was a little tiny hit. People really responded to it and were stirred up by the issues in it. My agent flew out to see it but more or less, family and friends came to see it. It was just 99 seats, so it wasn't a big deal. We closed on a Saturday night, I flew back on Sunday to LA to start my show on Monday and literally by the end of the day on Monday, my agent called and said all these studios had called about your play and they're interested in optioning it and sitting down with you guys. It was very interesting.
CHRIS NEUMER: They had just heard about the play through your agent?
JENNIFER WESTFELDT: No. I guess a couple of other industry people came and there was an industry party in New York that weekend so people started talking about it and the buzz traveled, which was bizarre to me, but it did. So all these people had not seen it, but heard about it and were very excited to sit down with us and find out if they could acquire it. It was really strange given that it ran for six nights and it wasn't the intention of the piece. It was really just for fun.
CHRIS NEUMER: Because you were feeling creatively bereft.
JENNIFER WESTFELDT: I was! Anyway, Heather came out to LA and stayed on my couch.  We went to these pitch meetings when I wasn't on set.  She'd be in my dressing room and we'd be working on something in the story and then I'd go and do a run-through and come back. It was very silly. We took a slew of meetings. Then, on my Christmas break from the show, we bought screenwriting software and adapted it to screen and did a draft in nine days and then started editing that, using our friends as notes people. After about six weeks of that, we had a draft that we were pretty happy with. Coincidentally, just as we were going to go back to all the people we'd met with, my junior agent, Kate Peplowski at UTA was moving over to film, to Interscope and she said, "I'm one of the three people who actually saw the play, give me a week to set it up at my place and if it doesn't work, take it to everyone else." We were like, "Okay. Fair enough." And those people did buy it with us attached to star in it, which at the time was huge. We were all over the trades. Here we were with a Hollywood studio set to star in our own movie, that was kind of an amazing moment. Now we were screenwriters and we're with a studio. It was cool.

CHRIS NEUMER: Let me ask you this, which ties in to nothing you were just talking about. How did you guys decide who would play the different characters. Why were you Jessica and Heather Helen?
JENNIFER WESTFELDT: It's interesting. At the time, in the play, the characters were sort of dead similar. They were two halves of the same whole and that was what the comedy was partially based on. Then, once we got on board with the studio, thinking we'd start shooting soon–which turned into almost two years of traumatic rewrites and taking the script apart and putting it back together again, working with the director that we hired there who I think was the most influential person for us.
CHRIS NEUMER: That was Saul?
JENNIFER WESTFELDT: Saul Rubinek. He certainly was the most involved in how the story came to be what it is. Everyone in our lives and the studio execs and Saul were clear that the two women were too similar to sustain a movie. In a play, it could work because the play had a different focus. We were flushing out the characters and their stories and realized that it wouldn't be all that interesting unless they were a lot more different than they started out.

CHRIS NEUMER: And they could play off each other.
JENNIFER WESTFELDT: Yeah, just make it funnier and more dramatic and more interesting. Bear in mind, we were getting a crash course in screenwriting all along. We had a very sharp learning curve and had to bone up on everything most people learn over several years in a few months. That was when we really started delineating characters and making them opposite. I think that just for ease, when we were writing the play–because we didn't know we were writing a play–we said, "you're character is going to be Helen because it kind of sounds like Heather and Jessica sounds like Jennifer." That was how it really began in the play process. Then when we really started making them full characters during the screenwriting process, we focused on one main difference between the two. That was encapsulated in the lipstick metaphor in the film that began in the play. We talk about Helen being a blender and Jessica searching for that one shade.
CHRIS NEUMER: Sort of the difference between black and white and shades of grey.
JENNIFER WESTFELDT: Basically that Helen was a pragmatist and Jessica was an idealist. We tried to apply that one contrast to every aspect of their lives. Jessica is such an idealist, she never leaves the house and never dates anyone and can't figure anything out. She's so judgmental she can't ever compromise, even for a moment. Helen's such a pragmatist she dates a million guys at once and feels nothing for any of them. We just started there and from there tried to add on all the traits that would be opposing and make it juicier as we went through the story. So I'd say that's where we began and we kind of worked it out. We tried to never have a Jessica quality or a Jessica way be in Helen's life and vice versa until they really started influencing each other. We would come up with something and be like, "That's much more Helen. Let's have Helen be that." It just grew from there. I think the interesting part of working that way was that the characters became much more extreme in and of themselves. As an actor, I kind of felt like, "I don't know if this isn't the greatest thing in the world for us as actresses, but it's definitely better writing."
CHRIS NEUMER: Just given that the characters have such similar names, I'll bet you guys got a ton of questions on whether these characters are very similar to your off-screen personalities and whether you guys are lesbians in real life.
JENNIFER WESTFELDT: We definitely had that one a lot. "No and no," are the answers.
CHRIS NEUMER: You can just point to your boyfriend in the movie.
JENNIFER WESTFELDT: I can.
CHRIS NEUMER: I hope to God that you guys are still together at this point in time so that that remark isn't just hanging there.
JENNIFER WESTFELDT: We are still together. Four and a half years. He is actually the original Josh Meyers, in the play. Which is how I got to know him. Because these characters came from us, there are certain things about all the characters in the movie that I identify with. And then certain things not at all.
CHRIS NEUMER: Well, your DNA is all over the project.
JENNIFER WESTFELDT: (Laughs) Yes. I would hope that people get that you put your life experience, people you know, people in your life, your experiences, your friends' experiences and try and create a world, so if there are certain things you think about or certain traits that you admire or think are complicated or interesting in people or yourself or people you know you want to let them all have their due in different characters in your story. I identify with Josh Meyers and with Helen and Jessica and with Judy Stein and Joan.  I feel an affinity for parts of all those people. I wouldn't say that any of them are dead on for either of us.
CHRIS NEUMER: Yeah, I know that. It's just interesting to see because neither one of you was really well known before this project and people just tend to assume in certain cases, like this, that that is who you are. I'm sure that frat boys will have a field day with this film.
JENNIFER WESTFELDT: I don't know. I think it might be too tame for the frat boys. They might be irritated.
CHRIS NEUMER: Or literate. You could go the other way.
JENNIFER WESTFELDT: (laughs) Maybe.
CHRIS NEUMER: Keep your fingers crossed that you don't have any South Carolina baseball hat wearing frat boys chasing you around.
JENNIFER WESTFELDT: Uh oh… Maybe we should hope that it does go well with that crowd because they're a video-renting crowd.
CHRIS NEUMER: The cult fraternity hit: Kissing Jessica Stein. Since this was your first feature film, did you find that some people were reticent to work with you and Heather because this was your project, your baby, and that you didn't have a lot of experience in front of the cameras?
JENNIFER WESTFELDT: In terms of a director search it was clear that–when we were at the studio all kinds of directors with tons of experience wanted the job because it was being made by the studios. It had a lot more legitimacy at that point. That was a funny transition for us. I was becoming known in TV–I had just landed–but in film nobody knew me at all. I still had just landed in LA and Heather had never been in LA, so we were unknowns. To go from that status to literally interviewing directors, some of whom I completely and totally admired and they were pitching to us to get the job.
CHRIS NEUMER: Are there any names that you can throw out with that story?
JENNIFER WESTFELDT: Even like well known theater directors who had done Broadway plays that I was up for, things like that. I would think, "I can't believe I'm on the other end of this now, this is ridiculous!"
CHRIS NEUMER: Was there ever a sense of "You turned me down for that part, there's the door"?
JENNIFER WESTFELDT: No, no, no. It just felt funny to be these little pissers basically, 25 years old and whatever.  It was a funny process to think that we were interviewing them. They had to sell us on them and that was sort of hilarious. That sort of instant change. That notion of when you have material that people might respond to, you are in a powerful place. Of course, when we were indie, no director with experience wanted to work with us because it was, at that point, it was completely and utterly our project. We had been with it for two and a half years already and we didn't have any money. So on all counts, the only real director candidates we were going to have were the inexperienced people who wanted experience. People who wanted to make a name for themselves along with us.
CHRIS NEUMER: So you ended up with Charlie.
JENNIFER WESTFELDT: Yeah, I mean, it wasn't hard that he was Eden's brother and he was really enthusiastic about the project for a long time. Eden and her sort of "We've got to get a director with a little bit more cache," was really trying to see if we couldn't find someone who had already done a few features who was a little more on the cusp already. Truthfully though, that's a very tough thing when your two actresses are also the writers and the producers, have final cut, and openly state that their vision is the vision of the piece. That's not a great sell to anyone. The search was really to find someone who would add to our already dysfunctional stew and came on with as much enthusiasm as we had, as much energy as we had and as much patience as we had to be gritty and know that there weren't going to be a lot of frills or time. We were going to be kids putting on a play trying to be as great as we could in front of the cameras with limited funds. We basically needed all of the capital to be our sheer determination and originality and exuberance. Those were the resources we had in spades. And not much else.
CHRIS NEUMER: I think that came through in the final product. I first saw the film last year at the Chicago Film Festival in this little dingy screening room with three rows of chairs in it and there were two other people in the audience. And I just had a blast. It was one of the most fun screenings I've ever attended. I just loved the film. I think that passion on all of your parts comes through. One of the things that stuck with me–five minutes after I walked out of the theater I was so upset about the ending. I was like "Why the hell didn't they end up together?" What the hell is going on here? Three or four days later I started thinking about it and it really was like that first time you see a sports movie and the team doesn't win.
JENNIFER WESTFELDT: Yeah.
CHRIS NEUMER: I can't remember if it was Charlie or Heather, but one of them compared Kissing Jessica Stein to Annie Hall.  I didn't necessarily make that connection while I was watching it, but it stands out as a movie that in ten years people are going to look back on and say, "This is the first movie like that."
JENNIFER WESTFELDT: That's nice. Thank you. Certainly, our ending caused a lot of controversy.  Some people thought "That's the only ending you can have, the only truthful way to end it" and other people were like, "How could they not end up together!"
CHRIS NEUMER: I can see that.
JENNIFER WESTFELDT: It was both that we heard. And I think for me and Heather, we really wanted to–we didn't want it to be fairy tale. We wanted it to be positive and real and maybe bittersweet. Life doesn't always work out. Two people have the same revelation at the same moments in their lives and walk of into the sunset. I get a little bit frustrated–even though I love some of those classic Hollywood movies–looking at people who are ridiculously gorgeous having total trouble finding people and then everything works out at the end.
CHRIS NEUMER: So you're not going to be in line to see Sweet Home Alabama, then?
JENNIFER WESTFELDT: Right. I think those movies have a place, but I get frustrated that real people aren't presented as much as they might be. And the real favorites of mine, speaking of classic romantic comedies really are about real people working it out. Recent examples include Jerry Maguire and As Good as it Gets and Rushmore. All of which have bittersweet and hopeful endings. Jerry Maguire has a big happy ending, but it has an unhappy path to get there. They get married and it's not that good. There are so many more complications in those films and I feel like that's more realistic and gives people an associability that sometimes I think is lacking. Everything works out perfectly in movies, you know?
CHRIS NEUMER: Oh, I'm with you. You're preaching to the choir. Everything-works-out-perfectly movies are starting to annoy some of the movie going public. You've been there, done that. You go to the theatre and know how you're going to come out feeling. That's not necessarily a good thing.
JENNIFER WESTFELDT: Right. At least you'd like to be surprised on the ride, even if it does end up happily. I don't know. I think we need to have more truthful characters up there for people to relate to. I love that in As Good As It Gets, Jack Nicholson is loathsome (laughs) at the beginning of the film. He still says all of the wrong things and finally he says something kind of okay and they kiss awkwardly. (laughs) that's where you leave the film. To me, that's a little more interesting.
CHRIS NEUMER: No, it is. There are certain films where everything is not tied up neatly in a big package, like Gosford Park. And as a person who sees more than his fair share of movies, that is appreciated. There's interesting different–the good guy gets killed at the end–but you can't market that very well and there's interesting original which seems to be what you've got. It has an element of reality to it. That's nice to see. When you reshot your ending, Scott is out there wearing that T-shirt with God knows how many holes in it that he had snaked off that crew member, which added a lot to the scene.
JENNIFER WESTFELDT: That's actually my boyfriend's T-shirt. It's funny. I realized that Scott came not wearing the right thing or something and I was like, "Baby, do you have a T-shirt? That's good. With the holes, that's perfect." So that's Jon's T-shirt.
CHRIS NEUMER: (laughs) Yeah, that T-shirt says, "Hey, I've given up." Everyone's been there when you've bumped into someone wearing some clothes that you shouldn't be wearing, but are.
JENNIFER WESTFELDT: I think that's every day for me out here. You're just going out to grab a paper and you run into three casting directors or whatever.
CHRIS NEUMER: You could have shaved this morning, you could have decided I'm not wearing that shirt from freshman year in high school, but you didn't think about it.
JENNIFER WESTFELDT: You just don't think about it, right.
CHRIS NEUMER: Touching back on the Annie Hall comparison. When you were shown in the bad dating montage, it did come off slightly Diane Keaton-y as she was in Annie Hall, what with the hat and stammering, was there ever a conscious choice to play it that way?
JENNIFER WESTFELDT: No. It was actually surprising to us that we heard so many people who said that I reminded them of a young Diane Keaton. I guess in our minds, if anything, we were trying to create a female Alvy Singer. Because she's just so neurotic. Annie Hall wasn't neurotic at all. She was actually a completely wide-eyed girl.
CHRIS NEUMER: Free spirited.
JENNIFER WESTFELDT: I think Jessica's defining characteristic is being too smart for her own good. And that's the opposite of Annie Hall. In that, she was too dumb for him, she had to go to school.
CHRIS NEUMER: That's boiling down all the fat away from that one.
JENNIFER WESTFELDT: No, I could see–we put that hat on simply because we wanted to show seasons changing. Originally the bad date montage had more bad dates, like you saw on the DVD. We basically had a sequence written in our script where it was like, "Now she's wearing an overcoat, now she's wearing this or this scarf." We were trying to show time passing. And then of course, once we cut a bunch of dates it didn't really come off anyway, so that was frustrating. We started intercutting. There used to be a series of bad dates where we showed maybe six months passing. You'll notice that after the bad date montage Joan is very pregnant.
CHRIS NEUMER: That's true!
JENNIFER WESTFELDT: So the point was that those dates were over many months. All of that was very conscious to show, all of the outfits and all that were to show "This is fall", "this is winter" and it didn't come off because at the end of the day we cut material and then intercut the dates anyway. That was the reasoning behind that.
CHRIS NEUMER: It's interesting that all the things you ended up cutting or that were shot at the end of the day, none of it really affects the final product.
JENNIFER WESTFELDT: Oh, bless your heart. It does to my eyes. I still see all the compromises and the locations that weren't right or whatever went wrong, but thank you. But, for example, what I told you about the hat, even in Chicago a couple of people said, "I don't understand the timeline issue. One time we see Joan and she's not pregnant, the next time we see her, she's very pregnant."
| | | | | | | | | | | | |
| --- | --- | --- | --- | --- | --- | --- | --- | --- | --- | --- | --- |
| Columns | Columns | Running Commentaries | Columns | The Ten Minute Guide | The Ten Minute Guide | Running Commentaries | Columns | Columns | Articles | Columns | |