Duncan Jones Interview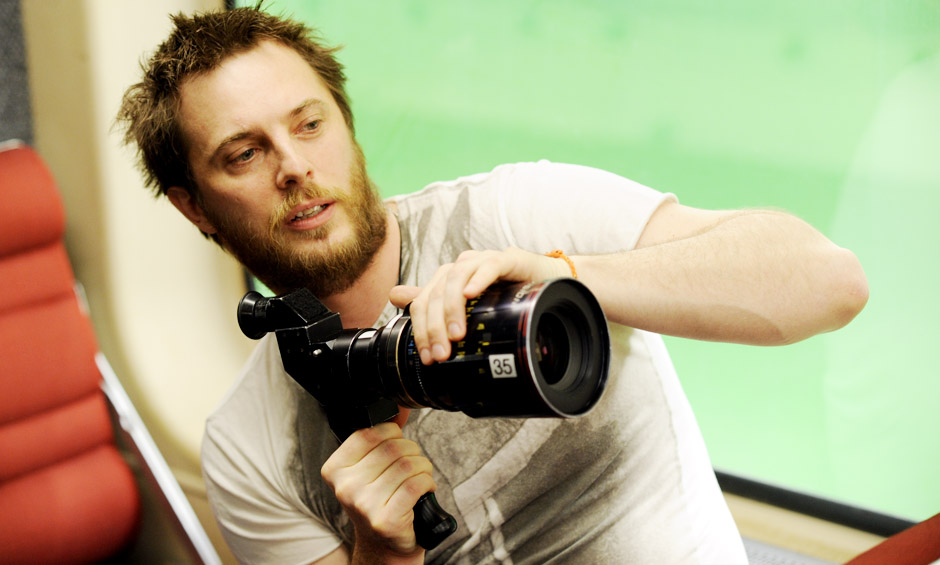 Writer/director Duncan Jones' feature debut was the stunning, sci-fi tale, Moon. Jones chats with Chris Neumer to talk up Sam Rockwell, get into why studying philosophy can make you miserable and how certain types of acting are like jazz.
DUNCAN JONES: It's very lovely to speak with you.
CHRIS NEUMER: Great!  I always like talking to people whose films I watch and it makes me turn my brain on, that's always a nice pleasure.
DUNCAN JONES: Excellent, well I hope it worked for you.
CHRIS NEUMER: It did.  I was doing some research on you and was shocked to see how many people found it interesting to talk with you about whether or not you knew who your father was.  Apparently it's a musician named (purposely mispronouncing it) David Booo-eeee.
DUNCAN JONES: [laughs] Yeah, kind of, it's almost correct.
CHRIS NEUMER: It's almost correct.
DUNCAN JONES: I can live with that; I can live with that understanding.
CHRIS NEUMER: I know you've done a lot of press, but is it something that you have to actually prepare yourself for?  Okay, I've got another press gig coming up, take a deep breath, get through it.
DUNCAN JONES: I don't know.  In the very beginning, it was very intimidating to me because I was never one who enjoyed being in front of the cameras at all.  Or talking about myself.  After I'd done it a few times–because we were talking about the film and I'm actually very proud of what we did–it was pretty easy to just start talking about it.  The Q & A's in particular are something I enjoy doing.
CHRIS NEUMER: Q & As with film festival audiences or just in general?
DUNCAN JONES: No just in general, I mean we've done quite a few for public paying audiences and they've always been really fun.  I know people have interesting questions and the nice thing about Moon is that people tend to want to ask a lot of questions about it.  So they've stuck around and we've had really interesting discussions after the film.
CHRIS NEUMER: Well I guess for your sake it's probably just as well you didn't direct Transformers 2.
DUNCAN JONES: [laughs] Well maybe they'll come a day when I'm doing Transformers 6, but [laughs] for now I'm happy doing this kind of sci-fi.
CHRIS NEUMER: I did an interview with the director Matt Vaughn, fellow U.K. director, who did in fact direct Stardust.  It was kind of funny, looking through some of the interviews he had done on the Stardust tour, because his answers started to change.  At first they'd say, "Oh my god do you realize your married to Claudia Schiffer?" and he'd say, "Yeah, yeah that's interesting isn't it, that's fascinating!"  By the end of the tour, he'd respond, "Well we're actually having a few problems here and there so we might not be together much longer."  He actually started to change his own answers just to keep his own sanity.  He was expressing this to me during our interview and he said, "I know you like talking about the movie, but when you get the 70th question for the 70th time you just want to hand them a FAQ sheet."
DUNCAN JONES: Yeah.
CHRIS NEUMER: You haven't experienced that?
DUNCAN JONES: To be honest, I've always found it easy to come up with new ways to sort of say the same thing.  My answers about the film never change, but I'm not getting bored of talking about Moon.  I am really proud of it and that's kind of my job right now.
CHRIS NEUMER: It's definitely a good film.  I know I've read a lot of people who have talked to you about how you did this film for a $5 million budget.  They've gone on to ask how would this have been different if you had a larger budget.  The question I haven't seen asked anyway is, forget the bigger budget, how do you feel that this project would have been different if you made it 5 or 10 years ago?
DUNCAN JONES: Ah that's interesting. Although we obviously promote how the film uses model miniatures and a lot of traditional special effects, there's a certain number of post production special effects which are done to kind of try and sexy-it-up a bit.  Gerty's one character where we actually have him travelling around the interior of the base as a full CG model at times and I don't think we would've been able to do that with the budget we had if we had to do this 5 or 10 years ago; so I think that that last decade or half decade has actually made a difference as far as special effects we could bring in for the budget we had.
CHRIS NEUMER: Has there been any personal development of yours, like something where you feel now more able to tell a story of this nature, anything along that line outside of technology?
DUNCAN JONES: Yeah, yeah, on a personal level I was a completely different person.  Five years ago, I guess it wouldn't have been too bad, but ten years ago, I was in graduate school at the time; I was a very different, much more miserable grumpy person.  I was still trying to find myself and work out what I wanted to do with my life.
CHRIS NEUMER: You were studying philosophy, correct?
DUNCAN JONES: Yeah, I was on a phD track in Philosophy.
CHRIS NEUMER: That's why you were grumpy and miserable!
DUNCAN JONES: [laughs] Absolutely, absolutely, well it's an amazing place and I'm sure that it would be a great place to go on holiday but for a person who doesn't really know what they want to do with their lives I don't know if it's the best place to find yourself.
CHRIS NEUMER: Truer words have never been spoken. Now reading about this I've sort of been championing Sam Rockwell and his acting abilities, possibly since Galaxy Quest.  It's always been a little surprising to me that he's never really broken out in anything; it doesn't matter how many leads he gets, it doesn't matter how much critical praise he gets; he's never really broken out.  I think now he's actually overrated for being underrated—not even sure how that works but that's where I think he is at this point.
DUNCAN JONES: Yeah no, I see what you mean.  He gives an amazing performance in our film and I think you're absolutely right, even those few chances where he's had the chance to be the lead like in Confessions of a Dangerous Mind or some of his earlier, smaller indie films, like Choke or something like that, for some reason they don't seem to hit with the audience or with the industry.  They don't have faith with him as a leading actor.  Moon, I do think has been able to have more of an impact that way.  People are starting to treat him as someone who can be a leading man.
CHRIS NEUMER: The irony is that I think he's actually where he wants to be as an actor.  I'd actually group him with maybe Mark Ruffalo, Josh Lucas, Tom Jane in terms of people, all roughly in the same age range, all extremely professional, they're all extremely capable but they don't have the baggage of being the lead in Transformers or the guy from Armageddon attached to their name, so now they can just at.
DUNCAN JONES: Absolutely.
CHRIS NEUMER: Is there anything specific where when you look back on this for the 90 millionth time, where you go, "Sam's amazing in this scene?"
DUNCAN JONES: [laughs] When I gave him the initial script to sort of talk to him about–we were actually very fortunate, my producer gave us a little rehearsal time, which on a little independent film is unusual, especially with how tight our budget was.  What Sam did was bring an awful lot of humor to the film.  When we were doing our rehearsal it was a real eye-opener to me that the humor really helped the film.  It didn't get in the way of it.  Sam's just got this natural charisma, this ability to have those funny moments but still maintain the seriousness of the subject matter.
CHRIS NEUMER: Are there any specific examples you can give?
DUNCAN JONES: Yeah there's a scene where Sam's basically, well the two Sams are in the living quarters and Sam 1, the original one, has turned on some music and Sam 2 comes to turn it off in order to tell Sam 1 something really serious and they have this real silly turning-the-music-off/turning-the-music-on moment.  That wasn't in the script; that was Sam saying, "Look I'd love to do this.  I really think this would work well."   I was a bit concerned about it.  I thought it was a little too slapstick but we just went for it.  It's so good, it's a really great scene and some of the lines that we got in there came from that moment of improvisation.  What the suit looks like, the yellow suit: the banana with a yeast infection.  It all just worked really well and that came out of that whole improv thing.
CHRIS NEUMER: Was there a point in time—did you shoot this in sequence or out of sequence?
DUNCNA JONES: As much as we could we shot it chronologically.  But there was some technical reasons why we had to bunch up a bunch of stuff in the middle, we were using a motion control camera unit and we had to stick a week of our shoot in the middle that was using motion control unit.
CHRIS NEUMER: Yeah, that makes sense.  Did you ever hit a moment where you got more familiar with the post work and how you were going to do things that you wanted to go back and clean things up a little bit?
DUNCAN JONES: There was really no time.  Everyday, we tried to literally cover as much as we could.  We were having to leave things a lot of the time undershot.  That was the nature of the shoot.  It was kind of deal we made with ourselves upfront that we were going to try and do this incredibly ambitious film; it was going to have all these technical elements and we were just going to have to try and find ways to get through it.  But no, there were loads of times where I would've liked to slowed down a bit, covered things more thoroughly or just given Sam the opportunity to get more takes.  There wasn't really time to think about that too much, we just had to keep moving.
CHRIS NEUMER: Technical acting is something not a lot of actors necessarily warm up to.  Granted, it's sort of a necessary evil in certain cases.  Was discussing the very technical nature of things with Sam ahead of time ever daunting?  It can't be easy to hear that if you move an eighth of an inch in the wrong direction that you'll screw up an entire shot.
DUNCAN JONES: It was tricky because I didn't want to scare Sam because it was very technical and I knew that he was going to have to hit those marks I didn't want to give him a false impression so I did tell him about it upfront but I don't think he realized just how technical it would be until we started filming it but the interesting thing is as we started shooting it we did discover all these things we could do to give him a little bit more flexibility and allow him to be a bit more improvisational and I think the fact that there was that balance and even though it was more technical there was more flexibility in some aspects I think that helped soften the blow.
CHRIS NEUMER: What was one of those things you discovered?
DUNCAN JONES: We discovered that when he was doing the first half of a conversation he could be as free form in his improv as he wanted to be; when he did the second side of the conversation he would have to be locked in to the timings he set for himself on the first one.  Even when he did come to do the second one, as long as he kept to those timings he could be very loose with how he delivered as long as he hit those beats, I've mentioned before it's almost like jazz: as long as he knew where to come in and where to come out he could be quite loose with it in the middle bits.
CHRIS NEUMER: Are there any scenes like that where you look back on them and think, "That is another perfect example.  I wish someone would appreciate how hard just the technical acting in this scene is?"
DUNCAN JONES: There really is an awful lot.  There's a scene where the two Sams are waiting.  They have just heard a message from their company that they work with back on earth telling them that there's a rescue ship coming to save them and the two of them are sitting at this computer desk and then they have an argument and walk off.  Sam kind of shoves past the other Sam and the timing on it is impeccable.  Just the body language in order to sell it is all impeccable and just beautifully done.  Like you're suggesting, I think a lot of the audience may not realize just how difficult that is to get right and just how perfectly Sam managed to pull that off.
CHRIS NEUMER: Yeah, I believe there's a scene where one of the Sam's puts a hat on the other one or adjusting the hat.
DUNCAN JONES: Yeah that was a real technical, I mean that was obviously a terrific performance by Sam but also technically what we were doing in that scene was really challenging and we actually had the body double come in and be the hands that was doing the interacting and the body doubles arm was basically stuck onto Sam's body, so it's kind of a real mix of special effects techniques and Sam's performance to pull that off.
CHRIS NEUMER: I was talking about this movie with a friend of mine who is in no way affiliated with the entertainment industry.  I was going on and on at length about how hard it is to set these shots up and I kept saying things like, "And you see the cameras actually moving though, they're not keeping it stationary, there's no line down middle of the screen Back to the Future 2 style or anything like that!"  I was very excited about it.  My friend sort of shrugged and said, "I mean it's a good movie but they just blue-screened it or whatever."  I took umbrage at this.  It's like, "No!  I don't think you quite grasp how amazing this is!"  It was then that I realized it's one of those rare films–like Children of Men–that people who are in the know are going to look at it and think, "Oh my god!"  One the other hand, people from Iowa are going to see it and simply think, "Yeah that's a good movie."
DUNCAN JONES: You're absolutely right.  The only thing we can hope is that maybe people from the Academy noticed… maybe we get a few 'ohhhhhs' from them. [laughs]
| | | | | | | | | | | | |
| --- | --- | --- | --- | --- | --- | --- | --- | --- | --- | --- | --- |
| Columns | Columns | Running Commentaries | Columns | The Ten Minute Guide | The Ten Minute Guide | Running Commentaries | Columns | Columns | Articles | Columns | |