Dolph Lundgren Interview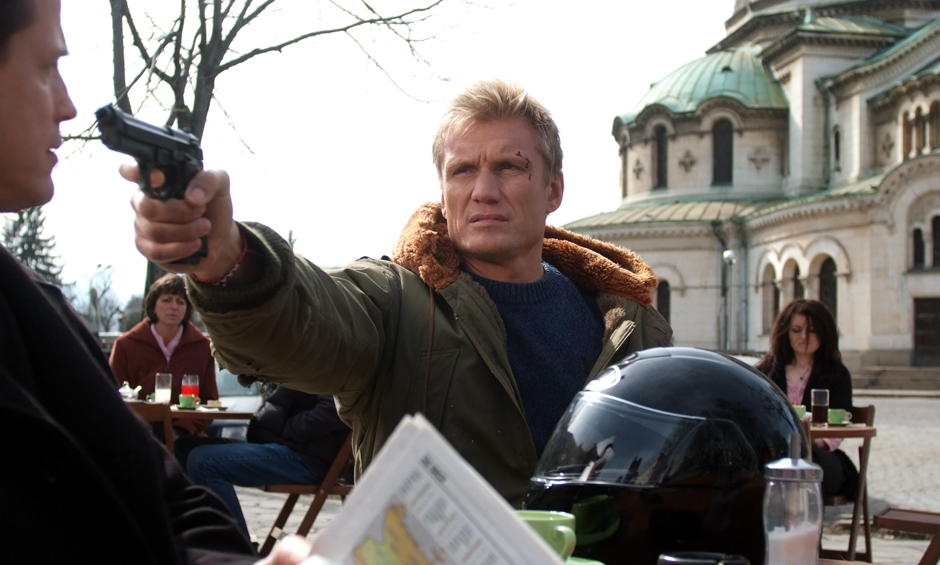 Dolph Lundgren is one of the true action heroes of the late 80s and early 90s. He made a triumphant return to the big screen in The Expendables. Lundgren sits down with Chris Neumer to discuss why there aren't any new action stars, why Taken is a near perfect action flick and what stunts you have to cut out from your life as you age.
CHRIS NEUMER: Hi, nice to meet you.
DOLPH LUNDGREN: Hey, Chris.
CHRIS NEUMER: I was excited when I got the call about you being available to speak, but, pure happenstance, about three weeks ago I found out that you were in Masters of the Universe.  I ended up buying a copy of the DVD so I could watch it and thoroughly enjoyed myself. I thought it was such a great product of an era long gone and when I got the call about you being available for an interview, I said, "Of course I want to speak with Dolph, we're going to have a good time."
DOLPH LUNDGREN: I don't watch my own movies a lot but, you know, that one I guess I caught it on cable not too long ago—I was with my kids, my two daughters, we were in Spain—it's pretty entertaining.
CHRIS NEUMER: I'm 33 myself, so I basically grew up watching your movies.  You watch Masters of the Universe today and there's no way that anyone would ever release that movie now.  Not that that's a bad thing, or a good thing, because it certainly is a product of an era, but it's kind of funny.  I was thinking about this in reference to action films.  In the late '80s and early '90s, there were a lot of these action films. You know, when Steven Seagal got his start, Jean-Claude Van Damme was big, you were huge, and it seems like it almost died there. It was interesting to me that, back in 1991, you guys were the big action guys. Now, 20 years later, you, Jean-Claude, you guys are still the big action stars. So I figured I'd ask you, where's the new genre of action guys?
DOLPH LUNDGREN: The technology's changed quite a bit and the way they make action pictures now is just, very, very stunt driven and very CGI driven. I guess it takes—the actors mostly act, you know, they don't do as much of their own stunts and they don't fight for themselves anymore.  But perhaps that will change. Maybe they'll be a new generation of actors who do have more physicality like Arnold, Stallone, Seagal, Van Damme.  Those guys were real fighters.  They have real physical ability and I think that's changed a little bit. I'm not saying that today's actors aren't any good–they are–but they're very good. It's just a little bit different.  We didn't have all that help!  We all get it done on a movie set.  These days, it's just a lot of people. The scenes, they're making it look great.  And you, as the actor, you don't have to put as much work into it, which is terrific.  Of course, it's just a little different.
CHRIS NEUMER: But, I think one of the things that makes it interesting is that, when you look back at the guys like yourself, and Seagal, and Van Damme, you guys all had the ability to fight. It wasn't a creation of anything, you guys had the talent.
DOLPH LUNDGREN: Now that you say we're back, whatever you want to call it, I guess people are—things go in circles. And people are, I suppose, getting excited again about guys who look or feel like they can do it for real on screen. You know?
CHRIS NEUMER: I do.
DOLPH LUNDGREN: You know, kicking butts instead of what's been going on the last ten years. I suppose maybe it's because Stallone decided to go back to Rocky, Rambo; the stuff that worked.  He realized it still does, it still works.  He moved onto the bigger idea too, where he put everybody together in one movie, I don't think anybody else could have done that, you know, with The Expnedables, and now plus Universal Soldiers.  So, good for us.
CHRIS NEUMER: Very good for you. It seems like the audiences want more real than ever. You take a look at Taken, with Liam Neeson.  He's going through and taking names, and he's kicking ass, and you and I both know that what he accomplished was done through quick cuts.  It's not like we can just leave a camera on the guy and let him do his thing.
DOLPH LUNDGREN: Yeah, but I think with him, what makes that film work is that he comes across as a man. I mean, his character's an older guy, who's been in the service.  Frankly, it'd be much worse to have a guy like that one come after you than some young 25-year old kid. The 25-year old kid might be in better shape, but it's not about that.  And that's what the film is about: you mess with that kind of guy and you're in trouble. That's what makes it work; whether Liam Neeson is a fighter or not, doesn't really matter, because the concept works.  I think that's why people were excited about Expendables.  There's something about Sly Stallone wielding a shotgun, ready to blow you away, where you feel like you're in trouble. Maybe if you got some younger actor it wouldn't have the same menace. That goes for me too; reality carries a certain weight. When you're a bit older, you get pissed off… (laughs)
CHRIS NEUMER: It's that Clint Eastwood in Unforgiven type of thing. That's the guy you really don't want to mess with.
DOLPH LUNDGREN: Yeah exactly. Yeah, you're right. He did very well.  He became very believable as a tough guy in his older age. I think as long as you can stay in shape, there's nothing to prevent you from playing an action guy.  Whether you're 50 or 60, maybe even 70 as he is.
CHRIS NEUMER: Yeah, he's actually, he's got to be close to 80 now too.  He's definitely pushing the upper boundaries of what constitutes an action star.
DOLPH LUNDGREN: But you know also, the emergence of UFC, ultimate fighting, has made the younger audience very aware of the fact that violence is real.  What violence does, what one punch can do to a guy.  They're kind of aware of a little bit of that arena, which people haven't been for a long time, really.  I think in the old movies, a lot of movie-goers themselves, probably, were you know—in those days guys got in fights and they'd lose like gentlemen, you know? You get beat, you get beat up, and then you shake hands afterwards. Guys were more aware that people had weapons, they were out in the open.  They had an awareness about them and they realized that John Wayne was a tough guy, and Robert Mitchum. Now, when most people aren't tough and maybe they've never even seen a fight and definitely not been in one then it's a little different.  Like anime has changed that. Because a lot of kids watch anime, they're a little more aware of the real thing.
CHRIS NEUMER: . You often see the action hero getting hit in the head with a huge anvil or something like that and then just sort of shaking it off.  I believe Bruce Willis kills a man in The Last Boy Scout with a one punch.
DOLPH LUNDGREN: Well, there's a certain manner—yeah, you do have all the comedies, but I mean there's still also an element of the audience looking for role models.  In my day, when I started, if you were an action hero, you were a little bit of a role model like the person.
CHRIS NEUMER: In what sense do you mean that?
DOLPH LUNDGREN: People expect you to live up to certain standards, look a certain way, just carry yourself a certain way, so you know.
CHRIS NEUMER: Now, if I could just interrupt to ask, when you say 'carry yourself in a certain way,' what do you mean exactly?
DOLPH LUNDGREN: I mean that you look fit, that you look good, to look the part, even in real life.
CHRIS NEUMER: Sort of representing the good guy on the white horse?
DOLPH LUNDGREN: Yeah! The guy who is physically fit, who you can, perhaps, look up to in life. Not just the characters he plays. Almost like an athlete.  If there's the possibility to meet your fans, it's just a lot of young kids, and they look for role models outside of the family. You know, a lot of kids, the may not have a family, or come from bad issues. And they want to look for strong men.  Movie stars and athletes are in a position–when I was getting in the business, you were expected to be that way in real life.
CHRIS NEUMER: Do you find that that has changed now?
DOLPH LUNDGREN: (sighs) I don't think it's changed.  I think that film has changed a little bit and that wasn't needed and required by the action star anymore.  But, the public's still there, that's why there's another kind of an excitement. If Stallone shows up, or Jet Li, there's another energy.  People have come to a different level and they're a little funny about this different level because the deal is that it's the real thing in person, but the image is still there.
CHRIS NEUMER: You bring up the role model and the athlete—
DOLPH LUNDGREN: (interrupts) It's a role model, there is the hero worship.  They subscribe to it.  There is an aspect of being an action star I don't think exists if you're a dramatic actor.  Dramatic things lead to other things, and soon, you have actors like Al Pacino.  They played tough guys. People will look up to them too.  You know, you go in an Italian restaurant, they're going to have a picture of Scarface on the wall.  You kind of look up to some of those qualities.  That's another aspect to it.
CHRIS NEUMER: With the role model aspect: baseball has gone through a lot of headaches thanks to steroids and things like that that the athletes have used to gain an edge. Do you think in any way that Hollywood or action stars could be impacted by that?
DOLPH LUNDGREN: No, I certainly would doubt that. I mean, I suppose there are some aspects of it where that wouldn't be good, but that's… if you're physically fit… but, I mean, no.
CHRIS NEUMER: It was a late night pondering that created that question.
DOLPH LUNDGREN: You have to take the logical resolution but, you know, after a while you get tired of it, you know? You can get anybody in the world to do anything.  Take any person in the world on the street, he can exercise.  You get him wired and it's fun for a while but after a while it becomes—you get bored.
CHRIS NEUMER: Well you've also come up with a great new reality T.V. show idea: randomly picking somebody off the street to make into an action star.
DOLPH LUNDGREN: It's being done already by the studios. Just pick out any comic strip character and you take a good actor and follow him and just turn him into a character. You're done. You have Conan, but unfortunately, you have to spend a lot of time building that physique, and it's hard from someone off the street. Arnold and Conan; he was just so surreal, I mean, wow…
CHRIS NEUMER: He lifted a huge sword. I know you had that huge axe you had to throw around in Masters of the Universe as well.
DOLPH LUNDGREN: Yeah, well…
CHRIS NEUMER: I've read in a number of interviews that you've done that you've been cutting back on some of the stunts that you've been doing as you've gotten older. I was curious to know: what was the first to go?
DOLPH LUNDGREN: I'm not doing any crazy stuff any more. Like I used to do high falls; I used to jump from the motorcycle to the truck myself. That's unheard of today.  Now nobody would ever do that.  In those days it was stupid, man. I just did it because that's what it was, but that I don't do anymore. But, I mean, in The Expendables I do all the fighting.  I do a lot of the stuff myself and if you get an injury then it'll give you something to remember it from.
CHRIS NEUMER: I remember you had to lay down the motorcycle on Missionary Man. So the high jumps were the first things to go?
DOLPH LUNDGREN: High falls.
CHRIS NEUMER: High falls.
DOLPH LUNDGREN: Yeah, I'd say yeah, I would have done more, but high falls, they're crazy man.  I remember getting up there and thinking, "I don't know what's going to happen if the airbag fails."  I screwed up my back, I still have that problem, I still have that pain in my lower back.
CHRIS NEUMER: If that the craziest, are there any gags that you look back on, that you did, where you're like, 'I don't know what the hell I was thinking?'
DOLPH LUNDGREN: Well, that was that one, and then, Red Scorpion.  On that, I jumped from a truck to a car, or to a motorcycle, vice versa.  In Rocky IV, we did a lot of heavy training for that; we trained for six months, twice a day. Most of the crazy stuff is  things to do with machinery. Riding a horse when choppers are flying by and stuff like that.  Horses don't know it's a movie so…
CHRIS NEUMER: (laughs) That's a good quote, I like that. Now, you've gotten to know both sides of the camera, as well as the writing process.  I'm going to pose a hypothetical to you: suppose I'm a studio executive and I come to you and I say I'm going to give you a $25 million budget. You can do pretty much whatever you want with this $25 million so long as you deliver one badass action film on time. What do you do?
DOLPH LUNDGREN: I think you have to think.  You have to maximize, you have to have a great story, because people like stories. It's still like telling stories around the campfire, you know. If you have $200 million then you've got to really figure out some way you can throw everything in there including the kitchen sink.  But, if you've got 25 then you got to think of a great story, you know? Look what they did with Taken. That was probably a little bigger budget that that, but not much bigger. Good story, good actors and you know, good action. So, I thought it was well done.
CHRIS NEUMER: When you're just flipping through channels, are there any stunts you see that you want to try in a film that you're helming or are there any situations, scenarios that you're interested in examining?
DOLPH LUNDGREN: When you're directing you're kind of interested in the movie and the story and the characters.  I just sort of prefer the really tough fighting and some of the other street fighting type moves. You know, where it's not just show. It's not dressing it up for the cameras too much. It's pretty down and dirty, the way it should be. That's something I like to do. I do that.
CHRIS NEUMER: You've mentioned a couple of times the need for a good story, and good characters.  I find this interesting because when you break down what a good action film is, it's basically one guy who is just going out and killing people. Basically.  That's the plot of Taken, actually.  When you break this down, do you ever see a scenario where you can have an action film that you're either starring in, or directing, where the balance of this equation is skewered a bit differently?
DOLPH LUNDGREN: Well sure.  Obviously sometimes people go for the bad guy and villains can sometimes be interesting characters to play too. I mean obviously they can also have bad things done to them, but, you know, you stand up for the wrong side of the law and you have to pay the ultimate price to be forgiven. It's the other side of the coin. I think that what is written in Expendables is humor, which Stallone decided to do after Rambo, which was kind of bloody. There's the aspect of it too, that you can bring in, you want to make it entertaining, make it less brutal. You can go that way too. You don't go over the line, you can have fun and it isn't as bare as would be real life. You don't show as much blood. You can do that too. It depends. It depends on the story, you know?   In terms of Eastwood, in his pictures a lot of times he's just a badass, but he's just a little bit better than the real bad guys.
CHRIS NEUMER: [laughs] This is true.
DOLPH LUNDGREN: Pretty interesting character too. Not too squeaky clean, like a John Wayne character.  There are ways to do it.
CHRIS NEUMER: I spoke to a friend of mine. He's written a couple of screenplays and things like that, and he told me that I should, if there was one character that I needed to examine, it was the character that Billy Bob Thornton played in the movie Bad Santa. This was the case because the director never took any pains to ingratiate the lead to the audience and yet the character is still likeable.
DOLPH LUNDGREN: So it's a lot like what Eastwood does.
CHRIS NEUMER: I know you've mentioned Pale Rider a couple times in other interviews as good examples of a character you like, but are there any—is there one character that you've seen in any films where you look at it and you go 'I keep coming back to this guy and I just can't figure out why?
DOLPH LUNDGREN: You mean a character that I keep coming back to that I like to watch?
CHRIS NEUMER: Sure.  You know, just somebody, a character, that fascinates you. In terms of either structuring or delivery.
DOLPH LUNDGREN: Clint's characters are so interesting because they're so minimalistic. In Gran Torino as well.  Anytime you think he's going to warm up and be nice, he isn't. He goes the other way. But the camera communicates stuff that goes on below the surface. That's what he knows. You don't have to telegraph it. He knows that you're going to like that guy.  You know he's a good man inside even though he's grumpy, and you know he's not nice to people. And that's why that becomes real. Because people know real; they know what real people are like. And when characters are too simplistically drawn in movies people don't believe it. Real people they always surprise you. It's a combination of facets and many, many different things and that's what he's very good at.  And it's not just him, but he's an action guy who's good at it.
CHRIS NEUMER: When you see a character like Clint's in Gran Torino, where he says, 'I'm a horrible person, but you're going to like me anyway,' does that daunt you, the thought of trying to recreate something like that or to get into that mindset yourself?
DOLPH LUNDGREN: I don't know if it's for me to do. Because I'm kind of scary on the surface anyway. If I don't smile, I'm not nice, and I'm not pretty like…[laughs] Whereas in his case, he doesn't have to be to look tough like that.
CHRIS NEUMER: Can I ask one last question, just a clarification thing?
DOLPH LUNDGREN: Yeah
CHRIS NEUMER: I've seen different places that keep saying you're born in 1957. And you keep insisting that it's 1959, and it goes back and forth, and I figured I'd just ask you once and for all: if it 1957?
DOLPH LUNDGREN: It's '57
CHRIS NEUMER: It's '57.
DOLPH LUNDGREN: Print it in big letters if you like, okay?
| | | | | | | | | | | | |
| --- | --- | --- | --- | --- | --- | --- | --- | --- | --- | --- | --- |
| Columns | Columns | Running Commentaries | Columns | The Ten Minute Guide | The Ten Minute Guide | Running Commentaries | Columns | Columns | Articles | Columns | |