Carsten Norgaard Interview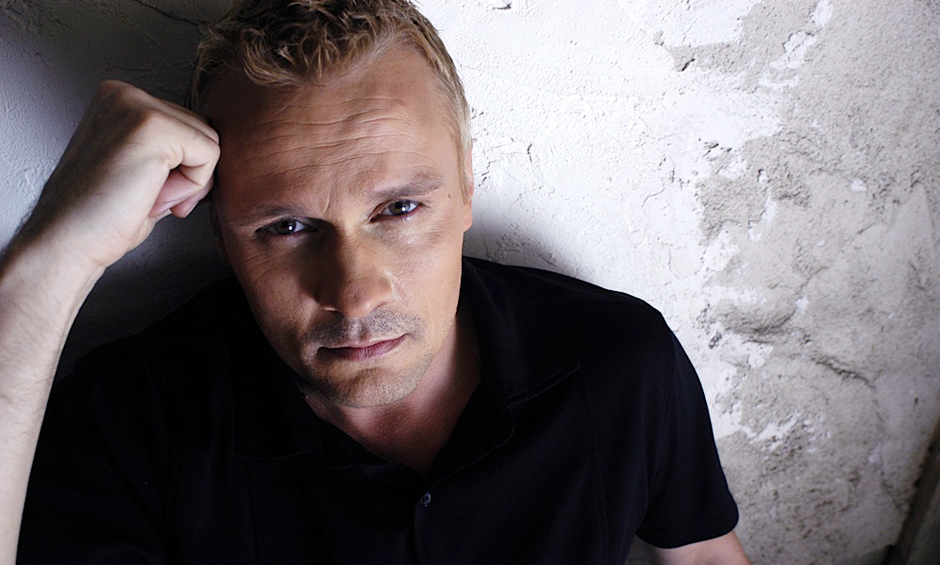 When actor Carsten Norgaard was cast in Alien vs. Predator, he realized his character was going to try to do something that only two men had done previously: fight the Predator and live. Norgaard talks to Chris Neumer about stunt choreography and what it's like to film a fight sequence for two days in a row with broken ribs.
CARSTEN NORGAARD: I've been to Chicago once before. I had some friends who lived up in Wilmette, up by the lake. Do you know that area?
CHRIS NEUMER: That's a very nice neighborhood.
CARSTEN NORGAARD: I just remember it was the summer and going to the beach and hanging out and I thought it was cool that you had the lake right there.
CHRIS NEUMER: You're in LA right now, right?
CARSTEN NORGAARD: Yeah, yeah.
CHRIS NEUMER: Then you have to appreciate the ocean being right there.
CARSTEN NORGAARD: Yeah, I definitely do. That's one of the great things about living in Los Angeles. It's always sunny too. Talking about that, it's actually over cast today.
CHRIS NEUMER: I know you can't say much about the film (Alien vs. Predator), but I know you fight the Predator. Even though so many plot details are being kept under lock and key that one leaked out. I'm almost positive that you can't tell me the outcome of the fight though.
CARSTEN NORGAARD: That would be correct.
CHRIS NEUMER: I'm going to go on record as saying you get the crap kicked out of you for a while and then give it back a little and then hunched over, exit stage right. You're battered, but you're going to live to fight another day.
CARSTEN NORGAARD: Okay.
CHRIS NEUMER: Of course, you could get beheaded and the Predator could use your skull for some kind of tiki drink. I'm willing to concede that. But having not seen the film and not knowing anything about the film, I figured I could talk to you about what it takes to fight the Predator. On the outset, it seemed like any other fight scene. Then I realized, you're not fighting a human–it's a guy in an eight foot rubber suit–and then I ask how does the choreography work on this? What the training like? What kind of acting mindset do you get into to prepare for a fight sequence with an ugly, giant intergalactic beast? This we can do without having seen the movie.
CARSTEN NORGAARD: That's a very interesting angle. For me–I don't know how much you know about the character I play, a character called Quinn, a third generation oil driller who is brought to the expedition by Lance Henrikson's character, Bishop.  I'm supposed to lead the expedition for oil drilling to Antarctica. Quinn is a firm but fair guy. Having read the script and knowing what the part entailed, I was looking to fight something creature that's super human, you had to have the feeling that [my character] was superhuman too. I had to find an angle for the character [to turn him] into some sort of hero. Actually–his being an oil driller, that's only one thing with my character that I'd heard of or knew of. I based that off Red Adair. I built my character around Red Adair. He was the guy who capped all the oil fields in Kuwait after the war. He capped 117 fields.
CHRIS NEUMER: Which war, by the way?
CARSTEN NORGAARD: The first one. They talked about how it would take 100 years to cap all the oil fields. He's the only one in the world who does this. Also there's a movie made about his life call Hellfighter for John Wayne. He played his character.
CHRIS NEUMER: How old is this guy if John Wayne's playing him?
CARSTEN NORGAARD: He'd be old today, but he's a really tough character and larger than life. He capped an oil field in the Sahara desert that burned so brightly that when John Glenn was orbiting he could see the flames from space. He's an amazing character, he's like a real hero. [People] say man is not a hero because he's braver than anybody else, he's a hero because he's brave for 10 minutes longer. And that's who Quinn is. He sticks up for his guys and nobody dies on his watch. It was important to bring out a lot about him and what he'd done to show that when it came to being a stud, he had all the knowledge to do this. When we were shooting this in Prague–
CHRIS NEUMER: Ah yes, the lovely scenic Prague.
CARSTEN NORGAARD: Yes. Applying for jobs and oil rigs and getting to know what it means to be in that business. It's a pretty rough business.
CHRIS NEUMER: It's up there with deep sea fishermen, I know that. I understand what you're saying with the character, but let me ask you how this ties in with the fight with the Predator?
CARSTEN NORGAARD: What I was trying to say was bringing that heroism to the character. Then you have a strong character when you go up against someone who is eight feet tall and have all kinds of super cool gadgets and makes you look like a midget.
CHRIS NEUMER: Did you ever get the sense–I did an interview about a year ago with Lou Diamond Phillips and he said, I'll read you the quote. He was filming Bats and they were adding all the bats in post and he said, "I'm in the middle of main street, two in the morning, break dancing my ass off with 200 people watching me, I'm unloading my gun in the air, the director says 'cut' and I thought, I'm 38 and this is what I do for a living." So you walk on set, you see the guy in the Predator suit, is there any sense that, "I'm fighting a cartoon character for a living?"
CARSTEN NORGAARD: I would say being on the set, being on these gigantic huge, huge, huge sets that we were shooting on was, in one way, eerie and very surreal.  Just to be involved in a piece of something that's larger than life, it was surreal.  I guess that's one of the things where you–where all your preparation work, when you get to do it, hopefully for an actor, he needs to think about what he does, you lay it all down, and if do all your prep work, it becomes all second nature and then fun to me. With the sets and everything, it takes on a life of it's own.
CHRIS NEUMER: You had worked with Paul [W.S. Anderson] before on Soldier, right?
CARSTEN NORGAARD: Yeah.
CHRIS NEUMER: I really wasn't a big fan of Soldier and only saw it once a long time ago, did you have a large part in that?
CARSTEN NORGAARD: I didn't have that large of a part in it.
CHRIS NEUMER: Did working with Paul on that in any way your getting cast here? Did the professionalism you displayed there help you land the role of Quinn?
CARSTEN NORGAARD: I think that if you work with a director before, even if you had a smaller role in it, you can go on to get a bigger role in another movie. Just because you have a small part doesn't mean that you can't do a good job. That's great that a director appreciates the time you put in. You did an outstanding job in a small part but you had a small part.
CHRIS NEUMER: True. What is Paul's style of directing? When he gets on set, how does his style differ from some of the other directors you've worked with?
CARSTEN NORGAARD: I would have to say he's an actor's director. He listens to his actors and listens to their input. I've found that whenever I had something that I felt like I could add [to the project] he would listen. One of the most amazing things about Paul is that his enthusiasm is so contagious. I think that's what everybody felt. I think you'll see that when the press comes out. He just had such enthusiasm. This movie is a childhood dream for him and I know many directors have tried to get this thing made and pitched stories. Obviously he came up with something that the studio liked that also paid homage to films like Die Hard.
CHRIS NEUMER: How would you describe his style on set? Were there a lot of camera set ups? Lots of takes?
CARSTEN NORGAARD: That's a good question. On big movies like this, if this movie had been shot in America it would cost like a gazillion dollars to make. A big movie, we would shoot with 3-5 cameras. But Paul's the kind of guy where he'd come up to you and ask you how you feel. "Do you want to do that a couple of times?" We'd block the scene and say, maybe we should shoot the rehearsal. I think he's very accommodating to his actors.
CHRIS NEUMER: Specifically on the scene where you fight the Predator. How do you go about blocking that? How did you work out the choreography of that whole fight? I'm assuming it wasn't with a guy actually in suit.
CARSTEN NORGAARD: It was such a huge scene and a lot of–are you familiar with the Predator movies?
CHRIS NEUMER: I've seen the first one.
CARSTEN NORGAARD: Okay, well he is invisible at times and the eerie part of being on a set like that in a storm. Part of it is that you don't know who you're actually fighting. That's scary.
CHRIS NEUMER: Well, that's your character saying that, correct?
CARSTEN NORGAARD: Yeah. I think we shot it over 4-5 days. We blocked it with the stunt coordinator. It's, you know, I don't know if you know, but you know, like, you know, if you block things [correctly] there's still room for mishap.
CHRIS NEUMER: I'm assuming your ribs know all about that.
CARSTEN NORGAARD: I broke a rib in the middle of it and didn't know that I'd actually broken a rib. It hurt seriously when it happened. We took a fifteen or twenty minutes recess and went on and had to do something things where I got punched in the chest. After each take of that I had to walk off by myself. Tears were like flying out of my eyes. It was that painful. I just thought it was from the impact of what had transpired before, you know? So I kept on working until five in the morning.  Then I went home and slept and took some pain killers before I went to bed. I woke up in the late afternoon and went back to work where I worked until like five in the morning the following day and I virtually keeled over in pain. That's when I went the hospital and took an x-ray.
CHRIS NEUMER: That had to endear you to the stunt men. You hear about actors who break a nail and are done for the day. This is the opposite of that. Did it help in creating the heroism of the character?
CARSTEN NORGAARD: People said it was above the call of duty.  I was in serious pain when I showed up on the set on the second. I just thought it came from the impact. I took painkillers trying to get [the pain] to go away but then to continue the sequence I had to fight, swing and do stuff and it was incredibly painfully and I just couldn't do it. Several people came up to me and said, "Most people [wouldn't have done that]." But that's what that character is like. So I think that because–I thought–I was there to do a job and I did my job. You don't leave any men behind you stay with them and finish your job.
CHRIS NEUMER: When you were actually shooting the scene between yourself and the Predator–for starters, how tall was the Predator?
CARSTEN NORGAARD: Ian White, he used to play basketball in England so I'd say he's 7'3″. And that's without the gear or the boots. I'd say he's eight feet tall [fully in costume]. He was a huge guy, but he had a fluidity that he moved with all that gear. If you play basketball–it looked like an animal, a Predator on the prey–he had such beautiful motion to the whole thing. I imagine if I was in a big costume like that I'd look like–Kerplunk. I'm sure I wouldn't be able to move and make it look like a ballet.
CHRIS NEUMER: Could he see very well out of the costume?
CARSTEN NORGAARD: He was obviously able to see in order to fight, but it was tough for him. Some of the things were happening in a blizzard. It was a tough environment, which added to the difficulty of the scene.
CHRIS NEUMER: You'd mentioned that there were times because the Predator is able to go invisible, or blend in with the background, same difference, that your character at times was fighting nobody. How did–
CARSTEN NORGAARD: Without being–I'm sort of limited with what I can say. Let's say that the fight/chase takes place on a gigantic set. Some of it is… uh…
CHRIS NEUMER: Let me rephrase so that you don't have to worry about giving away plot details. What was it like shooting when you were shooting a scene when your character is fighting nobody? Was somebody there in your sight line? Were you acting opposite a tennis ball on a stick? How did that work?
CARSTEN NORGAARD: That again goes back to the thing when I guess an actor isn't an actor when you don't have to think about what you're doing. Having anchored the character–when the environment lets loose around you it was eerie to feel that somebody was out there and all that destruction and when it comes to hard work there are parts where–an eight foot giant wearing super cool weapons, that's so intimidating. I remember the first day I was on set and the camera test and some shadow came up behind me and I turned around and it scared me.
CHRIS NEUMER: That was Ian?
CARSTEN NORGAARD: Yeah.
CHRIS NEUMER: I've interviewed Robert Altman a couple of times and he has this thing about actors. He loves actors, but for the life of him can't understand how they cry on command, get ready for a scene or anything that they do. Now you're here telling me that you're on a huge fake set, acting opposite nobody, in the middle of a man-made raging blizzard and it's second nature to you. For someone who doesn't understand actors, that sounds absolutely crazy. I can't even imagine that.
CARSTEN NORGAARD: I think, credit goes to a lot of people, the set designer created a really realistic set. On some parts of it you'd think you were on Dr. Zhivago. The attention to detail–you didn't for one second believe that you weren't in Antarctica. When your environment that surrounds you gives you such a feeling of reality it obviously enhances the experiences that an actor has.
CHRIS NEUMER: You'd mentioned working with the stunt coordinator on this, who was that?
CARSTEN NORGAARD: Rick Forsythe. Great guy. He looks out for your safety and obviously when they found out that I'd broken a rib I had to take a little rest. It normally takes like five or six weeks for a rib to grow back. We didn't have that kind of time, so we had to reschedule a lot. We had a fair amount of the [stunts] to be done later on.
CHRIS NEUMER: Let me ask you this, you mentioned that Rick was good with safety. I'm assuming that that's a trait present in all stunt coordinators and if it isn't they have a rude awakening coming. What differentiated Rick's style with other stunt coordinator's styles?
CARSTEN NORGAARD: These guys are larger than life. A month and a half ago I went to the World Stunt Awards. I had no only because of my own experiences in this movie but watching some of the stuff that these guys do, I know what their work entails. The truly make us look great. It's such a great thing that they have those awards and are honored for their work. Their work is very dangerous.
CHRIS NEUMER: Were there any specific examples of times on the shoot where there was very dangerous stunt work and Rick's efforts made it safe, or as safe as it could possibly be?
CARSTEN NORGAARD: Let's say there was some kind of a rig being done, made especially for me. We kept on doing it until my body was sore.
CHRIS NEUMER: Like a wire rig?
CARSTEN NORGAARD: I can't really talk about what it was because that would reveal some plot. But it was a rig and it was very–it was important that I could move as much as possible.  Having not done huge fight and action sequences in other movies, I don't know how it always works, but you keep doing these things until they are absolutely perfect. And Rick kept saying that we have to get it absolutely right. He said, "If you don't feel comfortable doing something, we'll have a stunt double come it."
CHRIS NEUMER: How many of your own stunts did you do?
CARSTEN NORGAARD: I did everything until I broke my rib.
CHRIS NEUMER: What type of training have you had that you bring to the production?
CARSTEN NORGAARD: I think being fit [is about it].
CHRIS NEUMER: So, you're in good shape and you have an open mind.
CARSTEN NORGAARD: I guess that's a good way of putting it. It's exciting too. You're there fighting these creatures and being on a huge set, it's like being a kid in a candy store. It's amazing. Sometimes you do a double take. We'd be in the middle of it, there's a blizzard going on, all this snow is coming into my eyes. I think we went through 8-10 bottles of Visine for my eyes so they weren't bloodshot. After each take you have to keep resetting and you have to reset your eyes because you couldn't open them after one take.
CHRIS NEUMER: Oh! So you had engines blowing stuff around?
CARSTEN NORGAARD: Yes.
CHRIS NEUMER: That seems like it would make things a hell of a lot more difficult. You're out in the middle of the snow and it's blowing around, yeah, that can get tiresome.
CARSTEN NORGAARD: It can. It the middle of the scene it can be difficult to hear and you still have to hit your marks.
CHRIS NEUMER: How big were the engines? Were they jet engines?
CARSTEN NORGAARD: I heard that they were the four largest continental jet engines in Europe. They brought them to Prague.
CHRIS NEUMER: And someone thought it would be a great idea if you went and stood right in front of them.
CARSTEN NORGAARD: Yeah, and the snow and all that stuff is just blowing.
CHRIS NEUMER: This seems like the place to talk to Paul and say, "Dead God, let my character wear sunglasses."
CARSTEN NORGAARD: Actually, we decided to emphasize the heroism of Quinn's character. Prior to when I started filming, we watched a program about a Special Forces unit guy who was dropped into Siberia and is chased by five of his peers. I believe it was called Hunting Chris Lyon. He was the only one of the five SEALS or Special Forces guys who didn't wear goggles. It kind of emphasized the environment and how tough it is. I guess one guy died of hypothermia. We decided to do the same thing for Quinn. Not have him wear goggles. It obviously made it really tough in certain parts, because of all the snow in your eyes.  You know if you had the goggles on it would have been a lot easier, but you wouldn't get the feeling that you're in the middle of this cold place.
CHRIS NEUMER: Did you ever talk to friends on set and just say, "Why the hell did I play up the heroism? Where are my goggles!?"
CARSTEN NORGAARD: There were times when I actually did suggest that. But it's all for the art.
CHRIS NEUMER: Last question I have for you. When I watch AvP am I going to be surprised?
CARSTEN NORGAARD: Are there surprises?
CHRIS NEUMER: No. Am I going to be surprised? Will I be surprised how good it is? How bad it is? How good looking Lance Henrikson is? It's a purposely vague question.
CARSTEN NORGAARD: I truly believe–I haven't seen the movie–but privy to what I watched on set, the action on set, the scope is fantastic. John Bruno, the CGI and visual effects legend, is on this movie–he did True Lies. He wants things to look real, so you'll see some real images. It enhances the experience for the audience, people will think it looks real. I think it'll be scary and a chill thrill ride. It will push buttons and keep you on the edge of your seat.
| | | | | | | | | | | | |
| --- | --- | --- | --- | --- | --- | --- | --- | --- | --- | --- | --- |
| Columns | Columns | Running Commentaries | Columns | The Ten Minute Guide | The Ten Minute Guide | Running Commentaries | Columns | Columns | Articles | Columns | |