Bruce Stahl Interview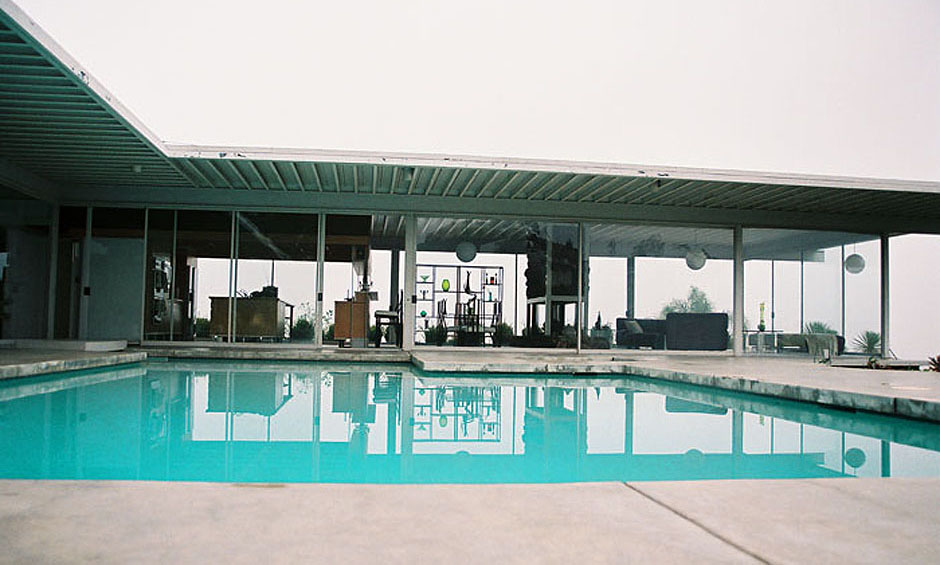 Chris Neumer has always wanted to interview a house. However, since the expression, "If these walls could talk" is just an expression, he did the next best thing: he interviewed the owner of Los Angeles, California's extremely renowned Stahl House (Case Study House #22), Bruce Stahl.
CHRIS NEUMER: I saw Shop Girl, and I wasn't sure if it was [shot] here or not?  It was somewhere very near here if it wasn't here.
BRUCE STAHL: I don't remember that one. There's been a lot of stuff shot here. A lot of [films] could've come through, and I didn't realize it [laughs].
CHRIS NEUMER: I figured I'd ask. What are the big things that have been shot here? What are the things about the house, where if somebody's going to come se it, they're really going to want to see?
BRUCE STAHL: If you want old stuff, there are a couple old Adam Twelve episodes that were shot there.
CHRIS NEUMER: Well, what's the stuff that you're proud of?
BRUCE STAHL: The Marrying Man had a lot of the house in it, which showed a lot. It had some action involved in the movie.  I believe someone was thrown through the plate glass window. It just showed more of the house. The First Power had a bit.
CHRIS NEUMER: Didn't they have somebody strung up, over here? Am I remembering it correctly? In The First Power?
BRUCE STAHL: It's a little vague. I haven't seen the movie in a while, so I can't be certain if that's actually the place.
CHRIS NEUMER: Okay.
BRUCE STAHL: The original pilot-movie for Colombo, you know the series Colombo? The Pilot for the series was a movie titled Prescription Murder. Part of that was filmed up here, this was a long time ago though. I remember seeing that when I was just a little kid. But with Galaxy Quest, there was a little bit shot up here.
CHRIS NEUMER: Was this Tim Allen's house?
BRUCE STAHL: Yes.  There was probably a scene where he was standing out at the corner when he gets beamed up, and some of the aliens were right there [points to front door] at the door, they use that front door [to get in].  I don't know if you've had the chance to see that movie, or not.
CHRIS NEUMER: Yes, I have, but that was a long, long time ago. I remember it, but they didn't shoot it the normal way this house is shot.
BRUCE STAHL: No they didn't!  They've shot it a lot different in other things. Some people just shoot that wall over there. It's just whatever captures their eye. Most of the stuff here that's shot now is fashion. Still shoots and stuff like that, a few commercials. There was a Sprint commercial shot up here…
CHRIS NEUMER: I saw a watch-ad, where they had this guy sitting in the middle of the pool, or across the pool, or something…
BRUCE STAHL: Yeah, I think that was a fairly recent one.
CHRIS NEUMER: Yeah, I took that around to some location scouts and I said, "This is the house that I want to see, this is the one." Finally, people tracked it down.
BRUCE STAHL: Yeah, most of them like World and Universal, all those location companies have them [locations] on multiple files, and they'll send a crew to update their files – just a bunch of photographers. It's been profitable for my family… since we were little kids. The house has been… different, and that's what people have liked about it.
CHRIS NEUMER: Yeah.
BRUCE STAHL: I always worry that the house is going to be overexposed. But, they keep coming back. We do limit some of the stuff up here. Like the big features because of the nature of what they do. They just take over the whole neighborhood.  We turned down a big feature where they wanted to use the house for twenty days.
CHRIS NEUMER: Wow.
BRUCE STAHL: Four week span, five days a week. We weren't going to put the neighborhood through that because of all the power lines and generators.
CHRIS NEUMER: Yeah, I couldn't figure out… I mean, I'm not familiar with the Hollywood Hills, but I've been up here before, to parties and things like that. It was an enormous pain in the ass for me to find, and I'm not even going to tell you where I ended up initially, trying to get up here. I brought a map to help me attempt to figure my way up here, but I don't know how they get all the trailers up here… And the generators and everything.
BRUCE STAHL: We've kind of stopped all that, because they are real invasive. With large shoots now, if there's a certain amount of people, they have to shuttle them up. We only allow three or four cars at the most up here, in the carport. We don't allow anybody to park on the road up here, they have to park down below the white gate. It's because the neighbors across the street up here—
CHRIS NEUMER: Don't want to have to park down the road [Laughs]
BRUCE STAHL: Yeah!  During shoot-days they have their ears up—they're either out complaining—or they have their hands up, asking "why?" It's a private drive. They have every right to be upset.  It's a private, gated road, and here they have these shoots going on. It can be annoying after a while, because there are a lot of them. We do smaller ones where they come in, and you probably don't even know that they're here.  They're gone quickly—they've probably been shooting off the main road. But, a lot of times if the shoot is fairly sizable, then we'll have a base camp and just shuttle everything up, drop it off, and move the cars back down. So, we make it kind of difficult for the neighbors [to complain].
CHRIS NEUMER: Do you have any specific rules? The thing that always surprises me about the houses in the Hills is how different the side facing the street is. I don't think I've ever seen the "street side" of this house.
BRUCE STAHL: No, you won't. It's a steel wall.
CHRIS NEUMER: Yeah, I mean it barely looks like a house.  It looks more like on of those containers they haul cars around in.  Do you allow that to be shot? What are the [filming] rules for this particular house?
BRUCE STAHL: No, we don't allow anything to be shot [that's X-rated].  The integrity of the house is more important than any shot. You can do swimsuit ads… but you can't take them off. Otherwise, we'll kick you out. If you do breach that contract, then you stand to pay the price.
CHRIS NEUMER: Yes.
BRUCE STAHL: So, those are some of the rules. Other than that we let them do quite a bit of stuff. We had one gal up here, it was a clothing ad, and they had an old-fashioned ropes-swing rigged up.  She sat there and swung over nothing, to get the shot. Brave girl.  But, things like that, we'll let people do as long as they're safe about it. Each person that comes up and rents the house, and signs the contract, there's an insurance contract that covers the house. So if anything happened, let's say if she were to fall and broke her leg or something like that, we're not held responsible. There's an insurance policy for that.
CHRIS NEUMER: As well there should be.  Now when film crews are up shooting up here, are you on site or off in a hotel?
BRUCE STAHL: Most of the time, like on the small ones, no. It doesn't matter. They're only using a certain section of the house that they want to shoot a certain way. Usually the back-wing is used for wardrobe. The back area, where I was sitting when you came in, is basically off limits.
CHRIS NEUMER: Gotcha. Do you talk about any of the money involved with this? Like how much the house costs for a day of shooting?
BRUCE STAHL: [Pauses] It varies. On the still shoots, fifteen people or less costs three thousand bucks.
CHRIS NEUMER: That's it?
BRUCE STAHL: Well, that's about the going rate for a still shoot. Now, bigger homes demand more.  I think we should probably get a little bit more, but you do with what the market can bear.
CHRIS NEUMER: Well, I know how much the features pay.
BRUCE STAHL: But, with a still shoot of fifteen people or less, they're bringing all their own little bit of equipment. There's not a lot to it. That's why you can't charge as much. A lot of times those are on smaller budgets. If it's commercial, the price goes up from there. If it's a feature… then it goes up higher.
CHRIS NEUMER: I was figuring you probably turn down $250,000 for that feature, just with the math I was doing in my head.
BRUCE STAHL: Yeah, back then it was about $5,000 a day for a shoot day. But that was a while ago, we turned that down. I don't know what features go for now, we haven't had one in quite a long time. We get a lot more still stuff. It's a little easier on the house.
CHRIS NUEMER: Like "plastic surgery," as a doctor would say. A little bit easier, right?
BRUCE STAHL: My mom's on the elderly side, so whe
n she's in town, she doesn't want all that.
CHRIS NEUMER: Now, do people actually live here?
BRUCE STAHL: When my mom's in town, she lives here. But she lives in Idaho half the time, and half the time she lives here.
CHRIS NEUMER: Do you want that mentioned?
BRUCE STAHL: No, it's lived in. I'm up here quite a bit between my businesses, taking care of the place, and such.
CHRIS NEUMER: Are you down in the "normal world?"
BRUCE STAHL: Yeah, I live in a typical A-Frame house. But my parents are here quite a bit. I just have to watch it when they're out of town.
CHRIS NEUMER: I'm from Chicago, so it's obviously a little bit of a surprise coming up here and looking around. The closest that we come is with some of the high-rises down by Lake Michigan. Is there a certain kind of unique lifestyle that's sort of intrinsic with either this house, or this type of house, here in the Hills?
BRUCE STAHL: You can't worry about what your neighbors think of you, because they're probably watching. I haven't really thought about it in that way, because I grew up in this house as a kid so it was really just, "my house." I didn't know any better. I thought everybody lived in a house like this [Laughs]. You're life in here is sort of an open book for anybody who wants to peer in. But, I've lived with it my whole life, so it doesn't bother me.
CHRIS NEUMER: Yeah. Would you call this the Hollywood Hills, specifically?
BRUCE STAHL: Yeah, this range of mountains, from probably the Observatory, down this way, you get around here, and you're getting closer to Beverly Hills.
CHRIS NEUMER: I'm never sure where the line is.
BRUCE STAHL: Yeah, I'm sure the people [who live] near Beverly Hills want it to be called, "Beverly Hills." [Laughs] But this area here is not Beverly Hills.
CHRIS NEUMER: You didn't comment on this earlier, but what is the value of this house? I'm not saying you are selling, but if you put a price on it…
BRUCE STAHL: Well, we've turned down offers from people who could afford it, but… I don't know if I want to say the exact price…
CHRIS NEUMER: Can you give me an "upwards of," figure, or "more than?"
BRUCE STAHL: Just throw out a number.
CHRIS NEUMER: Let's say "five million [dollars]."
BRUCE STAHL: We've had offers for more than that.  I've turned them down, mainly because my mom is still alive, and we aren't even thinking about getting rid of the house. This was a house that's been left to my brother, sister, and I. How do you get rid of a house that you grew up in, as famous as it is? I think if we ever wanted to sell, I think if we could attract a museum…
CHRIS NEUMER: Man, how would the neighbors take to that one?
BRUCE STAHL: Well, I don't think it would be used anymore than it is now.
CHRIS NEUMER: True.
BRUCE STAHL: [Laughs] It would probably be used less. Some museums are starting the view architecture like this as "pieces of art." So, they're starting the collect them.  One good thing that [doing] that would do is basically… there are a few things that need to be done to the house. My mom is at a point in her life where she likes everything [with the house], and if you try to change anything she wonders why. She gets upset. So, as is, we still try to do things around her, to get things done.
CHRIS NEUMER: I know about that all too well.
BRUCE STAHL: We lost my dad about two and a half years ago and he was basically the catalyst that made this all happen. The house, the design, everything.
CHRIS NEUMER: How old is it?
BRUCE STAHL: The original idea, I don't know when he had the idea.  The house was completed in late '59, early 1960. You may have seen the plaque on the wall here –It became a historical monument in '99.
CHRIS NEUMER: Did not see that.
BRUCE STAHL: Ok, I'll show it to you on your way out…
CHRIS NEUMER: Just out of curiosity, is that more of a pain for you, or more beneficial?
BRUCE STAHL: We weighed it out. We thought it would be more of a pain, because it limits you. But we wanted the limitations, because then once this house is out of our family's hands, then no one can change it. It stays as is. They may be able to change the color, but they can't change the house's structure, whatsoever.
CHRIS NEUMER: Really?  This house has a color?
BRUCE STAHL: Well… it's kind of a gray right now. [Laughs]  Kind of a two-toned gray, you can see how it's kind of a light color there.  If the house were destroyed tomorrow, in an earthquake, or a fire, or anything like that, it would be rebuilt as is. If it weren't a monument, you'd be subject to modern building codes.  You couldn't reconstruct this [exact] house. That was one of the main reasons we wanted landmark status.  In case it was damaged, or ruined, we could rebuild it as is.
CHRIS NEUMER: If you don't mind my asking, what codes is this house, uh, violating at present?
BRUCE STAHL: Well, you've got ninety percent glass in this house. Current codes are at forty five percent. So, we'd have to eliminate the glass…
CHRIS NEUMER: Which is the whole point of the house.
BRUCE STAHL: Yeah.  It also freezes property taxes. My parents were under Prop 13,  so they pay less property taxes here, than I do at my house. So, there were a lot of more things weighing for it than against it. We took about three years before we accepted it.
CHRIS NEUMER: And, what area do you live in?
BRUCE STAHL: My family lives out in the San Fernando Valley area. It's just over the "hill."
CHRIS NEUMER: Now, are you referencing Sherman Oaks, Studio City…?
BRUCE STAHL: I live in a little town called Lake Balboa. It's right between Reseda, and Encino, in Van Nuys.  We're down on the other side. We used to be [in] West Van Nuys, and now we're just a little past that. Getting back to my dad's idea – I'm not sure exactly when the idea came to his head, but he actually built a scale model of the house; what he wanted, and then he shopped it around to different architects…
CHRIS NEUMER: Did he have any training [in] architecture?
BRUCE STAHL: No, he had some artistic talent, but he had an idea. That's what he had. He built a little scale model of what he wanted so he could convey it perfectly, to the architect, and we sought out Pierre [Koenig] because he was known for working with steel and glass. There's another case study house—Do you know the case study program, or what it's all about?
CHRIS NEUMER: I know a very little bit about it, enough for me to have you continue talking.
BRUCE STAHL: The Case Study Program was developed by the city of Los Angeles, I think back in the early forties.  They let architects do, basically anything they wanted, as long as it was safe.  They wanted them to try and involve new ideas in building; environmental and such. It spawned a whole bunch of houses that were designed that we basically okayed through the city. This was one of them.
CHRIS NEUMER: Number twenty-two, right?
BRUCE STAHL: Yeah, this is case study twenty-two, and Pierre also has another case study house, which was twenty-one. If you look through a case study book, you'll see all the homes that are, and were involved in that program.  I think it shut down in '62, or '63, and some of the homes that were in the case study program have been destroyed, or some have been run down. I had one client who bought one and added on to it. I thought, "Why are you doing that?" That's a case study house, you keep things as is. If anything else, you restore it to originality.
CHRIS NEUMER: Yeah, you don't put a mustache on the Mona Lisa to improve it.
BRUCE STAHL: No. And, that's what he did. The almighty dollar led his decisions the way they did. He admires this house, but he had no problem changing the one he had. But, you can't stop people from doing things. That's another reason why we made it a historical monument – If some guy wants to turn and say, "Let's add a second level, it will look that much better" we say, "No, you can't do that now." So, the house won't change.
CHRIS NEUMER: When you were growing up, I'm assuming washing the windows was like a chore?
BRUCE STAHL: Yeah, but that was my dad's chore. [Laughs]  I wasn't tall enough. That's why he built that little wooden catwalk out there.  That was in order for him to clean his windows. This part of the living room is kind of angled out, there's nothing underneath it. It just kind of juts out, so it was virtually impossible to reach that window.
CHRIS NEUMER: This might be my Midwestern background talking here: whenever I'm in LA,  I'm always afraid that I'm going to be hit by either an earthquake, or a mudslide… It's just always in the back of my mind.  I figure, if I go up into the hills, and I'm standing over there by the window, my fears ramp up that much more. Has there been any damage from those types of things?
BRUCE STAHL: It's been through some major earthquakes, some major winds so the house shook up. Originally, all this glass was plate. Now it's all safety glass. It will crack, but the plate shattered. The house was built before safety glass was invented.  One time so much air was being forced into the house, the plate glass blew out. It was a really violent windstorm.
CHRIS NEUMER: Wow. I never even knew that would be an option.
BRUCE STAHL: Well, if you force enough air into a tight place with no exit…  The wind coming up the canyon, comes up pretty fast sometimes. It throws patio furniture everywhere, you got to prepare for it. Living on a hill like this, you are susceptible to some of Mother Nature's wrath, and earthquakes are no different. But, one thing about where this house sits is it's [on] decomposed granite. The top is crumbly, but you get down a foot underneath and you need a jackhammer to… dig it up. I don't know if you remember your geology class, studying earth and stuff like that, but the way the strata go into the mountain is, they force themselves back into the mountain. So, the more weight you have on it, the stronger it gets. If the strata went this way, they would just sheet off the mountain layer by layer, and you wouldn't be able to build here.
CHRIS NEUMER: But, it goes the other way.
BRUCE STAHL: But, it goes the other way, the more weight you put on it, the more compacted it gets, the stronger it is.  Plus, the house is built on a series of concrete beams. You can see a few of them from the side over there, but there are two concrete beams that run the entire length of the house, and then there are similar ones going cross-ways, and back here underneath the fireplace, and the kitchen are these huge concrete block, counter weights that are all tied into that. So, virtually the whole front of this mountain could fall away, and this house would still be here.
CHRIS NEUMER: That's got to be comforting.
BRUCE STAHL: Yeah. The other wing is not, but this wing is cantilevered.  It just means the weight that's over here, versus the weight that's going to be hanging over… it's countered. It's a suspension bridge, in a way. [Laughs]  It was built before caissons were really known about. The pool down there is half the size of my parent's pool. It's got six caissons in it, that go down forty-five feet, down to the bedrock.
CHRIS NEUMER: Wow.
BRUCE STAHL: And, the house, on the corners out here in the front, got caissons that must be this round, that go down that deep.  That was the building code. Part of the mountain could fall away on him, and he would still be standing there too. They don't want a house sliding down the hill.
CHRIS NEUMER: No.
BRUCE STAHL: [Laughs] You know California, if you're born and raised here earthquakes are part of it – you don't know when they're going to happen, you just have to be semi-prepared for them. You want to make sure you don't have a big glass picture above your bed when you're sleeping, it's not a wise thing to do. [Laughs] I think I'd rather endure the earthquakes versus a hurricane, or tornado. Those you can get out of the way of, but when they come, they're coming, and they just rip up everything. Earthquakes can tear things up, but the city is made well.  The building codes out here are so severe, that a lot of the earthquakes don't damage anything. You remember the Northridge Earthquake, back in '94?
CHRIS NEUMER: Yeah.
BRUCE STAHL: It hit, and I remember the Japanese, because they claimed to be up on the latest technology regarding construction for earthquakes, because they live on a tectonic plate too.  They were giving us a hard time, because I think we lost 163 people in the earthquake, mainly out in the Valley. Shortly after that took place, they had their own earthquake and it toppled bridges, and killed a lot more people [than that]. Didn't hear much from them after that. To give you an idea, earthquakes in Mexico kill more people. They always do, because the construction is so shoddy.
CHRIS NEUMER: (feigning surprise) No… In Mexico?
BRUCE STAHL: Yeah, a lot of the Third World.  To give you an idea, our tallest building [in L.A.] is over seventy stories tall, and it sits on a tectonic plate, but the way it's designed is it's sitting on a floating foundation, so when it moves…
CHRIS NEUMER: … the whole thing sways.
BRUCE STAHL: It sways. At the top it can sway, not inches, but feet.
CHRIS NEUMER: A friend of mine works down in one of the very tall buildings, a friend of mine's sister I should say, and after the last earthquake her sister just called her up and she was like, "It is swinging," and I don't think you can take the elevators at that point…
BRUCE STAHL: No, you have to ride it out and hopefully the engineer knew what he was doing.
CHRIS NEUMER: You keep your fingers crossed.
BRUCE STAHL: Yeah, and building a building that tall, and keeping it rigid so it doesn't move, that's just a guarantee that it's going to fall. This house makes a hell of a racket when the earth is shaking. Every one of these windows is shaking pretty violently, sometimes. An earthquake could virtually open up every window in this house.
CHRIS NUEMER: This is purely a flippant question, but do you have a lot of birds flying into here?
BRUCE STAHL: Actually, they'll fly in…
CHRIS NEUMER: I meant actually into the glass.
BRUCE STAHL: Oh, well, they've killed themselves [by doing that]. A lot of them will run into it and you won't see them, but then some of them run into it, and… drop straight down.
CHRIS NEUMER: I've seen enough American Pie movies, but has somebody, at some point in time, tried to walk through one of the plate-glass windows?
BRUCE STAHL: Ah, I'm sure it's happened, but I couldn't remember. With me being so young [growing up]…
CHRIS NEUMER: It had to have happened at least twice.
BRUCE STAHL: Yeah, you always knew there was glass there, so…
CHRIS NEUMER: Looking out there, seeing the [Sunset] Strip there, when you look down there, is there anything interesting, like some fight that Eminem got into up on top of The Hyatt, or anything?
BRUCE STAHL: No, what I still marvel at it when I'm up here at night and it's a real clear night.  And, you can see… everything. Or even [on] a clear day. Late last week, when we had a little bit of a wind, you could see Catalina [Island] out there; it was a real clear day. Just beautiful. It's still amazing to sit up here, and look at everything. During the winter up here, you can see Mt. Baldy with snow on it! If it's really clear, you can look down there and see the [Pacific] Ocean.  You'll see where the city stops and the rest of it just goes on. You can't tell it's blue, because you're too far away from it. My dad wanted to be able to stand in his living room, and turn his head – and see from the mountains to the sea… He wanted a view from every single room. The master bedroom is there, and the way to go through the other bedroom, you have to go through the master bedroom. It's kind of an unconventional house, because you don't want to have your guests to have to go through the master [bedroom] to get to the guest room.
CHRIS NEUMER: I'm assuming that was your bedroom growing up?
BRUCE STAHL: Yeah.
CHRIS NEUMER: That must have been interesting.
BRUCE STAHL: Yeah.  My mom and dad's room was the family room; that's where the T.V. was. That room [the kid's bedroom] was basically kind of split in half because there's a closet on each side of the room, there's a sink on each side, and it shares a common toilet and shower. So, what my dad did was split it with a temporary wall – my sister was on one side and my brother and I were on the other.
CHRIS NUEMER: That's one way to keep the kids in line though, to make them go through your bedroom to get to the outside.
BRUCE STAHL: Yeah, well the reason it happened that way is because my dad didn't believe in hallways, he thought they were all wasted space. [He asked] How do you put a hallway in this house, without losing square footage, or losing the view?
CHRIS NEUMER: This is a very valid point. What is the square-footage on this [place]?
BRUCE STAHL: I think a little over twenty-three… almost twenty-four hundred square feet. It's not a particularly large house in any respect. If you want to classify the house, it's probably a bachelor pad at best. [Laughs] But my dad and mom had a dream house that they wanted, and kids or not, this was it. Another code thing we couldn't do now, was the four-sided fireplace. You can't build a four-sided fireplace anymore. You can build a two-sided one, but a four-sided one is deemed too dangerous now. [Laughs]
CHRIS NEUMER: Yeah, some of the codes that they have are just—
BRUCE STAHL: They seem nutty, but I know they're mainly designed for safety. They don't care what your house looks like, or what you want, they're more concerned with safety than anything else. I understand that point of view. A lot of people will put up false walls.
CHRIS NEUMER: And then take them down.
BRUCE STAHL: Yeah, get them inspected, and once the inspector checks it off, they take the false wall down and put a window in. This house would be tough.
CHRIS NEUMER: [Laughs] Yeah. Well, it's nice that you've got grandfathered in on the sort of old, "lack-there-of" code.
BRUCE STAHL: [Laughs] Yeah. That's where the case study program came in.  They let their guard down and let architects do whatever they wanted.
CHRIS NEUMER: It's nice to know that in all of L.A. there are roughly twenty-five or thirty homes that are existing like that.
BRUCE STAHL: Yeah, there are unique ones, and there are a lot of unique ones being built where they're dealing with the codes. One of my client's has a beautiful infinity pool and he's got beautiful floor-to-ceiling windows like this.  On the street-side of the house though, there are no windows, just little ones. He wanted to use his percentage in the front where the view was. So, people are doing it, they're just being more creative
CHRIS NEUMER: As they always say in the film business, "The more constraints you have, the more creative you have to get."
BRUCE STAHL: This is true.  Out here, and with the house I was just describing, when it was sold to the guy, he paid over $7 million for it.  It's a three-bedroom house. It has a beautiful view overlooking Century City, and of course the ocean, and an infinity pool— it just kind of cascades over the side. The guys who built it, and I've taken care of a few of their homes, they take a home that's in a great spot, and basically tear it down and build them again.  They are very high priced homes and they put them on the market and open them up for museums to come in. They're very, very artistic when they're done, and then they'll rent them out for a short period of time until they sell… it's a business to them. The guy who bought it, he bought it just because he wanted a place to stay in L.A. while his place in Beverly Hills is being built. So, he bought this house so he didn't have to stay in a hotel. [Laughs]
CHRIS NEUMER: There's something to be said for that. I don't know what, but something.
BRUCE STAHL: The guys has got more money than he knows what to do with, is what he's got.
CHRIS NEUMER: Yeah, that's it.
BRUCE STAHL: There are a lot of people in town like this.  And they want certain things… and cost is no object. They're like the guys who light their cigar with a hundred dollar bill. [Laughs] But, with my parents, this house was a low-budget house…
CHRIS NEUMER: How low budget?
BRUCE STAHL: I think the house was built for $25,000.
CHRIS NEUMER: You're going to have to adjust those figures.
BRUCE STAHL: I'll give you an idea. They bought the lot for $13,500.  At the time, you could have bought a house and a home, or typical A-Frame down there for the same price as they bought a vacant lot. They had the house designed and they probably started construction about two years after that.
CHRIS NEUMER: What is the lot size?
BRUCE STAHL: Not very big.  If you think about it, a lot of architects came up and said, "It's an unbuildable lot," because the lot was really just a "mound," with rounded corners. My dad laid broken concrete and then when you drove over the hill, he put concrete on top of the dirt. What he did is he brought this curve up to a square, which enabled him to build, closer to the edge. It gave him more build-able area… with less surface. He basically cantilevered the whole property. It took him two years, collecting broken concrete, and laying it.  It's just all dirt and concrete, just stacked. Nowadays you probably couldn't do it, because they people down at City Hall would say, "What? You're doing what?" [Laughs] But, that enabled him to build right up to the edge, basically, which gives it this dramatic look.
CHRIS NEUMER: Overhang, yeah.
BRUCE STAHL: Yeah, and like I said, he went through a few architects, and no one wanted to touch it, and Pierre [Koenig] was willing to take the project on. The original design changed a little bit from my dad's model. The original model had a "butterfly roof," instead of flat, it was going to be kind of an inverted butterfly roof…
CHRIS NEUMER: He didn't build that on his scale-model, did he?
BRUCE STAHL: Yeah, he did.  People still ask me if I still have the model, and I don't know what happened to it. I think my dad got rid of it a while ago.
CHRIS NEUMER: Well, he's got the house, it's probably a little bit better.
BRUCE STAHL: Yeah. The original design, the roof I just told you about, the original design, the spare bedroom was where the carport is, and the carport was where the spare bedroom is. That part of the house was going to be, kind of curved around – the spare bedroom on that side was going to be cocked a little bit, facing that [other] way.  But, just like the roof, it was too expensive, and then steel was another issue. My mom said, "No, no, no, we're not going to put the kids on the other side of the carport, where I don't have access to them."
| | | | | | | | | | | | |
| --- | --- | --- | --- | --- | --- | --- | --- | --- | --- | --- | --- |
| Columns | Columns | Running Commentaries | Columns | The Ten Minute Guide | The Ten Minute Guide | Running Commentaries | Columns | Columns | Articles | Columns | |