Bruce Campbell Interview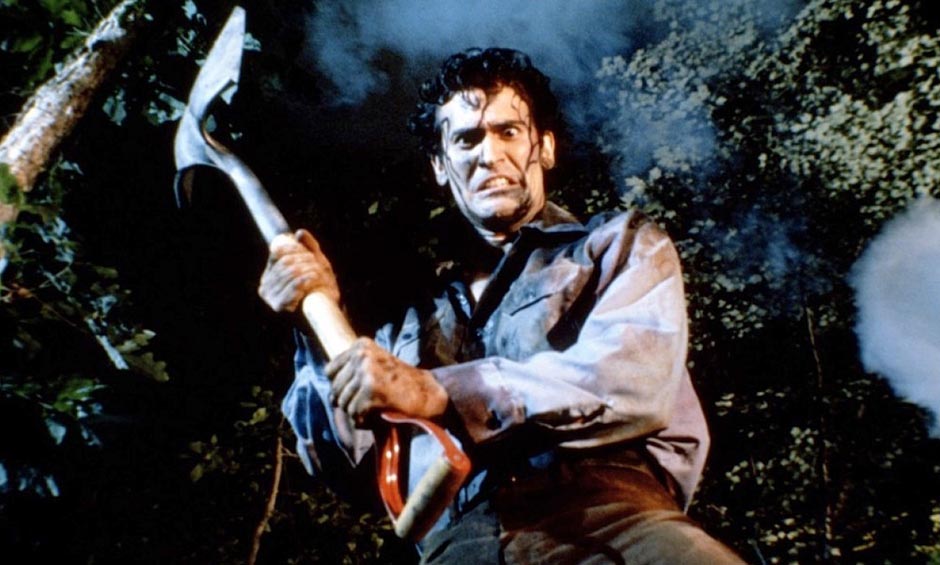 Bruce Campbell is one of the most charismatic actors and tireless self-promoters on the planet. In between conversations about Sam Raimi, hitting Gene Hackman with a 2×4 and dealing with fans, Campbell pushed his new book, his old book and rewatching The Evil Dead. And, dammit, if they aren't all worth a look.
CHRIS NEUMER: I was going to start out by telling you that I was a fan of your work from previous experiences, but having just seen Fanalysis, I thought better of using that word.
BRUCE CAMPBELL: That's right. That's a hot word.
CHRIS NEUMER: I decided to tell you that I have enjoyed some of your roles in the past. Stay on the safe side of that one.
BRUCE CAMPBELL: I'm not on the attack you know.
CHRIS NEUMER: It was an interesting documentary to see. It was one of the better… I'm assuming it was specifically made for the Evil Dead DVD?
BRUCE CAMPBELL: No, it was not. I made it for me.
CHRIS NEUMER: Really? It was one of the more interesting documentaries that has showed up on DVDs. There was another good one on the Snatch DVD that was pretty fun too.
BRUCE CAMPBELL: A little bonus. You've got to make it worth while for our dear patrons. We had to yank this other short film off of there, Within the Woods.
CHRIS NEUMER: That was originally going to be on there?
BRUCE CAMPBELL: There was talk of it, but it was just a bit mess. This was a super 8 movie that we made in 1979. So it's like who has the rights on it and all that crap. …. Sign release forms, blah, blah, blah. Anyway I was glad to put Fanalysis on.
CHRIS NEUMER: It was quite interesting. You have a certain panache to you given your dealings in certain genres, it seems like it works well there. You just did it for you?
BRUCE CAMPBELL: Well, I did it because I was going to show it to somebody, I was going to sell it to somebody. It made sense to have Anchor Bay put it out.
CHRIS NEUMER: This is another good point. It came off a little like Michael Moore's The Big One. I mean on a lesser scale. I don't know if you are familiar with that film.
BRUCE CAMPBELL: I'm familiar with Michael Moore.
CHRIS NEUMER: He did a book tour for–
BRUCE CAMPBELL: Yeah, he documented it, right?
CHRIS NEUMER: Exactly. He went around and he played practical jokes on PR people and things like that. It was all good fun. It was shot in the same spirit that Fanalysis was. Who was filming you in all these different locales?
BRUCE CAMPBELL: Oh anyone. People from my wife, to a guy Kirk Ross, an old filmmaker buddy of mine.
CHRIS NEUMER: How did the fans take to having the tables turned on them in terms of here you are looking at them with the camera?
BRUCE CAMPBELL: Hard-core fans got a little weirded out. The average viewer found it more interesting than the hard-core fan. The hard-core fan is like "Why would he say that?" It's just more of a sociological statement, that's all.
CHRIS NEUMER: The hard-core fan is also wondering what Ash is doing with a digital camera in hand shooting them.
BRUCE CAMPBELL: He's watching them, that's what he's doing.
CHRIS NEUMER: Do you think that given you've done a lot of sci-fi horror pics and the fact that you don't see many conventions for Woody Allen and people dressing up like him, do you think that your fanatical fans can you quality this as good or bad, or is it a more grey area?
BRUCE CAMPBELL: It's very good from a marketing point of view because I am able to go to publishers … I just picked some new book ideas last week in New York. The book that I did, did pretty well. If Chins Could Kill. It's nice to be able to tell them that there is a core fan base and I'm not just kidding. There really is a base, strong, solid base. So I have no problem with fans whatsoever.
CHRIS NEUMER: Just so long as they are not crawling along outside your home.
BRUCE CAMPBELL: Yeah, as long as they're not looking inside my windows we're going to get along great.
CHRIS NEUMER: Why do you think it is that the sci-fi and horror films engender this kind of–
BRUCE CAMPBELL: Fantasy. You know what, you get into this realm of fantasy and people's minds really take off. If you do a thriller, it takes place on this world with real characters, real people. They're supposedly real cops in a real city. But when you get into sci-fi, fantasy and horror elements, they can get very surreal.  It attracts people who are much more inclined to be imaginative and to enjoy fantasy. All entertainment is an element of fantasy because you are seeing something that is not quite real. There is no such thing as reality TV. Reality TV would be to leave a camera on in front of someone's house. Just leave it on. Then whenever the person comes or goes walking the dog or getting groceries, that's what it would be like. Any time you make an edit, you've lost reality TV. You're either compressing time or extending. That's a term that's been overused and overexposed. I think it's fantasy movies that take the fantasy of movies even further.
CHRIS NEUMER: Lots of escapism involved.
BRUCE CAMPBELL: It's all escapism. Every single bit of entertainment is escapism. It's because you are saying, "Let's see what this other person's life is like." And also it's beyond escapism, its entertainment and art as such can elevate the species. The entertainer supposedly is the muse. They're the ones who tell you what is wrong with society in a humorous way. They're the ones who do an expose about this or a documentary about that about the injustice of this. So it can be a very powerful medium.
CHRIS NEUMER: So this is probably why we don't see people dressing up like your character in Running Time.
BRUCE CAMPBELL: Correct. That's a much more realistic context. You don't get the head-in-the-clouds type person who is really looking for an escape. You don't watch Running Time to totally escape. You watch Star Wars to escape. As a result if you can project your mind going there, you can project you as Luke Skywalker or Boba Fett, the whole bit.
CHRIS NEUMER: They have cooler costumes than you do too.
BRUCE CAMPBELL: Yeah they do. That's part of it too you know. Those things are way more attractive. You've got Indiana Jones who is a very successful lead character and I'm sure there is merchandizing and stuff. He really only has a fedora, leather jacket and work pants. That's all he really has on. At least Ash has a chain saw for a hand and a torn shirt with blood…way more visceral. Beyond that you've got the Storm Troopers where you go, "Wow what a great character. I want to be that character." So intense.
CHRIS NEUMER: I'm curious about the people who want to be the Storm Troopers. Every time I've gone to any of the Star Wars movies, my only question was "Why are these people signing up to be these foot soldiers who get killed in massive quantities?" Where's the appeal?
BRUCE CAMPBELL: They're all stuntmen. I'll bet you 75% of them are stuntmen except for the ones just walking down the hall. In that case they are just extras getting their $100 a day.
CHRIS NEUMER: If you stuck with the Star Wars world, the Storm Troopers are just the cogs There's really no upside to it that I can see.
BRUCE CAMPBELL: They're good looking. Come on don't kid yourself.
CHRIS NEUMER: I don't know what I was thinking, putting the superficiality of good looking and cool looking below other things.
BRUCE CAMPBELL: They're cool and scary.
CHRIS NEUMER: You should know something about that having your own action hero in Play Station 2 for you. That's got to do a little something for you.
BRUCE CAMPBELL: You could take that seriously or not. I don't. They're toys. How excited can you get about a toy made of yourself? It's cute, it's fine but it's not me. It's based on a character. They never look like you anyway. Autolycus is from Hercules. He's the king of thieves. So I've got an action figure of him.
CHRIS NEUMER: He did crossover onto Xena too right?
BRUCE CAMPBELL: That's right.
CHRIS NEUMER: Noticing that you both produced and directed Fanalysis and that you've done some directing on TV, is this anything that you're looking to get into now at?
BRUCE CAMPBELL: Yeah, it's a good additional thing. I directed the documentary and sort of put it together. It's a good exercise for a different part of your brain. And I directed a couple of VIP episodes not long ago. So I'm slowly branching out.
CHRIS NEUMER: Are you hammering down any doors, calling up any old Michigan contacts to see if you can put your foot on that side of the door?
BRUCE CAMPBELL: Well you've got to find the money where it is. I do have a company I'm talking to right now about financing [a project]. I have full intention to forge ahead with that in mind.
CHRIS NEUMER: I don't know if it was your choice or not on Fanalysis but I really liked the technique you used where you would freeze-frame on the flashes.
BRUCE CAMPBELL: Yeah, it intensified the horror of it. (Campbell gets a phone call and tends to it briefly) It's that commerce, commerce.
CHRIS NEUMER: You're a pretty popular guy for 9 o'clock in the morning.
BRUCE CAMPBELL: That's when the call of duty comes. On the East coast they say, "Oh, we can call there now because it's 9."
CHRIS NEUMER: I had just talked about the Michigan thing. I went to school in Kalamazoo. I would always hear stories from people who had come from Royal Oak about you guys and how they were trying to follow in your footsteps and, of course, no one ever did.
BRUCE CAMPBELL: Kalamazoo? You went to which school?
CHRIS NEUMER: Kalamazoo College.
BRUCE CAMPBELL: Oh, K College. A buddy of mine, John Cameron went there.
CHRIS NEUMER: Is he a professor of any sort?
BRUCE CAMPBELL: John, no.
CHRIS NEUMER: Those were good times when I was there. It's interesting to see that you guys are one group of friends that has pretty much managed to stay together even though you have all traversed out west.
BRUCE CAMPBELL: We've done different things both together and apart. Yeah it's been nice. It's a pretty friendly association. We don't always see that much of each other, but it's fine. It's nice. I guess it's pretty rare. Pretty rare in any industry, but it's even more rare in the film industry. It's not known for its camaraderie.
CHRIS NEUMER: This is a good point. When you do have a friendly relationship with someone you have to stress that you do have a friendly relationship with someone. You guys have been out there about 15 or 20 years?
BRUCE CAMPBELL: Something like that, yeah.
CHRIS NEUMER: I was just looking into the Spiderman credits and I saw you and I believe it was Ted Raimi's name in there.
BRUCE CAMPBELL: And there is Tim Crowe. He goes all the way back to our super 8 movies.
CHRIS NEUMER: You guys went to high school with him?
BRUCE CAMPBELL: Tim was a big swimmer, a big jock.
CHRIS NEUMER: I was perusing through the opening pages of the Evil Dead companion trying to get some info. Yeah these names are–
BRUCE CAMPBELL: You don't want The Evil Dead Companion. You want the original book.
CHRIS NEUMER: What is the original book?
BRUCE CAMPBELL: My book.
CHRIS NEUMER: Oh that's right. If I could talk my way into a free copy with your publisher I'd be more than happy to do that.
BRUCE CAMPBELL: That's up to you.
CHRIS NEUMER: Exactly. Going back to your super 8, there's even work on Evil Dead which I guess technically I'm not even supposed to be talking to you about. You've said in a couple of places that you were really an inexperienced actor at this point in time and that sort of added to the comedy of the film. Is there a point in time where you reached or feel like a more experienced actor so you know the tricks of the trade?
BRUCE CAMPBELL: Yeah, I know a whole lot more now than I did then. Sure. I mean you learn 20 years of tricks that's all. I have a much bigger bag. I had a very small toolbox then. No big surprise. I think none of the humor in the first Evil Dead was intentional. We weren't that sophisticated. We got more sophisticated with Evil Dead 2 and Army of Darkness where you can start to manipulate the audience a little more, having more control over the medium instead of just trying to figure out how to do it. I suppose that's pretty normal with any craft. Every carpenter is better 20 years later.
CHRIS NEUMER: That's true. I was just curious if there is any part of the craft that you were still working on improving after all that time.
BRUCE CAMPBELL: Yeah, matching the material. If you have a big black comedy then you have to match the material. If you have something that is serious and straightforward, then that's how you should be.  I also think it is important that the filmmaker set up a situation where it's comfortable. There are cases where you can get a real performance if you can get a few things like an additional camera so that in case you get a good performance you get it in several different sizes and you can use more of it. You're not telling the actors necessarily when you are going to shoot. Maybe you shoot the rehearsal, maybe you throw some zingers out for the actors off camera that they weren't expecting. There's a lot of ways to do that or if you are like Alfred Hitchcock you make movies that are very stilted and very controlled. That might be for a guy like Hitchcock; he's a technocrat.
CHRIS NEUMER: He also said that the actors should be treated like cattle.
BRUCE CAMPBELL: Well sure, but he said that about editors too. He said the editor's job is to cut what I tell him to cut. He's the poster boy for the total Napoleon approach. That's okay, but my only beef with him is not his approach. It's just his end result. His end result was too planned, too staged too rigid. I like the filmmaker to hide his plan a little more. In Hitchcock's movies you can see the storyboards and that's cool. It's nice to see a filmmaker be that prepared. Most filmmakers today have their heads up their ass, they're not nearly that prepared. He obviously had a right to say this is what I want and this is how we're doing it, because he was ready. Some filmmakers show up on the set and they don't know what they're doing. So then everyone has ideas and that makes a bad situation too. Be a director who's completely in control and yet no one knows it.
CHRIS NEUMER: You feed off the guy being in a collaborative mood.
BRUCE CAMPBELL: Exactly. Meanwhile, he's putting you exactly into his little box where he wants you.
CHRIS NEUMER: Thinking of the Evil Dead trilogy, which side of the fence did Sam land on?
BRUCE CAMPBELL: Sam was a technocrat in those days. Sam is all about the shot. I think it is only after the Evil Dead movies that Sam had to deal with real actors; you know Gene Hackman, Russell Crowe and Leonardo DiCaprio people like that. He had to show up on the set ready to go. And he did. That's why he's such a good filmmaker. Sam's can do both now which is great. That makes him very dangerous. He can deal with actors and he can also deal with any special effects you could imagine.
CHRIS NEUMER: As I'm sure we're about to see with Spiderman.
BRUCE CAMPBELL: You bet.
CHRIS NEUMER: It's always good when you can have the broad horizons on which to draw. Doing research on the trilogy, I realized–and correct me if I'm wrong here–but I think the whole point of the series was to give Sam the opportunity to hurt you and throw things at you.
BRUCE CAMPBELL: That was just a relationship that evolved. It didn't even evolve. It just continued from high school. He and I did all that kind of crap in high school.
CHRIS NEUMER: I've heard the "poking you with sticks" story so many different times and it's always amusing.
BRUCE CAMPBELL: When he finally got to direct Gene Hackman I said, "Sam are you going to hit Gene Hackman with a 2 x 4 before you shoot? How's he going to like that?" He's like, "Shut up!"
CHRIS NEUMER: That's short and to the point. You understand exactly where he's coming from. How many injuries did you sustain on the sets of these films?
BRUCE CAMPBELL: Nothing, not enough to stop the shooting, just enough to go tape myself up. It's nothing that's visible so you got to keep shooting. It's all bumps and bruises and scrapes, stuff like that. Very rough and tumble, very physical stuff.
CHRIS NEUMER: I hadn't seen Evil Dead until actually rather recently. I never realized how Ash transforms from team player to this complete dumb ass. It seems like the more stupid he gets, the more of a following he is gathering.
BRUCE CAMPBELL: Yeah that's right.  Sort of like life. The dumber the president is, the bigger the following. The reason why Ash is successful as a lead character is because no one usually has lead characters like that. By the time Army of Darkness comes along, he is responsible for hundreds of people dying. The only reason they are fighting at that castle is because he made a mistake and awoke the dead. That's the only reason. And then he's got to be the captain. I'll save you. It's totally the Ash way. If we ever did another one, that character would be unconscionable.
| | | | | | | | | | | | |
| --- | --- | --- | --- | --- | --- | --- | --- | --- | --- | --- | --- |
| Columns | Columns | Columns | Running Commentaries | Columns | The Ten Minute Guide | The Ten Minute Guide | Running Commentaries | Columns | Columns | Articles | Columns |