The Boost Running Commentary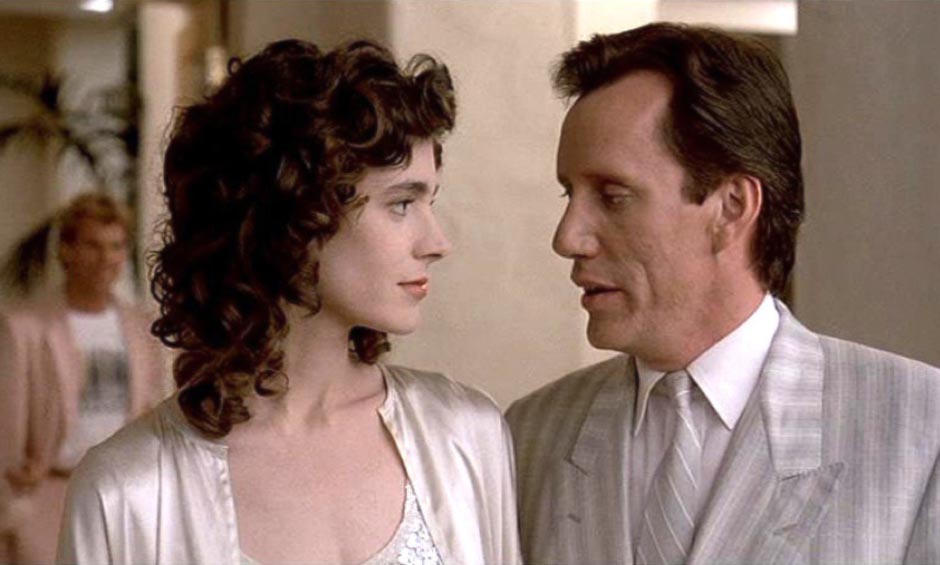 To date, there hasn't been any real kind of methodology behind writing a running commentary of a film. I just pick a mish-mosh of horrendously bad movies (Super Mario Brothers/Mega Shark vs. Giant Octopus), movies that impacted my …
To date, there hasn't been any real kind of methodology behind writing a running commentary of a film. I just pick a mish-mosh of horrendously bad movies (Super Mario Brothers/Mega Shark vs. Giant Octopus), movies that impacted my youth (Stripes/Back to School) or counter-programming choices (Vertigo/Dirty Harry) and go forward. I've never put much thought into the process and haven't really ever gotten any good outside suggestions for titles. Oh sure, I've been sent numerous e-mails like, "u should tear up batman cuz jack is cool in it", but I've been ignoring the opinions of people who can't spell the word 'you' for years and I'm not about to change now.
My brother is a big fan of my running commentaries and called me up one night to tell me that I absolutely had to do one on a late '80s James Woods vehicle called The Boost. "What's it about?" I asked. "It's about James Woods doing James Woods stuff," my brother said cryptically; he refused to say anything more about it.
My brother and I have been a fan of Woods' since we saw him in the underrated comedic gem, The Hard Way, opposite Michael J. Fox.* Woods' facial expressions absolutely stole the movie. As an impressionable youth of 15, it didn't take a lot more than that. Ever since, I've positively reveled in the unique brand of acting that Woods delivers. With my brother's recommendation, I bought The Boost and sat down to watch it with no idea about what I was going to be getting myself into. It could have been a crime caper, a comedy about a short guy who suddenly grew or something about rocket ships and I would have been none the wiser. And, for the record, The Boost is about none of the above.
* As an aside, I find it rather interesting that I was introduced to a lot of actors in roles that were well outside their normal types. The first role I saw Woods in was as a straight-laced, good-hearted, New York City police officer. The first Robert Deniro movie I saw was Mad Dog and Glory; in it Deniro plays a meek Chicago crime scene photographer. The first movie I saw Michael Madsen in was Free Willy where he plays a loving, doting father. And I first saw Harvey Keitel in Thelma & Louise as a sympathetic, warm-hearted detective. Talk about being in for a surprise down the line. It's like seeing Julia Roberts for the first time in Erin Brockovich, assuming she plays mostly trashy, foul-mouthed characters and then learning the truth. Weird.
What The Boost is about is cocaine. Using, getting, using, experimenting, using, not using, using and then using again. And again. Director Harold Becker has an interesting way of letting this concept unfold; the first 40 minutes of the movie are about everything and anything except cocaine. I felt sure that The Boost was a movie about salesmen of the eighties, much the same way that Wall Street was about traders. And it would have been too, if 40 minutes into Wall Street, Michael Douglas suddenly started doing more blow than Lindsay Lohan, John Belushi and Tim Raines during their heydays.
This is the true beauty of The Boost though; every plot twist is unexpected. There is almost nothing that follows any sense of conventional narrative. If there is a problem that faces Woods' lead, it doesn't show up until almost halfway through the movie! It's almost like the movie was adapted from book that had a penchant for rambling here and there and randomly discussing the maitre'ds of Los Angeles' finest restaurants of the day. Almost.
And in this context, Woods' supreme overacting is a joy to behold. You never know what you're going to get. One minute he might be crying, the next he might be heaving a chair out of a window and the following minute he'll be in the hospital. There is absolutely no telling what will happen next.
The Boost isn't a good movie by any stretch of the imagination, but is a classic in its own right. Between Woods' over-the-top performance and the seemy subject matter of cocaine in the eighties, The Boost is a movie that should have garnered a sizeable following of hardcore cinephiles and hipsters alike; if Blood Sport can do this, there's no reason The Boost can't. If I'm ever flipping channels and see The Boost is on, I can guarantee you that I will watch at least 15 minutes of it or, at the very least, until I get to the scene where Woods starts washing his face in a drinking fountain.
And we begin.
1:18 It's hard to describe the full glory of The Boost's score. It's like Stanley Myers turned the in-episode music of Full House into muzak… and then added a saxophone. But he not only did it on purpose, he did it with the intent of creating a score that would resonate with audiences.
3:35 Enter Woods as Lenny Brown. If this strikes you as a somewhat Willy Loman-esque name, it's for good reason. Woods** aspires to be Loman. Woods is trying to sell a man… well, something. The man, Ned, isn't biting. As the potential customer tries to tell Woods, he makes a little more than $28,000 and lives in Manhattan; he doesn't have gobs of disposable cash lying around.
** Normally I use the character's last name to write about him. In the case of The Boost, I'm going to use Woods' name rather than the character he plays. With Woods' performance, it's impossible to watch things unfolding on screen and think about anything other than Woods' cartoonishly inflated acting.
4:20 Woods takes this brush off in stride and begins joking with Ned about how pathetic he, Woods, is. "Go out like a battleship, come back like a raft," Woods laughs, awkwardly.
4:32 Woods invites Ned out to lunch. For some reason, Ned agrees to go.
5:24 Over lunch, Woods asks Ned if he'd like to meet his wife and invites him to dinner that night. For some reason, Ned agrees to go. Again.
6:28 This movie is about sales and cocaine? Not to my knowledge. Thus far I've been watching a movie that seems to be about a gay guy, Woods, who is pretending to be straight.
6:41 Over dinner, Ned gets to listen to Woods talk about how beautiful his wife, Linda (Sean Young), is. What makes this unusual and slightly awkward is that Linda is at the table with the two of them. Midway through Woods' near solioquoy about Linda's beauty, she pipes up and tells Ned, "He really loves me."
Really? This is about sales and cocaine?
8:00 In order to make Ned feel as uncomfortable as possible, Woods starts animatedly telling him that he, Woods, only has a high school education and is a failure. Linda is completely ignoring Woods and telling her own story about meeting some guy on the bus who had a French horn.
9:20 I have no idea what's going on. Woods is talking about his job and I'm realizing that I have no idea what Woods does. This is strange because I've seen him working.
10:37 Woods is sitting on a couch in the lobby of an office, waiting to be called in for his job interview. In spite of the fact that he's going to be interviewed in a matter of five minutes, Woods has not only opened his briefcase on the couch next to him, but has also accepted a cup of coffee from the receptionist… which he promptly spills all over his shirt.
I'm pretty sure director Harold Becker pulled Woods aside before they filmed this scene and instructed him to do the worst possible job of spilling coffee on himself as he could. Fortunately for all involved, the character of Lenny Brown is just this big of an idiot.
11:18 Now this is how you go about getting a job! Addressing the board of directors, Woods says as eagerly as one can possibly say something, "I won't bore you with the reading of my resume… some of which is even true! I assume you all know how to read! You're born again with each new project. All your past successes, your dean's list semesters don't cut much ice when it comes to the big question: can it sell?" A brief pause and then, with super enthusiasm, "…But will it soar?"
12:33 The interview is over and, in a sign of how it went, Woods is washing his face in the drinking fountain outside the conference room.
12:53 Woods delivers this line with extreme sincerity, "I can't give less than I have." This is going to be the title of a single on my first album, Laughing at the Sadness of it All.
13:11 I'm pretty sure Becker pulled Woods aside before they filmed this movie and said, "I want you to give the worst possible take in every scene. I want it awkward and wrong. I want you to pretend you're actually in another movie. Sometimes, I want you to act as if you're guest starring on Diff'rent Strokes. If you're feeling adventurous, pretend you're a woman or Chewbaccca. Mix it up a little bit."
13:54 While Woods did not get the job he was interviewing for, he did impress the hell out of one of the board members present, Max Sherman (Steven Hill). I was unaware of this, but The Boost is proof that Hill had an acting career outside of Law & Order. Sherman is so taken with Woods' salesmanship, he offers him a job working for him in Los Angeles. Sherman then announces that real estate in LA will never go bad.
14:34 Linda isn't particularly keen on moving cross-country to LA. "We don't have any friends in LA," she says. Woods chuckles manically and says, "We don't have any friends here!"
15:10 Woods' wife is still on the fence about the move, so Woods throws a chair out of the window, yells, "Come and get it!" turns around and gives an exaggerated double fist pump. I can't believe I'm saying this, but in this situation, throwing a chair out of a third story window proved to be the correct course of action. Who knew?
17:15 Though The Boost was released just 22 years ago, this situation is several steps beyond unbelievable. Woods met his future employer, Sherman, in NY. Sherman took an immediate shine to Woods and offers him a well-paying job in LA as a salesman… without ever checking his resume or calling any references. When Woods accepts the position, Sherman gives him a house in the Hollywood Hills with a swimming pool and a Mercedes… all without ever finding out what kind of salesman he'd actually be! This is hard to believe even when compared to the deal that Mitch McDeere got in John Grisham's The Firm.
What's more, Woods is genuinely surprised by all of these perks. In most cases little things like use of a company car and company housing are mentioned in a person's contract. In Woods' case, he has either not read his contract—which is entirely too plausible a thought—or Sherman is just so good-hearted a boss, he likes surprising his employees with cars and houses… you know, before they even start working for him.
18:45 Morning One of Day One: Woods is on the job and selling real estate. Sherman is standing back and admiring his find. Can you imagine being the point person on a huge sale less than an hour after you started working for a company?
20:56 Woods and Sherman are eating lunch at a very tony restaurant in Beverly Hills.
SHERMAN: You don't come here to eat.
WOODS: So what are you saying? I shouldn't order any food?
SHERMAN: Eat, eat! Just don't look hungry.
25:07 Woods interrupts Linda's dance class to wish her a happy birthday. One slight problem: it's not her birthday. No worries though. Why? Because he's bought her a convertible Mercedes of her own. "Can we afford this?" Linda asks slowly. Woods shrugs and says quickly, "I don't know." Antoine Walker is taking notes.
26:22 Woods is at a party wearing an outfit with three different types of patterns. Usher couldn't make Woods' suit work.
28:27 The guy throwing the party, Joe, is apologizing for his girlfriend to Woods. "It was the coke talking," Joe explains. I've heard of the booze talking, the meth talking and jealousy talking, but I've never heard of cocaine ever talking… but that's just me.
29:33 SHERMAN: I've got the printers working overtime because of you. They're turning out brochures.
WOODS: Nobody reads them.
SHERMAN: They read them.
What makes this exchange so great is that each man is deadly serious and Becker has cut the scene together as quickly as is humanly possible. Hill is barely done delivering his first line when Woods pipes up. I'm not sure Woods is even done talking when Hill responds.
30:02 Sean Young is wearing a bow that is bigger than her head.
30:22 Money is flowing in like water for Woods. How do I know? He just bought a plane.
31:49 Woods is about to enter a business deal with Joe. Joe is mentioning the words 'risk' and 'no backing out'. I'm going to consider these storm clouds on the horizon.
32:35 Woods performance is absolutely amazing. He's gone from getting drunk and telling strangers that he has no idea why his wife is with him to being to acting like he's won the lottery. He's that happy now… all the time. I'm sure haters will talk about things like 'manic phase', 'unchecked bipolar disorder' and 'gravely unhealthy mental states', but what do they know?
33:09 Woods and his wife are behind on their American Express bill. Oh yeah, and instead of paying it off, Woods bought a plane and decided to sink half a million into a night club in Mexico.
33:30 More storm clouds.
WOODS: I don't want you to feel like you're on a treadmill, Linda, having to make more and more money to pay for things we bought but don't need. The way things are going, the money going out won't be missed if it never comes back. When you are where we are, nothing can touch you.
36:00 To this point in time, I've been referring to Woods as a salesman. I've done this because he's been selling high-end, southern California real estate to rich investors… which makes sense, but leaves out one little tidbit of information that will become important in about three seconds. That tidbit is this: Woods is making a killing in sales because there is some vague, never-quite-explained tax loophole that allows rich people to shelter their money if they buy high-end, southern California real estate with it.
36:03 Woods picks up a copy of the morning paper and is shocked to read the headline: Tax Shelter Loophole to be Closed. Never has a somewhat tenuous statement about something potentially happening at an unspecified date in the future caused more consternation among investors.
Interestingly, the investors are not calling Woods to get some last minute money into the shelter before it closes, nor are they calling to find out about putting their money elsewhere; neither Woods nor Sherman is helping in this regard either, rather than speaking sweet nothings to their investors and calming them down, they're just writing checks out to them.
All because of a headline about something that will possibly happen at date to be named later.
37:29 I'm pretty sure I heard similar music in an episode of Knight Rider.
38:22 Woods gets home after his headline-spawned day from hell and shares a few of the broad strokes with his wife. They're supposed to go to a party that night, but Linda is having some reservations…
LINDA: Let's not go. Let's go home and hold each other.
WOODS: No!!!! That's what they expect us to do.
Wait, what?
39:54 As Woods is talking about why he can't sell airplanes or computers—he doesn't know anything about them—Joe is encouraging him to do coke.
40:54 A little bump of coke has put everything in perspective for Woods. Dare I say it's given him a boost? He's going to sell 747s internationally. This is his plan. Woods is officially the last person in the world who should be doing coke.
42:43 Not content to do coke alone, Woods is now showing his wife how to do it. Why is that the only time you can't afford coke is the only time when you really need it?
44:37 Sherman hears Woods' plans to sell 747s and announces that selling helicopters is for losers. Touche.
45:13 Worried about their increasing debt load, the size of their expenditures and what paths their careers will follow in the immediate future, Woods and his wife move out of their house in the hills into a more sensible condo in West Hollywood, have traded their Mercedes in for Hondas, have begun walking to places and are even growing their own vegetables.
No wait, I'm sorry, the two are still treating people to dinner at the nicest restaurants in town, doing more coke than Whitney Houston on the set of The Bodyguard and consider 'going out for an evening' to be jetting off to Vegas to see Steve Martin on Woods' plane.
46:22 Well, this explains things a little bit. Woods has "borrowed" $20,000 from Sherman… only Woods forgot to tell him about it. "I consider it a loan," Woods says. Sherman sees things slightly differently and fires Woods.
48:03 A bad day gets worse. Woods' car was repo'd so he is forced to walk home. More to the point, the financial genius was still valet parking his car after he'd lost all his income.
49:04 George Clooney and Mark Wahlberg faced a small rain squall compared to the storm Woods and his wife are going through. Woods and Linda are being kicked out of their house. As this is happening, their dog runs away.
In the span of ten minutes of The Boost, Woods and Linda have, deep breath, lost all their income, their house, their cars, their dog, their friends, their mentors, their plane, their investment in a south-of-the-border club, are both lucky that Woods wasn't arrested for felony theft and have started doing copious amount of coke.
50:05 Without my spending cash, Woods can no longer afford really good coke and is forced to buy it from a street dealer.
50:33 Whoops! Woods is overdosing. This is why you don't change sources!
Woods is flailing around, making funny faces and shaking a lot. I would bet a lot of money that Woods took this role specifically to film this scene.
51:59 As a result of his ODing, Woods went to the hospital and charged his stay on his American Express card… you know, the one he wasn't paying off anyway? When he is released, the first thing he does is demand coke from Linda. When Linda gives him some, Woods wants to know how she could afford it. She pawned her wedding ring. We're this close to a really seemy, ugly Indecent Proposal thing here.
54:49 Woods and his wife are driving on the highway. Linda chooses this time to announce that she's pregnant. Woods careens across three full lanes of traffic in order to stop and kiss her by the side of the road. No actor save for Woods could ever make this believable. Overacting genius is dripping out of the man.
55:36 One of the following plot twists has just occurred:
• Woods sells Linda into white slavery to finance his ever growing coke habit
• Woods and his wife move to the beach and open a surf shop
• Woods and Linda spend the last of their money renting a studio to record a single that sound suspiciously like Don Henley
• Woods announces that he wants to play professional baseball
I swear, one of them is true. Woods and Linda have moved to a beachfront community north of LA and have opened a surf shop.
1:00:59 Joe and his girlfriend have driven up from LA to see Woods and Linda. Unfortunately, Woods is helping a three-legged dog at the time and isn't around when the friends (and their coke) arrive.
1:01:47 This is unfortunate because, in his absence, Woods' friends convince Linda to do coke. "[I'll do] only one line because of the baby," she says.
1:02:29 Linda does two lines.
1:02:53 Make that three.
1:04:05 Here's the dialogue that Linda should have delivered, "Hi guys! Now that I'm super high and can't quite walk without swaying, let me show you this really rickety staircase that some surfers built out of balsa wood and chewing gum. I'm going to walk onto it backwards while looking at you and—Oops!"
1:05:51 Thanks to her drunken, coke-fueled tumble down ten stairs, Linda has lost the baby.
1:08:32 Woods and Linda have now moved back to LA and are renting an apartment on a weekly basis. Woods refuses to let Linda work full time… even if it means they could thus afford a better place to live.
1:10:46 Instead, Woods contemplates selling drugs to earn money.
1:11:11 A would-be screenwriter living next door to Woods says, "I'm going to go dirty some typing paper." Never has there been a worse way to say, "I'm going to write."
1:13:59 Woods is smoking crack. This is not an improvement.
1:14:29 Woods slaps Linda. I shouldn't be laughing, but I am. Woods has put so much over-the-top energy and craziness into it, the act itself appears far more comical than it should.
1:14:33 Woods is already apologizing… four seconds after he hit his wife. And his excuse is a doozy: "It's the coke. Baby, I was freebasing with Barbara!" Woods delivers this line with such sincerity, it seems like a reasonable statement.
1:19:16 Woods has concocted some kind of business plan to get him back on top. With the amount of drugs he's doing, the true wonder of this situation is that, according to the characters in the movie, the plan is pretty good.
Woods' plan to deliver the plan to the investors is slightly more suspect. Not only is he drinking heavily at the dinner meeting but he keeps vanishing into the bathroom to do more coke.
1:25:58 Woods' comeback plan has failed in supremely overacted fashion. Linda is threatening to go back to work.
1:26:20 Cut to the ambulance and then Linda in the hospital, badly beaten and bruised.
1:27:28 I stand corrected. I thought Woods took this role to shoot the scene where he ODs. I was wrong. He took this role in order to shoot this scene where he tries to get into Linda's hospital room and is carried away by security.
At this point in time, it's obvious that Woods completely let go of any and all normal human constraints while on set. It has to be draining being this over-the-top at all times.
1:29:44 Linda has left Woods—and for good reason, might I add. Woods is now talking directly to the camera and, surprise, surprise, Ned has returned. Woods has a mound of coke on a mirror so large Hugh Grant might call it a mountain. He is also and not so surprisingly talking tweaker talk to Ned. My best guess is that Ned is a figment of Woods' imagination.
1:29:59 As if you need more examples of the true genius of The Boost… It turns out that Ned is not a figment of Woods' imagination. Somehow, some way, Ned has reconnected with Woods years after meeting him one time and, what's more, is having a pleasant visit with him in his urine-soaked hellhole of an apartment.
It's not just that Ned hasn't been heard of or even mentioned in 80 minutes, it's that neither Woods nor Linda ever gave the man a second thought. I won't even mention the part where Ned lives in New York and Woods is in LA.
1:30:31 "I knew from the first time I saw her that if I could ever have her, I could never keep her," Woods says. This is exactly the type of thing that you would say if you just did a line of coke so long Bobby Brown would take pause.
1:31:48 Quizzically, the very last line of the movie is voiceover by Linda, promising to stay with Woods until her last day on the planet. Quizzical because she left Woods and he has spiraled out of control into a drug haze so thick that I'm surprised he's not turning tricks on Santa Monica Boulevard for cash.
After watching The Boost, I feel exhausted. Not so much because of the subject matter, but because Woods bounded through every scene with an almost contagious sense of mania. I feel his craziness. I feel listless, drained and nowhere near the top of my game. At this time, there's only one thing that I can think: maybe I need a boost.
| | | | | | | | | | | | |
| --- | --- | --- | --- | --- | --- | --- | --- | --- | --- | --- | --- |
| Columns | Columns | Columns | Running Commentaries | Columns | The Ten Minute Guide | The Ten Minute Guide | Running Commentaries | Columns | Columns | Articles | Columns |