Phil Joanou Reverts to Chaos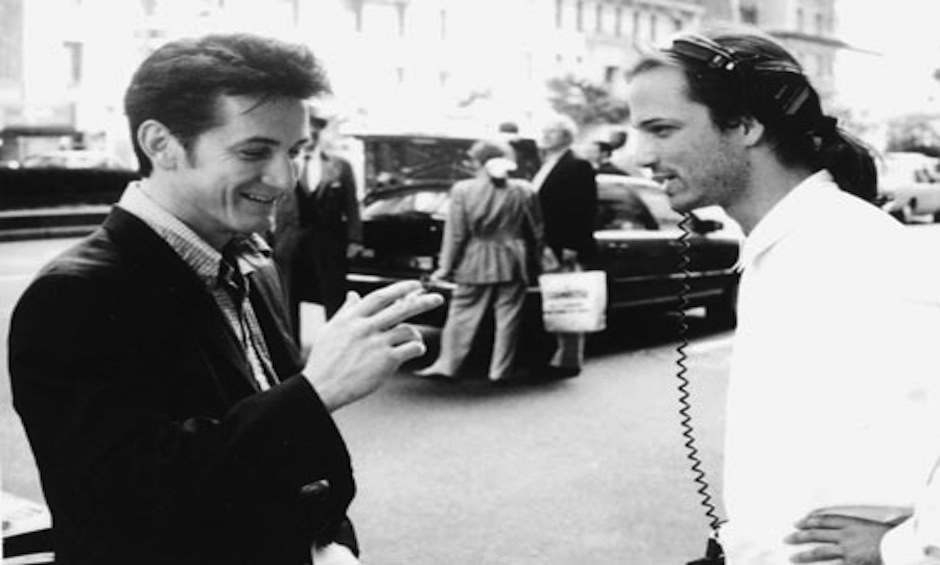 Disappointed with some aspects of his more recent films, writer/director Phil Joanou got personal and created the autobiographical work of art, Entropy. In 1996, director Phil Joanou's film Heaven's Prisoners, starring Alec Baldwin and Kelly Lynch, was released to a […]
Disappointed with some aspects of his more recent films, writer/director Phil Joanou got personal and created the autobiographical work of art, Entropy.
In 1996, director Phil Joanou's film Heaven's Prisoners, starring Alec Baldwin and Kelly Lynch, was released to a somewhat lukewarm critical response.
"I felt that some of my past work, particularly Heaven's Prisoners, lacked energy," Joanou says. "I felt very frustrated by the film business and just felt that most of the films that were out there for me to work on were usually genre pieces that were in reference to other films. Joanou thinks for a moment and states, "Throughout film history, there have been films that have had a relevance to the time in which we live. It seems that more and more [movies] have been turning into massive forms of entertainment; more like amusement park rides or the circus than ever before."
With these thoughts weighing heavily on his mind, Joanou found himself at a fork in the road; he could continue doing what he had been doing, directing "conventional" movies, or he could venture off-the-beaten-path and test the indie waters with a more personal film.
He arrived at the later conclusion with the help of two unlikely people: Steven Spielberg and the lead singer of U2, Bono (about whom Joanou has been quoted as saying "he kicks the shit out of me on a regular basis.")
"I was talking about [what kind of movie I'd do next] with Bono," Joanou recalls. "He's one of the most supportive people you can have on your side, and he suggested that I needed to write something from [my] heart. Rather than going out and doing something that I'd seen in another movie, I should direct something I had experienced."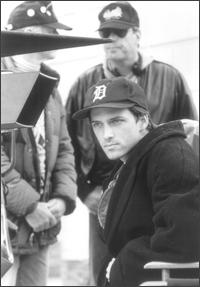 Similarly, Joanou mentioned that while eating lunch with Spielberg (how many good stories have started with that statement?), they were discussing the same topic and Spielberg had said, "Go write something personal to you."
With these two "nice nudges" and the thought that he could actually direct something that people would respond and relate to on a human and personal level, Joanou buckled down and began to write the screenplay to one of 2000's best finds, Entropy.
"I just did another Nike commercial," Joanou laments to me in a recent conversation. "The chainsaw one. It ran four times during the Olympics and NBC freaked out, after they had already approved it."
This is in the past though and Joanou isn't spending much time worrying about it, adopting a 'what can you do?' attitude about the whole situation.
Born in November of 1960, Joanou grew up in a tract home in La Canada, a "Spielberg-ian" suburb of Los Angeles. (Joanou's last named is pronounced Jo-juan-oh, a pronunciation Joanou states "makes no sense at all." After a laugh he says, "I don't know what my [family] was thinking.")
Inspired by Spielberg's 1976 tour de force, Jaws, Joanou began making Super 8 films as a kid, progressing to hour-long shorts complete with music by his senior year in high school. After graduating from UCLA's theater department, Joanou continued his education at USC's revered film school. His senior project there was a short film called Last Chance Dance.
"It was shown at various festivals and won some awards," Joanou says modestly of Last Chance Dance. "Steven Spielberg saw it and tracked me down. At that point, I had no money and was living at home with my parents," Joanou remembers. "And I got the job to do (the Spielberg produced) Amazing Stories. I did a couple of those [episodes] which led to Three O'Clock High in '87."
Joanou's biggest break came the next year when he followed the Irish rock group U2, camera in hand, and created one of the better known concert films of the last quarter century in Rattle and Hum.
Rattle and Hum led to State of Grace, Final Analysis, an episode of Oliver Stone's Wild Palms, Showtime's Fallen Angels (additional episodes of this show were directed by Tom Cruise and Tom Hanks, among others) and the aforementioned Heaven's Prisoners.
Joanou reflects, "[After Heaven's Prisoners], I felt that, personally, I had more energy than my films. While the pace of State of Grace was appropriate for that story, I felt that Final Analysis and Heaven's Prisoners were both too slowly paced. It seemed like I was becoming bogged down in too heavy and ponderous a style." Joanou pauses, thinking back to early '97. "I really wanted to do something that had energy and cinematic, visual humor. I wanted to do something fresh, modern and with an exciting, energetic style," he says.
"I wanted to follow in the footsteps of Woody Allen and Francois Truffuant," Joanou states, "Filmmakers who took experiences from their own lives and interpreted them and then tried to make a statement about our existence and relationships."
With this in mind, Joanou began to concoct a script about something that he knew very well: the story of a young director whose only claim to fame thus far in his career has been his stylish direction of several U2 videos, meets and falls head over heels in love with an enchanting supermodel.
To say that Entropy is a somewhat autobiographical film is like expounding that Mel Gibson is a somewhat popular leading man. When talking to Joanou, I found it saved me a lot of time to just ask him what parts of the movie weren't based on his life. This question was met with a hearty round of laughter from Joanou, who took a few seconds to compose himself and then replies, "no actress ever had me take a Polaroid of her topless."
And the rest of the plot material? "Well," Joanou smiles, "It is true that I was married in Las Vegas to a girl I had met backstage [at a U2 concert]. We were married for a short period of time. I did have a fairly lengthy relationship with a model I met as well. And I do have a cat named Puddy Tat…" Later, Joanou adds, "And I did once punch a studio exec on set [ala Jake]." Joanou says nothing of his brother-in-law, screenwriter Scott Frank or the fact that both he and Jake have editing rooms in their basements.
"But," Joanou says quickly, "the film dramatizes various events that I have experienced, and nothing that happens in the movie is exactly how it happened to me. It's all been reworked and manipulated for the sake of entertainment." Another pause. "[What happens to Jake in the film] is slightly more interesting than the long drawn out process that my life actually took."
What first captured my attention about the final cut of Joanou's film was the sheer volume of different filmmaking techniques that were employed precisely and efficiently to keep the on-screen action fresh, the pacing smooth and the plot material crisp.
The film was shot at numerous speeds, occasionally all in the same shot ("Once we ramped from 6 frames per second to 72 frames, back to 6, then up to the standard 24, all in the same shot," Joanou recalls). Additionally, there was a well planned lighting scheme, shifts in film stock, as well as copious amounts of stunning camera movement, three stylistic elements that were lacking in Joanou's previous two features
"[With Entropy] I felt that I wanted to represent the energy of what I thought was going on today. We're all zipping down the freeway at 75 miles per hour. Do you really have the time to look outside the window and see what's going on in life and in your own world?"
Then, sounding down right Ferris Buehler-like, Joanou says, "Can you stop and think? And if you do, what passes you by?" He answers his own question, "Sometimes you get going so fast that you miss something really important and by the time you realize it, it's too late. So the energy and style of [Entropy] were supposed to match the light speed at which the world moves by us."
With the script to Entropy finished, Joanou began to search for financiers.
"There were various studios that wanted to give me the money [to make Entropy]," Joanou says, "but they all wanted me to change the ending. They wanted the movie to have a happy Hollywood ending, with Jake getting the girl in the end.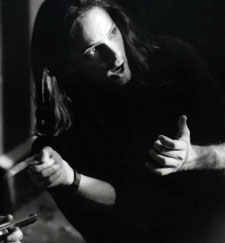 "I didn't feel that was a) true to what I had experienced or b) true to the tone of the film." Joanou stops mincing words and says, "That ending would have felt like a real ripoff, with the way I had set up the plot from the beginning."
So, sticking to his guns, Joanou turned down the studios' offers and, instead, sent the script to Brad Epstein and Jane Rosenthal at TriBeca Productions (founded in New York City by Robert DeNiro and Rosenthal).
"They jumped on immediately," Joanou says jubilantly of Epstein and Rosenthal, "and helped me raise the film's $3 million budget through independent, foreign financing."
Nabbing TriBeca's production help, it appeared for a short while as if Entropy might gain a theatrical distributor in MGM, the studio that has a first look deal with TriBeca. With the MGM in the midst of a large studio overhaul, no new projects were being picked up; studio execs decided that it would better to just continue working on stellar works of film like Supernova.
Undeterred, Joanou began casting.
In a situation like this, with Joanou writing and directing a movie about several intensely personal events in his life, there was only one question I could think to ask: How do you go about casting yourself?
Joanou laughs and says, "It's not as difficult as you'd imagine." This is the case because "I didn't think of Jake as being me. The movie is different in so many ways that I wasn't emotionally connected to it like I am to things in real life."
The role itself was well written which naturally drew the attention of several A-list actors.
"There were [different] actors who were interested in the role [of Jake] like Matthew Broderick and Adam Sandler," Joanou tells me. I pass right over Broderick's name and focus on Sandler's. Trying to imagine Sandler as Entropy's lead is like trying to imagine Kenneth Brannagh playing Billy Madison. "
"Ultimately Stephen Dorff did it," Joanou finishs. "Kim Basinger and Alec Baldwin (with whom Joanou had worked on Final Analysis and Heaven's Prisoners respectively) were going to play the parts of [the film's movie stars] but scheduling didn't allow it." Joanou sighs, "Once I got financing, there were on other pictures." Lauren Holly and Jon Tenney signed on to replace the busy couple.
With the cast complete and the money set, the first item of business for Joanou was to scamper off to South Africa, to film several important scenes at the last U2 concert in their world tour.
One of the most fascinating themes that came up repeatedly during my conversations with Joanou was the enormous amount of good will and harmony that the Entropy production brought out in other people in Hollywood.
John Hughes special effects house, Rhythm and Hues, donated 135 optical shots to Joanou for a mere $50,000. Todd-AO mixed the sound of the film below cost. Stephen Dorff turned down a leading role in a $70 million movie to play Jake for scale.
The film's biggest and most ardent supporters were Bono and his U2 buddies, Larry, Adam and Edge ("U2 gave us [5 songs] for $1,000," Joanou says, still amazed at that fact. "Normally, one of their songs costs about $250,000 to use in a movie").
"They were great," Joanou says of U2. "Little did Bono know that by giving me [the advice to write about something I knew] that I would go out and write a screenplay that included him."
In the end, U2 not only supplied Entropy with music, but also acted in the film–the band's first attempt at this–and agreed to help Joanou with his insane plea: "Can I film during your concert, get my actor up on stage with you, and have you guys say some dialogue as part of your live show?"
The music itself was an integral part of the film. The British electronica and techno music used in Entropy helped to bring atmosphere to the surroundings and supply the film with an up tempo pacing and energy. Considering the importance of music in this film, it is next to impossible to believe Joanou when he states that there was only $10,000 of his three million dollar budget was alotted for music usage.
And in the end, U2, composer George Fenton and mixers Mr. Dan and Toy all ended up working on Entropy for essentially nothing.
At the beginning of the production, the music situation was in dire straits. Recalls Joanou, "With the [money we had budgeted] I couldn't even afford for the Elvis [impersonator] to sing 'Can't Help Falling in Love' at Jake's Las Vegas wedding."
Fenton helped Joanou get around this stumbling block by dubbing the singing Elvis into French. "As it turns out that 'Can't Help Falling in Love' is based on a 17th Century French folk song," Joanou says. "It has the same music with different words. We recorded the old French version and dubbed it in."
"It was really a homegrown thing," Joanou admits. "Everyone was contributing from the goodness of their hearts and I was amazed how many people were more than happy to do that. Contrary to popular belief, there's a lot of good will in Hollywood."
The only people who weren't excited about the possibility of being involved with Entropy were the studio executives in charge of acquiring films.
"[Entropy] made Hollywood uncomfortable," Joanou says matter-of-factly. "They were very uncomfortable with the picture… the movie within the movie aspect… and with the personal nature of the film."
In the can, Entropy opened the 1999 Los Angeles Independent Film Festival where it received a warm audience reception and even intrigued several distributors, including Paramount Pictures. But, as Joanou explains, no one knew how to market the film. Should they gear it to 30 year olds? 20 year olds? It has a Rock 'N' Roll sensibility, but it also is a melancholic reflection on lost loves. Not knowing what to do. Most distributors passed.
Touchstone Pictures did eventually buy Entropy for a video release and this version of the film hit stores in February of 2000.
"We were all hoping for the chance to get to see [Entropy] played in a darkened theater for a paying audience… so it is bittersweet [the way it turned out], but I think that a lot of artistic endeavors are just that. I'm one of the luckiest guys in the world to have had the chance," Joanou says.
"Entropy was a milestone in my life, personally and creatively. It forced me to look at a lot of things, both professionally with the kinds of films that are getting supported and those that are not, and creatively, where I was very lucky to have the opportunity to purge things that had haunted me, particularly in my relationship with the real Stella. It was a good opportunity for me to kind of get some closure and catharsis on those events and not everyone gets that."
A deep sigh, and finally Joanou concludes, "Regardless of how the film was, I'm still just trying to figure out how I fit into all this."