Oscar Commentary 2010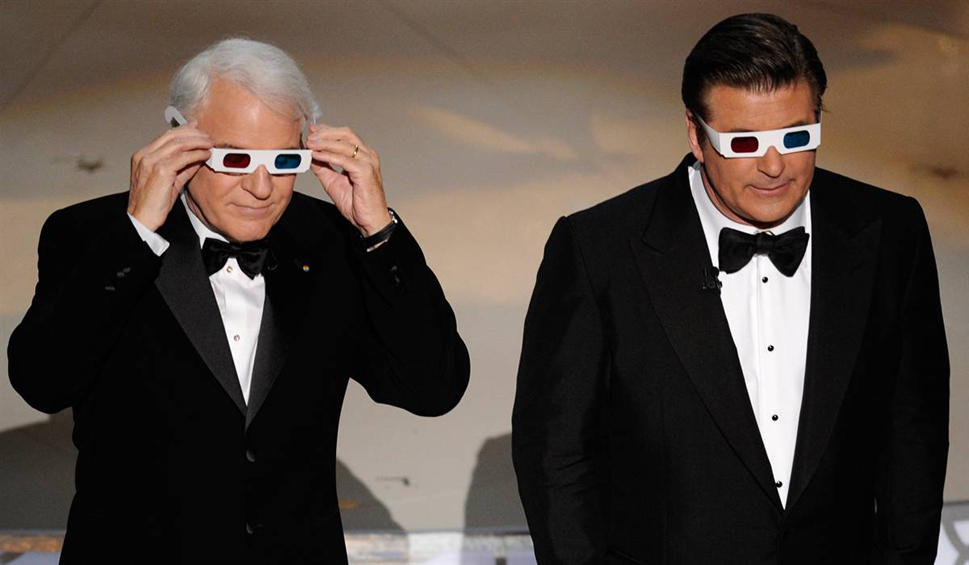 As the Academy honors the best of the year that was, Chris Neumer gets inside the evening's events from a comfortable place on his couch.
The main reason people watch the Academy Awards is to star gaze and learn what films will take home the evening's prizes. In this respect, 2010's Oscars—honoring the movies released in 2009—were somewhat unusual. For starters, there weren't that many enormous names in attendance. Matt Damon and George Clooney were present, but the list stops there; Morgan Freeman, Jeff Bridges, Meryl Streep, Helen Mirren and Keanu Reeves are many things, but they aren't exactly opening films on their own.
Secondly, none of the major award categories were ever really in any doubt. The Best Picture and Best Director category were in the air about ten days ago, but that all since changed. With the confirmation that Barbra Streisand would be presenting the Best Director award, the thought of anyone other than Kathryn Bigelow winning was thrown out the window. With the knowledge that Bigelow would be winning Best Director, it was hard to see Avatar winning Best Picture. Once you know how Hollywood works, it's fairly easy to put the pieces of the puzzle together.
So the night ultimately ended up being a star-studded affair of surprises without stars or surprises… save for Doogie Howser showing up to perform.*
* And to be fair, everyone in the film industry knew about this last week.

Aiding nothing was that this year's Oscars also seemed to be the year that the Academy decided to factor personality and warmth into the equation and honor the nicest people and stories, not the best performances, Mo'Nique's feelings aside.
If you were to simply to have people watch Streep in Julie & Julia, Carey Mulligan in An Education, Gabourey Sidibe in Precious, Helen Mirren in The Last Station and Bullock in The Blind Side and then ask them to state which woman delivered the best performance, it's hard to fathom a situation where Bullock's name would ever get mentioned. However, when you factor in the voting habits of the Academy and Bullock's juju bee sweet nature, it's easy to understand how her name vaulted to the top of the list.
It's interesting to think that in the same year the Academy self-servingly expanded the number of Best Picture nominees from five to ten that the Academy voters overwhelming decided to also start rewarding personality. That's fine with the Golden Globe voters, but for an award show presented by an organization that does everything it can to show that it is ostensibly above such childish and partisan things, it's funny to see.
So here we are, discussing a very middling Academy Awards show designed to recognize the performances and achievements from one of the worst years of film in recent memory. That about sums it up, right there.
The evening begins with E!'s red carpet show hosted by Ryan Seacrest. The participants in this year's Oscar viewing are myself, my brother Pete, my friends Jenna, Shawn and Kiera and Jenna's roommate Allison. Jenna's cat is also present. The cat is so overweight, I suggest calling it Precious. Pete laughs and says, "Write that down." The fifth annual Stumped Oscar Commentary begins.
---
6:43 Robert Downey Jr. is being interviewed and is wearing glasses that could be 3-D glasses. They probably aren't… but they could be.
6:49 While being interviewed by Seacrest, Gerard Butler just used the word 'actionify'.
6:51 While interviewing Jason Bateman, Seacrest gushes about how much he loved Couples Retreat. Bateman takes this information in stride and mentions that he never wears pleated pants.
6:52 Thank goodness Jeff Bridges is going to win Best Actor tonight. His speech has the makings of a true classic… or trainwreck. Here's a teaser: in conversation with Seacrest, Bridges delivers the following line, "You don't want to drop that ball no matter how much you want to catch it." Pete looks at me and says, "What?" There's no earth on which that makes any kind of sense.
6:55 During a commercial for The Bounty Hunter, Jennifer Aniston delivers this line of dialogue, "You couldn't catch a cold if it sat on your face." Yes… Suffice it to say, I am not going to be seeing The Bounty Hunter.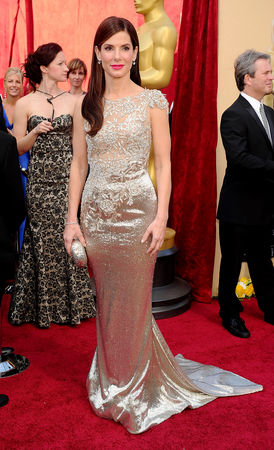 6:59 Seacrest's show is almost over; he has twenty seconds left to talk to Chris Pine. He asks Pine why he's so late in coming down the red carpet. We're waiting for Pine to say something like, "Because I timed it wrong, I was hoping to miss you completely." Instead he says something about his mother delaying him.
7:01 We're onto ABC's red carpet show now.
7:03 George Clooney arrives on the red carpet and high fives people through a fence. "They're keeping his fans in a cage," Pete says.
7:05 I'm not sure how Shawn manages it, but while looking at Clooney, he compares Clooney's looks negatively to those of John Mahoney. "It's the longer hair… or something," Shawn trails off.
7:06 Zac Efron arrives. "He looks like a Team America puppet," Shawn laughs. "With a spray on tan," Jenna adds.
7:09 Matt Damon is being interviewed. "What's he doing there?" I ask. "He's nominated for Best Supporting Actor," Jenna says slowly. "Isn't this your job to know things like this?"
7:10 Due to some combination of stupid questions, bad jokes and confusion, Christopher Plummer tells Sherri Shepherd that people can still have fun after the age of 14.
7:12 Apparently needing to fill some time, ABC shows the list of Best Picture nominees… from 1943.
7:15 Sarah Jessica Parker and Matthew Broderick show up. "Is she purposely dressing like an Oscar?" Jenna wonders.
7:18 Quickly settling the argument about which previous Oscar winner has fallen the farthest, Whoopi Goldberg appears… in a commercial… for a maxi-pad like product designed to help women with light bladder leaks. That's LBL to those in the know. Even if Cuba Gooding Jr. shows up later in a Hanes commercial where he loses his head when he sees Charlie Sheen and tries to hump Sheen's leg, he will still be above Goldberg. Light Bladder Leaks? Really, Whoopi?
7:20 The sign in front of the Kodak Theater reads "Oscars Red Carpet". No apostrophe. This doesn't seem right.
7:21 Talking to Tina Fey and Steve Carrell, EW editor Jess Cagle says, "Just so you know, this isn't the Emmys." How does one respond to that statement without mocking the 'interviewer'? Fey and Carrell show a lot of restraint here.
7:22 While interviewing Miley Cyrus, Kathy Ireland states, "You've mastered comedy…" There's a pause in the room and Shawn finally speaks, "Did Kathy Ireland just say that Miley Cyrus has mastered comedy?" I take it Shawn has never seen Hannah Montana.
7:30 The Oscars have started (on time) with all ten Best Actor and Actress nominees on stage.
7:32 Neil Patrick Harris walks out onto stage. "I know, what's he doing here?" Harris smiles. It's a good question.
Not to make too much of this, but this is an unusual pairing in my eyes. The night is the award night for the Academy of Motion Picture Arts and Sciences. I'll repeat, the Motion Picture Arts and Sciences. Do you know what Harris' last live-action feature was where he played a character other than himself?
2002's Undercover Brother.
In the last ten years, Harris has appeared in three live-action features: Undercover Brother (2002), The Mesmirist (2002) and The Next Best Thing (2000). And he is the first face that the world sees in conjunction with the 2010 Oscars?
7:32 This is the kind of thing that just shouldn't be happening at the Oscars. The director cuts to James Cameron in the audience for a reaction shot to something in Harris' song and Cameron's in the dark for two seconds before they cut away.
7:34 Enter Steve Martin and Alec Baldwin.
7:36 Martin and Baldwin's jokes haven't been particularly funny and there's a weird laughter to each punchline. "Is it possible they're using a laugh track?" I ask. "5,000 people cannot think this material is funny," Pete says very matter-of-factly.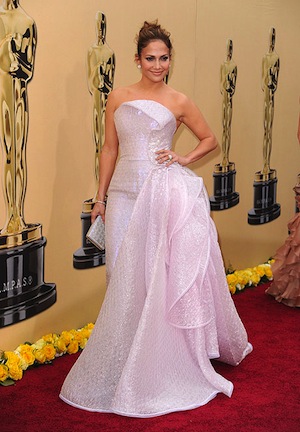 7:36 (again) Wow, these jokes are not funny. The show director keeps looking for someone to cut away to who is enjoying himself… and has yet to find that person. Clooney is distinctly not laughing. There is some talk that Clooney is in on the act, but just the fact that it's not overtly apparent should be enough to show had bad this material is.
I hesitate to even use the word 'jokes' to describe what Martin and Baldwin are doing. It's almost like the writers for the Jay Leno show had fifteen minutes to come up with a monologue… and this was what they came up with. Woody Harrelson may be high? Actors don't know what 5 times 2 is? Meryl Streep gets nominated every year? This is supposed to be funny?
7:38 Martin says he liked Precious because it lived up to its video game. This is as good as we're going to get.
7:40 "This is just uncomfortable," Shawn sighs. "No, this is awful," Kiera corrects him.
As if to prove them both right, Martin and Baldwin take out some old, white cardboard 3-D glasses to make an Avatar joke.
Talk about near-sighted. Every studio head in Hollywood has been screaming at the top of their lungs that the new 3-D is nothing like the old 3-D. It features new technology and isn't the old 3-D that you remember from Jaws 3… and the producers of the Oscars have decided to go with a 3-D joke featuring those old cardboard 3-D glasses. Somewhere Jeffrey Katzenberg is pissed.
7:43 Allison has returned from doing laundry. After watching for a few minutes, she asks, "Is this a parody of the Oscars?"
7:48 During the clip of Stanley Tucci's performance we see him wearing aviator glasses. Does simply putting aviator glasses on a person make them a pedophile? The answer is yes.
7:49 And the first award of the night is out. Paul Krugman just won Best Supporting Actor. Check that, Christoph Waltz just won.
7:50 Waltz uses the phrase "uber-bingo" on stage. He's German by the way,
7:51 Enter Ryan Reynolds. Call me a hater, but I just don't think the words 'Ryan Reynolds' and 'Academy Awards' should ever go together.
7:52 Sweet Jesus. Who is writing this stuff? States Reynolds, "Bullock's performance sneaks up on you… which is why it's called The Blind Side." An aside, should Bullock really be the heavy favorite if her performance 'sneaks up on you'?
7:57 Not only is there a movie called The Secret of Kells, but it's nominated for an Oscar. "What do you do again," Jenna asks me.
7:58 During the clips for Best Animated Film, Dug from Up shows up. I don't think I'm alone when I state that I'd like to see him get his own movie. Listening to Dug's near-manic way of dog thinking is fantastically entertaining to me.
7:58 (again) Up wins Best Animated Film. Holy shit! A Pixar film finally won something!?
7:59 I'm not sure whether Up's director/producer Pete Docter's head would fit in a football helmet.
8:00 Miley Cyrus and Amanda Seyfried are presenting. Cyrus looks twice as big as Seyfried. Cyrus also slips up and explains it away by stating that it's her first time presenting, so she's nervous… the only problem with this is that she first presented two years ago. But whatever.
8:03 Colin Farrell is in Crazy Heart? I really need to learn these things. "Really?" Jenna asks me. "Really?"
8:04 Crazy Heart wins for Best Song. What are the odds that someone else named T-Bone has ever won an Oscar? "Only if someone in the Three6 Mafia was named T-Bone," Pete says.
8:13 During his presentation with Tina Fey, Robert Downey Jr. calls writers 'mole people'. This is funny… except for the part where he's used this joke several times on other awards shows.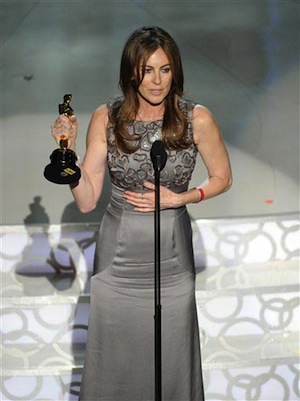 8:14 Ah, it's time for one of my favorite bits of the Academy Awards show: the intro to the Best Screenplay categories! At the heart of this is a contradiction that makes things very interesting: good writing is often long bits of dialogue and wordy descriptions of things; the intros to the Best Screenplay categories have to be short and concise. And thus, the intro to Mark Boal's Hurt Locker screenplay features this bit of dialogue:
CHARACTER 1: Hey James?
CHARACTER 2: Yeah.
8:15 Boal's script for The Hurt Locker wins Best Original Screenplay. This is quite interesting to me given that Boal himself has stated in numerous places that it was adapted from the article he wrote for Playboy. As Boal stands on stage, awkwardly wringing his statue, Allison looks at him and says, "He's adorable."
8:17 Molly Ringwald???!?!!!! This is a genuine surprise to all watching. "Did Matthew Broderick lose a bet?" Pete asks. "Wow," Shawn says, "She looks like that character in He-Man. What's her name, Teela?" "I can't believe she's wearing purple," Kiera says, allowing me to say, "Yeah, she would look much prettier in pink." Groans abound.
When it become obvious that this is a John Hughes retrospective, everything begins to fall into place. Our world makes sense again.
8:29 Director Taylor Hackford is being interviewed and says that the Best Short Film award is one of the best that the Academy offers. Hackford is lying through his teeth.
8:31 Logorama wins Best Animated Short. It's French and the director apologizes for this. After mentioning several different people, he tells the audience that "you can applause them." Finishing off the night's funniest acceptance speech, Nicolas Schmerkin says, "It took me six years to make a sixteen minute film. I hope to make a feature and come back in, uh, 36 years." This is just awesome. It's also the smartest joke anyone has delivered all night.
8:33 Jenna's cat has plopped down in front of Allison. Allison is attempting to push it away from her and failing. "That cat is like a badger," Pete says of the cat's enormous size. "It has to weigh more than an Oscar," I say. This, of course, brings to mind a situation where obese cats are handed out as prizes. Suffice it to say, that is one award show I would definitely attend.
8:34 Music by Prudence wins Best Documentary Short. In the middle of the director's acceptance speech, a red-haired woman charges up on stage and starts talking. "She's Kanye-ing the shit out of him," Allison says. No one is quite sure what to make of this.
8:37 Joachim Back and Tivi Magnusson win Best Live-Action Short. While the first winner is speaking, the second winner is standing next to him making circles with his hand to encourage him to hurry up. After the first guy finishes speaking, the show director cuts the mike and the second winner is left in the cold.
I will never understand this. The show goes long every year, they devoted five minutes to an interpretive dance segment and even more time to people introducing the Best Actor and Actress nominees, but they can't give the second winner of the Best Live Action Short another minute to thank people? Really?
8:38 Ben Stiller shows up alone, dressed as a Na'Vi. "This seemed like a better idea in rehearsal," Stiller says. When he announces that he's there to present Best Makeup, that gets a hearty round of laughter even though it's not a joke. "The ironic thing is that Avatar isn't even nominated," Stiller says. It's funny because it's true.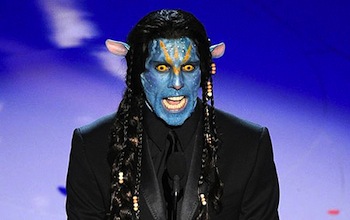 8:42 Star Trek wins Best Makeup.
8:45 During a clip of A Serious Man, it looks like Michael Stahlberg is talking to a psychotherapist played by Dr. Drew. "That's not Dr. Drew," Pete says. After some debate, I realize it's Adam Arkin. At least we now know who is going to play Drew Pinsky in Loveline: The Movie.
8:46 Jenna is in high spirits after what seems like her tenth drink of the day. She is recreating famous bits of dialogue from Precious, including a scene where Mo'Nique explains why she allowed her daughter to be molested. "I will punch you in the throat if you continue," Allison growls, still thoroughly disgusted by the on-screen happenings in Precious.
8:48 I just don't get this. During the intro for Best Adapted Screenplay, the script shows that George Clooney's character is supposed to say, "You okay there?" That is the graphic on-screen. One problem: we can hear Clooney say, "You all right?" Why not just put that in the on-screen graphic?
8:49 Apparently, there's a movie called In the Loop. "Jesus Christ," Jenna sighs, "You really need to do some research!"
8:50 Geoffrey Fletcher wins Best Adapted Screenplay. As he delivers his speech, it becomes increasingly apparent that he did not expect to win. His acceptance speech is punctuated with lots of pauses and awkwardly paced words. He's like a black William Shatner.
8:59 I just don't get this either. In an attempt to shorten the program, the producers have axed the speeches that are normally given by the Honorary Oscar winners. They haven't axed the Honorary Oscar winners, just the speeches. So, this year, all Roger Corman and Lauren Bacall do is stand up and wave.
However, since the number of Best Picture nominees went up to ten, any time gained by axing these speeches was quickly lost along with several extra minutes. Who thought it would be a better idea to show lengthy trailers of movies that everyone knows about in place of living legends giving speeches? Actually, don't answer that.
9:04 Mo'Nique wins Best Supporting Actress. This is her first nomination. Make that first (and only) nomination. She gets a standing ovation. Mo'Nique's speech is a little, uh—it has the potential to be read incredibly negatively. While other Oscar winners often praise the other nominees in their category, Mo'Nique goes a different direction and thanks the Academy for making the right choice. "Thank you for making this about performance, not politics," Mo'Nique says. She also thanks her attorney and mentions his law firm. This is a good plug.
9:07 The woman doing the voice over work for the show tells audiences to stay tuned "for a salute to horror films". This is what would happen if The Simpsons were to make a show involving the Oscars.
9:10 Avatar wins Best Art Direction. For some reason, the digital nature of Avatar's sets make this a weird win for me. Helping nothing is that the first winner to speak points his Oscar at James Cameron and says, "This Oscar sees you."
9:14 Sandy Powell wins for Best Costume Design. She is the biggest bitch of the night. She opens her acceptance speech by saying, "Well, I already have two of these…" So sorry to bother you, Sandy. You had other plans tonight that you had to cancel? I'm so sorry.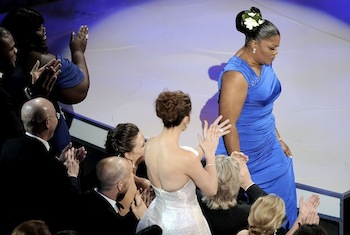 9:19 Martin and Baldwin appear in a Paranormal Activity parody. On it's own, the skit is a 'C'. Compared to the other drivel they've been doing, it's an 'A'.
9:20 Thus starts the Oscar Salute to Horror. I'm pretty sure this was done just to get Kristen Stewart and Tyler Lautner on stage together.
9:26 There is an explanatory featurette on what sound mixing and sound editing are. Two things about this segment are interesting: 1) the difference between sound mixing and sound editing is not explained and 2) a layer of sound seems to be missing from the piece. Whoever approved this should be fired.
9:27 Paul N.J. Ottosson wins Best Sound Editing for The Hurt Locker. He is British with long, frizzy strawberry blonde hair. He genuinely looks like Ewan Bremner. "He just needs to pull it into a pony tail," Kiera says helpfully.
9:28 Ottosson and Ray Beckett win Best Sound Mixing for The Hurt Locker. Ottosson steps to the mike and starts rambling again. C'mon! "Give Ray I shot!" I implore him. Ottosson finally steps aside to let Beckett speak. This is just common Oscar courtesy.
9:30 Elizabeth Banks hosted the technical Oscars. I can hear my friend Brian now, "It's nice that she hosts the loser Oscars."
9:32 The female voice over announcer explains that the hottest dance troupe on TV is here tonight. A) What the hell is that? And B) they need to add this?
9:35 Sandra Bullock is presenting the Best Cinematography Award. She concludes her presentation by stating, "These five [cinematographers] did real good." Did she just improv that? Was that written down on the teleprompter? 'These five did real good'? Really? And why didn't they show any clips from the nominees work. I mean, if there's one award where clips should be shown, it should probably be for Best Cinematography.
9:38 The Academy remembers those members who have passed… States presenter Demi Moore, "Their passing is sad, but there is also joy…" Who is writing this copy? Michael Jackson makes the cut; Farah Fawcett and Bea Arthur don't.
9:38 (again) James Taylor appears on stage. Pete looks at him and then back to me. "I don't get it," he says. "You're here… but you're there too. What's going on?" Jenna looks confused. "They're both bald," Pete explains helpfully.
More importantly, Taylor looks like he's sitting in the middle of a rotary dial phone.
9:45 Jennifer Lopez and Sam Worthington walk on stage to present. Worthington is not only chewing gum, but decides to wait until he's on stage to put on his glasses.
9:47 Instead of playing all of the songs nominated for Best Score, the show producers have decided to play bits of them with an interpretive dance troupe performing to them. "This is so weird," Jenna says. The dance troupe is effectively break dancing to Hans Zimmer's score to Sherlock Holmes. For Up's score, one of the dancers is doing the robot. This bit picks up as it goes along, but is pretty slow in starting up. I still don't understand why the guy was doing the robot for Up.
9:52 Michael Giancchino wins Best Score for Up. As he gets to the top of the stairs, he stops and looks around. (I am choosing to believe to he didn't stop and look 'up'). I'm praying that my interpretation is correct.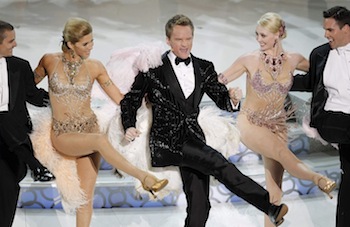 9:54 Bradley Cooper and Gerard Butler are presenting the next award. They are standing in front of a strobing screen. We all have to look away before we have a seizure.
10:00 I guess Marisa Tomei wasn't content to let Whoopi Goldberg automatically win the evening's award for Oscar Winner who has Fallen the Farthest as Tomei is now appearing in a commercial for something with Dan Cortese and someone named Rocco Dispirito. Despite the fact that there are six adults in the room with a combined nine degrees, no one can figure out whether Tomei is in a commercial for Italian food or a reality-TV show. But more to the point, what the hell is she doing standing next to Dan Cortese? Was Riki Rachtman not available?
10:04 The Cove wins Best Documentary. "Is that Fisher Stevens?" I ask. Everyone laughs. When Stevens' name pops up on screen, there is a collective gasp. Stevens decides to begin his Oscar winning speech with the phrase, "Hey, guys!" The old guy in the back of the pack steals the show by putting down his statue and holding up a sign that reads "Text Dolphin to 44144". Jenna is about to text 'dolphin' to this number before I make a joke about it being the best $10,000 she ever spent. Not knowing how much she'll be donating, Jenna puts her cell phone down.
10:07 Tyler Perry is presenting. Of course he is, March is Tyler Perry Month! "I'd expect more from the Academy," Kiera says. Perry mentions that lots of people have come up to him and told him that they loved him in The Blind Side.
10:09 Best Editing goes to a husband/wife team who worked on The Hurt Locker. When they get to the mike, both people start talking simultaneously. It's funny, it's cute, it's amazing. I think more people ought to try this style of acceptance speech.
10:13 I mention that Sandra Bullock won a Golden Raspberry the night before for her work in All About Steve. "Which movie is that?" Kiera asks. "The one where she falls into a ditch," Jenna says. Let it be forever known that All About Steve is that one where Bullock falls into a ditch.
10:14 Martin and Baldwin introduce Pedro Almodovar and Quentin Tarantino by saying that Pedro and Quentin are their pet names for one another. This isn't funny, it's not clever. "I think Jay Leno's writers could do better than that," Pete says. It's a bad sign; no one wants to be a comedy writer who is compared unfavorably to the writers at Jay Leno's show.
10:16 I could listen to Tarantino read foreign names and film titles all night. Even the Spanish names and titles that Almodovar is quizzically not reading. The winner for Best Foreign Language Film is a dead ringer for Paul Haggis.
10:19 Martin asks Baldwin about his Oscar nomination on The Cooler. "I didn't win," Baldwin says. I repeat, this isn't funny and it's not clever. Is it even a joke? What the hell is going on?
10:20 The female voice over announcer strikes again: "Coming up next, what will win Best Picture? Will it be Avatar? The Blind Side? The Hurt Locker? Or a surprise nominee?" What? The Blind Side? That somehow made it into the top three? If The Blind Side wins Best Picture, it will be the biggest surprise and upset of all time. Who is writing this?
10:23 Allison sighs long and hard and finally says, "Why isn't this over yet?"
10:24 The Best Actor award is upon us. I make a joke about Nelson Mandela being in the audience and Jenna yells at me, "God dammit, Neumer! Morgan Freeman is not Nelson Mandela!"
10:31 Jeff Bridges wins Best Actor. He teeters up on stage. "Hello!" he says, thrusting his Oscar up into the air. Bridges is awesome… and far more like The Dude than anyone would ever expect. He is on stage making weird noises like 'Wow-ee!" and laughing in unusual places during his speech. He pronounces Maggie Gyllenhaal's name like three, "Maggie. Gyllen." Two second pause, "Haal". I'm not sure what the odds are of anyone ever dropping their statue, but Bridges seems up for the challenge.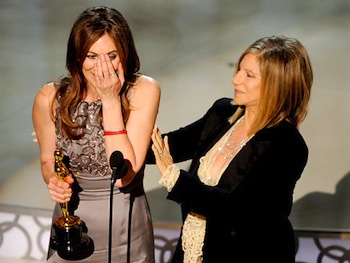 10:40 Forest Whitaker shows up to introduce Sandra Bullock, whom he directed in Hope Floats. "I'm glad he put on glasses," Allison says, "They distract from his face." I can only wonder how often Hope Floats ever gets talked about positively in the film world.
10:47 Introducing Meryl Streep, Stanley Tucci gives the evening most eloquent, thoughtful and clever speech. Pete starts to say something about it and then cuts himself off. "Wait," he says, looking at me, "You're here… but you're there too. What's going on?"
10:47 (again) Sean Penn comes onto stage and begins rambling. He mentions thanking specific actresses causing everyone in the room to wonder whether he's hijacking the night. He's not. He may be drunk. Worse yet, he may not be.
10:48 Sandra Bullock wins Best Actress. This isn't a surprise in the sense that I was expecting it to happen, but nonetheless is still surprising. Her acceptance speech is sweet, charming and humorous; the voters got their money's worth for voting for her. Bullock makes a point to thank the other nominees, actors, people who were mean to her and her lover, Meryl Streep. In the crowd, her husband Jesse James is trying not to cry. This melts the heart of every female in America.
10:52 Barbra Streisand walks onstage. She's wearing a dress that looks like some curtains grew a face.
10:56 Kathryn Bigelow wins Best Director. If James Cameron would have won, there'd have been a 50/50 chance Streisand would have stabbed him with the Oscar.
10:56 (again) I have such a crush on Bigelow it's sick. She is also so buff that she can hold the statue with one hand. I make the statement that Bigelow is the hottest 58-year old woman ever. Shawn laughs and asks me how old she really is. When I inform him that Bigelow is indeed 58, his jaw drops. Consider my opinion seconded.
10:58 Tom Hanks is presenting the award for Best Picture. The Hurt Locker wins. This happens so quickly, words can't adequately describe it. The entire night so far has felt like a marathon. A long, slow-paced marathon. Now that the biggest award of the evening is upon us, Hanks simply rushes through it. Bigelow seems genuinely surprised that The Hurt Locker won Best Picture. She looks uncomfortable and is thanking firemen in her speech.
11:02 Martin and Baldwin are still in the building. They make a joke about 'helping' Bigelow with her Oscars and leave off with another very stale joke where Martin says that Baldwin is a nice guy and Baldwin nods. It just serves to remind me how unfunny the whole ceremony has been.
And the Oscars are over. As Pete summarizes it, "It was long and the jokes were horrible." Granted, the Academy isn't looking to put on a DefJam style of comedy show, but with comedians like Martin and Baldwin hosting, I'd expect a little better than a gag where the two men try to take Bigelow's Oscars. That would have felt old in 1950.
In the end, it's hard to complain too much about the Oscars, I mean, they are what they are. Sure, this year's show felt so sanitized that the results were blander than any number of Tim Allen movies, but this is what people have come to expect. Now to figure out if anyone else who appeared on The Parkers will win an Academy Award someday. I'm keeping my fingers crossed.