Maneater Running Commentary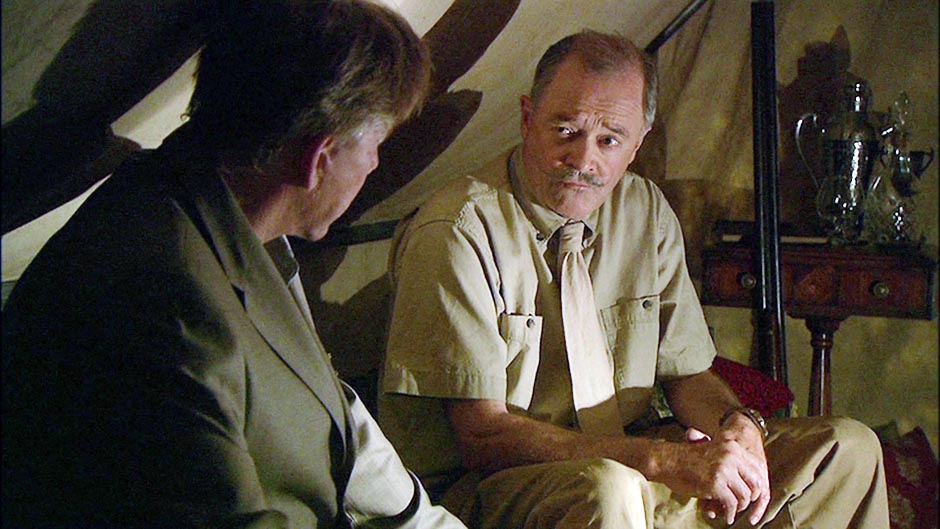 When Chris Neumer found out that Gary Busey–a man who can and does blink his eyes one at a time–would be matching wits with a hungry tiger in the movie Maneater, he grabbed his laptop and began taking notes. Because you don't pass up opportunities to write about gold like this.
Several months ago, a publicist contacted me and asked if I would be interested in receiving DVDs of Maneater, Blood Monkey and In the Web. I leapt at the opportunity. It's not just that I have an enormous love of big animal movies and how entertainingly bad they are, but it would have been next to impossible for me not to watch something called Blood Monkey. It could have been a not-so-thinly-veiled rip-off of Michael Crichton's Congo and I'd have been in. Wait a minute, that's actually what Blood Monkey was, so check that.
When the three films (as part of the Maneater box set, Volume 1) arrived at the magazine office, my assistant peeked her head into my office and said as sarcastically as was humanly possible, "Yeah, we got some great titles today, I may have to take off early so I can go watch Blood Monkey." My ears perked up at the mention of the title. My assistant shook her head, threw the three pack at me and told me that it was at times like this that she realized that she really needed a different job.
Trying to figure out which movie I should watch first, I began a weeding process. Of the three titles, two star actors who have won or been nominated for Oscars; Maneater has Gary Busey and Blood Monkey has F. Murray Abraham. And if you're asking yourself what the hell happened in Abraham's life that provided the former Best Actor winner with the inspiration to star in a full-frame movie about blood-thirsty apes (monkeys, if you believe the title), you're not alone. The same holds true if you're asking yourself, "Wait, Gary Busey was nominated for an Oscar?" Of those two titles, only Maneater was in widescreen. Thus it was finalized.
Like all big animal movies, Maneater has a very simple plot: an incredibly hungry Bengal tiger gets loose in the backwoods of West Virginia and starts killing people. It's up to the star to set matters straight. I popped Maneater into the DVD player and here are the results.
MAIN MENU: Now this is a DVD. Not only do I have to sit through two trailers for the movies that come in the same box set of DVDs—movies that everyone will already own, should you own Maneater—but when the main menu finally comes up, there are only two choices: Play and scene selection. No special features or set-up here.
0:01 The very first scene of the movie explains how a Bengal tiger comes to be running around in the woods of West Virginia. An exotic animal smuggler's truck containing the animal in question overturns. Somehow this isn't particularly satisfying.
2:30 Maneater is a low budget movie. This is not a surprise; I mean, it stars Gary Busey. Interestingly, the first cut in the budget seems to have been the continuity supervisor.  This, unfortunately, makes the movie seem that much lower in quality. A girl is jogging and takes out one of her earphones after she thinks she hears something. When she rationalizes that she hasn't heard anything, she starts running again… but without replacing the earphone. She is now jogging with one earphone in and one bouncing around her neck (which runners always do). In the next shot, the jogger is wearing no headphones… except the music from her iPod can still be heard playing.
3:44 A little boy, Roy (Ty Wood) is chastised by his mother for playing with "imaginary animals". I wonder if this could be going somewhere.
6:50 The female jogger reports her boyfriend as missing and states, "He'd rather die than be late for anything." Well, he got his wish.
10:30 How backwoods is the West Virginia in Maneater? Not only do certain characters live in a trailer, but the trailer doesn't have any electricity and its inhabitants have to use an outhouse. A wooden outhouse.
14:30 The little boy who plays with imaginary animals also sleepwalks. Hmmm….
14:40 At the scene of one tiger attack, as Busey and the coroner are starring at the few human remains, uh, remaining, the coroner announces that, "You'd need an army of raccoons to do this." Raccoons with assault rifles.
16:04 Busey's hair is completely messed up, although there is no reason for it to be in the script. Busey looks like an older actor who is totally out of his mind. Thank god he's only acting.
19:00 A drunken hunter drops his roast beef sandwich in the woods. He sighs as he bends down to pick up the meat. When he's done, he looks at the blood on his hands and decides to wipe it on his trousers. He takes a few steps forward and finds another dead body. A well played red herring.
20:05 This tiger is hungry. Not only has he eaten three people in a week, but he's apparently eaten all the deer in the woods as well. If you're keeping score at home, that means the tiger has eaten something between 500-700 pounds of meat… in three days.
21:26 A local hunter announces that tigers are at the top of the food chain. "You can't just walk into the woods and kill a tiger," he says. Tigers everywhere disagree.
22:21 Busey's eyes are blinking one at a time.
24:44 In all big animal movies, there is one character who serves as the human foil to the protagonist. This is most often the character (read: scientist) who genetically engineered the animals that are running around eating people. In the event that the animals aren't lab made, the foil generally is the town's mayor. In an unbelievable twist of fate, when big animals escape from captivity, they almost always do so right before some very profitable, annual town event. Jaws pioneered this plot device.
After Busey has gone on television warning people that there have been four tiger attacks that have taken place in the last few days, the mayor shows up and is pissed. The mayor explains that the tiger could easily wander away and Busey's message will have all been for nothing. That and he might have scared people away from the big parade taking place next weekend.
27:26 Busey's wife teases Busey by stating that he's afraid of the dark. Busey announces that he's not scared of the dark… he hates it.
28:45 How low budget is Maneater? Busey's character is wearing the same clothes he was two days ago. They're repeating wardrobe less than 30 minutes in!
29:00 In a twist that no one could have seen coming, Entertainment Weekly has posted a $10,000 reward on the tiger's head.
29:24 When Busey threatens to arrest people and put them in prison for "hunting", he is informed by his deputy that they don't have a prison. This seems like the kind of thing that a sheriff might know about.
33:53 The entirety of the film's first scene is replayed, I suppose, in case you arrived late and couldn't fathom how a Bengal tiger would end up in West Virginia. It is even less satisfying a second time around.
34:40 How hungry is this tiger? He just figured out how to eat a photographer who had locked himself inside an iron cage with inch thick bars.
36:30 Though this is set in West Virginia, it's rather obviously shot in Canada. How obviously? A character just said, "Get oooooooout there." Yah…
38:17 How low budget? When the National Guard shows up, they bring one truck. One.
40:35 Ty Wood's performance in Maneater makes Jake Lloyd's performance in The Phantom Menace seem positively Brando-esque. Wood is presently running through the woods yelling to the tiger, "They're coming for you! They have soldiers!" The tiger is rather non-plussed by this information.
43:02 The captain of the National Guard is talking trash to Busey. "You leave the killing to us," he says and laughs. If there is a group of people who should never talk trash about being warriors, it's the members of the National Guard who are serving in the remote backwoods of West Virginia who are unsuccessfully trying to track down a renegade tiger.
44:00 A new character is introduced. A Brit from the 19th century arrives. He listens to a victrola, smokes a large pipe and his name is Livingston. He is also a colonel and wearing mustard. As he tells Busey, he read about the tiger attacks in England "yesterday" and is here, ready to kick ass today… with equipment and tea.
50:00 Wood announces that he's seen the tiger. This is news to the person he is speaking to and the person questions the kid, "You've seen it?" Realizing that imparting this knowledge could lead to the tiger being killed, the kid begins to back track. "Uh… no… Uh… I mean, I saw it… in a dream!" Wood's performance here makes Danny Cooksey's performance as Sam on Diff'rent Strokes seem award worthy and subtle.
51:21 The tiger is meticulously picking off members of the National Guard. He has also learned to first bite his victims in the windpipe so that they don't make a sound. This tiger may also have a higher IQ that the kid played by Wood.
58:30 Another guardsman is down. How much does this tiger eat? More to the point, how are the guardsmen, armed with M1 rifles, this vulnerable?
1:02:24 I don't believe Wood's character has changed clothes once yet.
1:04:20 How much does the kid like the tiger? He has his name carved into one tree and the word 'tiger' carved into a nearby tree.
1:06:14 Wood questions Busey as to why they want to kill the tiger. Busey explains that the tiger is very dangerous. The kid then states that the tiger doesn't want to hurt anyone. Seven or eight dead people have a wildly different opinion.
1:07:40 Busey is getting exasperated. When the media doesn't clear the crime scene, he pulls out his piece and fires off several shots into the air.
1:10:00 Busey and the Colonel put on their CSI hats and begin to examine the latest crime scene that the media have now vacated. The guardsmen fired over 100 shots and didn't hit the tiger once. I start envisioning a sequence where the tiger is bending over backwards avoiding the bullets ala Keanu Reeves in The Matrix.
1:11:42 The tiger is getting smarter. It opened a car door from outside in order to eat a police deputy who was hiding inside.
1:14:20 Busey is wearing the same outfit for a third time. I don't think anyone is even trying anymore.
1:17:20 When Busey goes to see the Colonel, he opens the Colonel's tent flap and sees the Brit sitting in front of a backgammon board. The Colonel then asks him, "Backgammon?" This is funny because the Colonel is sitting in his tent at night, about ten miles from the nearest outpost of civilization, waiting for someone to pop by so that they can play backgammon.
The Colonel is truly an entertaining character because he feels like he's from a completely different movie (like The Ghost and the Darkness). In his tent, the Colonel has actual furniture and antique vases. He has cognac glasses and a decanter as well.
1:20:34 I'm not sure how the writer, producers and director allowed this scene to unfold, but the tiger attacks the kid's mom about 20 feet in front of the heavily armed Colonel. Instead of shooting the tiger and saving the woman, the Colonel grabs Wood by the arm and does… nothing.
1:21:45 The tiger opens another door. This time he's mastered the concept of the doorknob. Tiger R&D apparently had some very major breakthroughs in the last five years.
1:23:40 The tiger opens yet another door. This is even more impressive than the last time because he also had to push a large refrigerator out of the way.
1:24:00 Instead of shooting the tiger, Busey drops his gun to save the boy… who is hiding out of sight underneath a pickup truck. As an aside, the entire movie thus far, Busey has been holding a 9MM. When the film cuts to the firearm on the ground, it's a shot of a revolver.
1:25:03 Something distracts the tiger and Busey and the boy make a break for Busey's police car. They have at least a 50-foot head start on the tiger. Busey retrieves his weapon and, instead of taking a good shot at the tiger, he sprints toward the car literally firing backwards over his shoulder as he runs. If Busey had been aware that this tiger knows how to reheat pizza in the microwave and open any door put in front of him, his actions might have been slightly different.
1:25:15 Fortunately for Busey (and me, since this marks the end of the film), one of his over-the-shoulder shots hits a nearby propane tank causing it to explode, thusly killing the tiger. I'm not sure what it says, but about ten minutes ago, I saw the propane tank in front of the building, thought, "I wonder if somebody will shoot that, it'll blow up and that's how they'll kill the tiger," and then rationalized that doing so would have been too expensive for the Maneater production and failed to make note of when I originally had this thought.
And thus ends Maneater, an appalling and entertainingly bad movie. Now, bring on Blood Monkey!
| | | | | | | | | | | | |
| --- | --- | --- | --- | --- | --- | --- | --- | --- | --- | --- | --- |
| Columns | Columns | Running Commentaries | Columns | The Ten Minute Guide | The Ten Minute Guide | Running Commentaries | Columns | Columns | Articles | Columns | |