John Travolta Is Not Gay…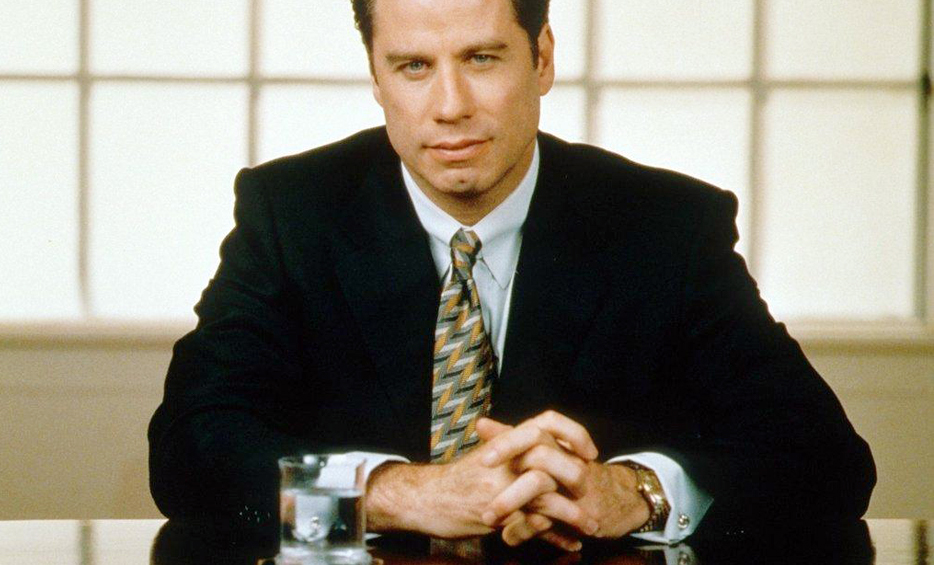 It's mid-May and the heat is still on in my apartment.  This is enough to make any man a hair depressed, especially given that I have many friends in the entertainment industry in Los Angeles who love relaying the fact …
It's mid-May and the heat is still on in my apartment.  This is enough to make any man a hair depressed, especially given that I have many friends in the entertainment industry in Los Angeles who love relaying the fact that it is 95 and sunny there presently.  Sigh…  Just when all was looking its bleakest—North Carolina proudly banned gay marriage earlier this week—John Travolta's sexuality entered the news again and made everything right.
For those not in the know, Travolta has been rumored to be gay since he has been in the public eye and there has been enough ink to print the words: John Travolta is rumored to be gay.
There is a certain formula that these 'scandals' follow:
STEP ONE: Someone accuses Travolta of being gay for doing something that seems, I don't know, really gay.  Something like kissing another man, making out with another man or waggling his dong at another man and asking for sexual favors; you know how it goes.
STEP TWO: Travolta's camp responds to the charges by stating that they are categorically false.
STEP THREE: If the uproar doesn't die down, a perfectly innocent (non-gay) explanation for Travolta's behavior is floated.
STEP FOUR: …which generally serves to make Travolta look significantly worse than if he simply just came out and said, "You know what?  I am gay."
My personal favorite of these Travolta episodes took place in 2006.  At the time, Travolta was photographed kissing another man on the lips with his eyes closed.  The picture ran in The Enquirer.  Team Travolta immediately hit the airwaves in response to the picture and let it be known that the A-lister was absolutely, positively not gay.  That was hogwash!  There was a perfectly innocent (non-gay) explanation for the situation—wait for it—he kisses everyone like that!  (Unfortunately for Kirk Douglas, it appears that this statement is true; Travolta does kiss everyone like that).
I find there to be a certain and distinct entertainment value to these scandals.  Not in the accusations, not in the possibility that Travolta might be gay, but in the absolutely ridiculous excuses Team Travolta whips out to protect his supposed, uh, tough guy image.
Contrary to some opinions, protecting one's image, particularly a Hollywood star's image, is important.  Travolta is currently working on a project playing Dapper Don, John Gotti, and the casting choice has drawn some barbs from people who knew the real life Gotti.  A former 'associate' and 'crony' of Gotti's, Lewis Kasman, made waves at the end of last year when he told the New York Post that Gotti would not be happy with the decision to have Travolta play him.  "I think if [Gotti] was asked, he would not be pleased at Travolta playing him," Kasman said, before going on to explain that Gotti would have wanted a 'tougher guy' to play him.
But herein lies the entertainment value.  To, apparently, protect Travolta's image and eschew the homosexual rumors—rumors that make him seem slightly less tough—his lawyers have to explain that he simply likes kissing men on the mouth or explain that Travolta is married, so that proves he can't be gay (see the below story).  It's good stuff.
In a way, it's like a reading a great whodunit.  You know that the perpetrator of the crime will be revealed and when he is, it will be a big surprise.  You can try to figure out ahead of time who it is based upon the clues presented, but you're never quite sure what tack the author has in mind until after the reveal has been made.  In these Travolta episodes, I know that some beyond-ridiculous excuse will be made for Travolta's behavior—maybe he just likes hanging around with gay porn stars or finds the art of Robert Mapplethorpe thought-provoking—I just never know quite what they'll be until they're upon me.  And then I smile.
So when I learned at the beginning of this week that a masseur was suing Travolta for unwanted sexual advances during a massage, I primed myself for the maelstrom to come.
Following the plan, Travolta's lawyers labeled the suit as a "complete fiction and fabrication".  However, unlike a lot of Travolta's movies, it was really enjoyable fiction.  The more details that leaked out of the suit, the better the story got.  If the unnamed masseur is, in fact, making this up, he should be contacted about a career in screenwriting.  Comedy like this would have made American Reunion a $300 million hit.  If he's not making it up, Travolta is going to challenge Terrence Howard for the title of weirdest guy in Hollywood.
According to the masseur, Travolta revealed that he got where he is today thank to 'sexual favors' he'd given in the 70s.  The quote that has been circling in the press is one that Travolta allegedly said, "Hollywood is controlled by homosexual Jewish men who expect favors in return for sexual activity."  I have zero idea what this means, nor why people chose to focus on that quote as opposed to the quote that immediately followed that statement in the complaint: "Defendant then went on to say how he had done things in his past that would make most people throw up.  Defendant explained when he started [out in Hollywood] that he wasn't even gay… [but] said that he was smart enough to learn to enjoy it."
Yup.
And then there was the part where "Defendant told Doe Plaintiff No. 1 that he had Hollywood looks, but just needed to lose some weight and learn to lick some 'ass', and then Doe Plaintiff No. 1 would be ready to make millions and be famous."  Come to think of it, maybe that part was in American Reunion; it certainly sounds like something Stifler would say.
However, after the first accuser filed his claim, Team Travolta was so adamant about the fact that the allegations were false that I began to think that the whole thing would blow over in no time at all; Team Travolta might not even get to step four where they would have the opportunity to explain that 'ass' was what Travolta called lollipops or by 'gay' Travolta meant 'happy'.  In the 48 hours that followed, Team Travolta seemed to up the quashing ante.  They not only managed to find photos of Travolta in New York on the date in question, but they produced a receipt from a Manhattan eatery where Travolta ate at the time he is accused of sexually assaulting a masseur in Beverly Hills.*
* I will admit I find this focus on the date interesting.  Maybe it's just me, but when Team Travolta issues their statement, I hear it like this: "John Travolta did not sexually assault a masseur ON THE SIXTEENTH OF JANUARY." 
Naturally, when the receipts and photos came out, Doe Plaintiff No. 1 did some reconsidering and the suit has now ultimately been dropped.  Step four was never reached.
Sigh.
But all is not lost, as I type, another man has stepped forward to accuse Travolta of sexually harassing him.  Maybe this time, Team Travolta will get to the promised land.  Only time will tell…
| | | | | | | | | | | | |
| --- | --- | --- | --- | --- | --- | --- | --- | --- | --- | --- | --- |
| Columns | Columns | Running Commentaries | Columns | The Ten Minute Guide | The Ten Minute Guide | Running Commentaries | Columns | Columns | Articles | Columns | |