Jesse Jane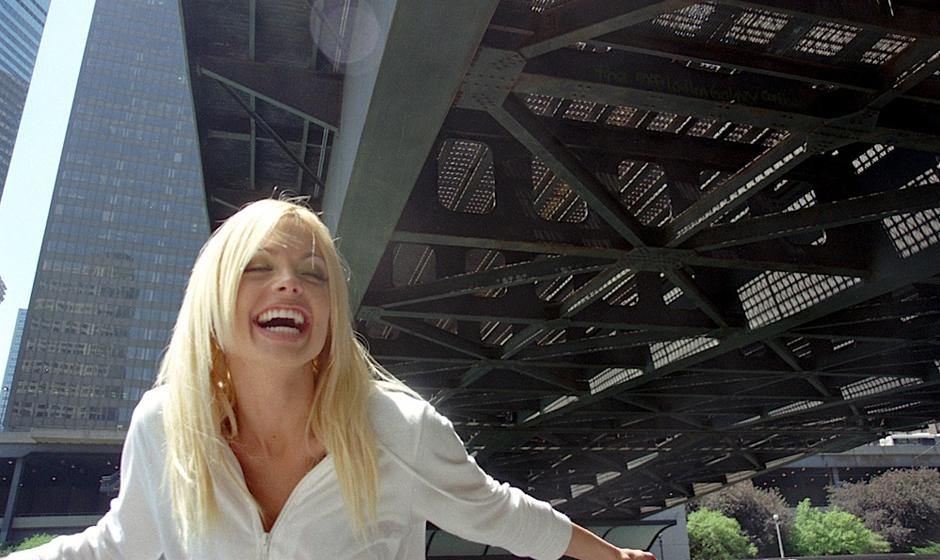 Jesse Jane is one of the adult world's biggest stars. So big, in fact, her movies are being stripped of the sex and released as R-rated films. Jane talks shop and gets inside the actual filmmaking of her films.
I'm glancing over the transcript of the interview I did with adult film actress extraordinaire, Jesse Jane, and am surprised that there isn't more salacious innuendo, debauchery or sexually in-your-face conversation contained in it.  As a matter of fact, Jane spent a lot of time discussing the art of nudity, why mainstream films should never feature penetrative sex of any type and seemingly got the most excited while talking about… marketing.  To top it off, I supplied the only swearing in the interview.
Normally, I try to open my features with a crowd-pleasing anecdote; the more opinionated, outrageous and humorous the better.  In the case of my interview with Jane, I can't find anything that comes remotely close to filling this heading.  Jane specifically avoids bashing her fellow porn stars by name–the most divisive thing she says during the interview surrounds actor Ron Jeremy when, after some slight prodding, she announces that fat, hairy and old isn't "my type"—and goes out of her way to praise not only her co-stars in the AVN Award winning film, Pirates (think of Best Picture at the porn Oscars), but she talks glowingly of Digital Playground, the company to which she is contracted.  It's not that Jane is boring, far from it, it's that she's the most professional porn star you could think of.
While her answers to my questions fail to include mention of titillating stories of prurient sexual encounter, they are well-formed and thought out answers nonetheless.  Check that, they are extremely competent and professional answers, as professionalism is a very important quality to Jane both in herself and in her fellow porn actors..   "A lot of people in the adult business are of the mindset that you just show up on set and have sex," Jane says in response to my query about preparing for a day of shooting.  "It's like, 'This is just a porno so I don't have to care.'"  She shakes her head and continues, "If you really care about the project and want it to do well, you've got to feel the acting, you've got to prepare yourself to get into that mode.  You can't just think, 'Oh, I'm just doing a porno.'"
The 'it's-just-a-porno' mentality bothers Jane deeply and she comes back to the topic throughout our lunch.  "The difference between shooting a mainstream movie and an adult movie is that in the mainstream movies, the sex can be staged.  You don't have to capture real moments," Jane emphasizes.  "The actors might not have any chemistry together–they're just acting!"  She punctuates the word 'acting' by gently slapping the table.  "In our business though, you have to have a chemistry with your co-star.  If it's not there and you're just faking it, you can tell."  Jane pauses for a second and then finishes off the thought by stating, "People will make fun of you for that!"
Proving this very thought, Jane begins to moan a little too animatedly.  "Oooooh," she coos.  "Ooooh, you're so big."  She drops the act and looks at me.  "Nobody wants to hear that.  The girls are only doing it for show   They start looking into the camera and winking.  It looks stupid.  A lot of people will see that and mention it to you."  She sighs a long sigh and says, "It's horrible.  Why get into porn if you're not going to try to enjoy it?"
Jane got into porn roughly three years ago after first working as a model for Hooters, among other companies.  At present she is one of the biggest names in the industry and has not only won an AVN award herself for Best Actress, but actually hosted the AVN Awards in 2006.
This is quite a spectacular jump for a woman in the adult industry.  Jane is proud of her meteoric rise, though she does note that "there are some girls who are so jealous of other girls who are moving up that they will do everything in their power to sabotage her relationships and her career."  Jane shrugs at the sometimes catty nature of her fellow porn stars and attributes her success to two interwoven factors.  1) Jane is very aware of the fact that she is a product to be sold.  "It sounds horrible, I know," she laughs, "But I am.  [My name] Jesse Jane is a registered trademark."  She goes on to relate that she is, "A marketing queen.  I do a lot of radio shows because I can be me and promote the product.  There are a lot of girls who are afraid to do radio because they're afraid to talk.  They'll get asked a question and give one word answers…  Not me!"
And 2) Jane puts a lot of energy into her work.  When I ask her about the choreography of her scenes, she frowns at me and tells me that there is none of that with her.  "That'd be awkward," she exclaims.  "'Hey, how do you want to have sex?  I'm going to do you this way and then I'm going to do you that way.'"  She shakes her head again.  "You can't do that.  I'm a good performer because I don't pose for the camera and have staged sex.  My sex is raw.  It's crazy."
Jane's approach to filming her sex scenes is, dare I say it, very method actor like.  She gets into character, blocks out the cameras and production crew-members, doesn't play to the cameras or do anything to avoid shadows ("That's what the lighting guys are for," she chuckles).  She summarizes her position on shooting as this, "My thing is that I always try to be in control.  [The directors] would want certain shots.  I just don't listen anymore.  I'm going to do my thing and you're just going to have to catch it."