Ghostbusters Running Commentary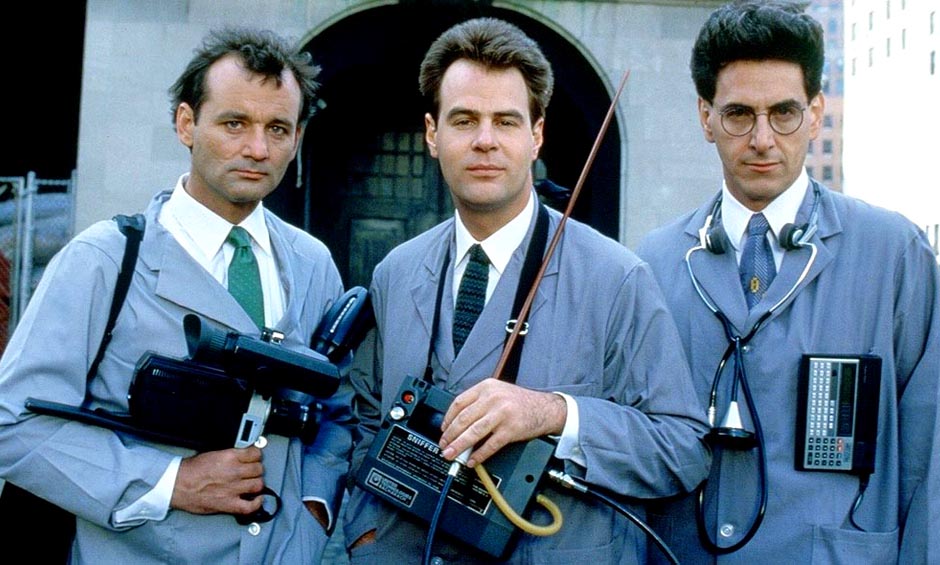 The last few months have proved to be a treasure trove of rumors about the upcoming Ghost Busters III project. First it was a question of whether the film would be made. Now that it's scheduled for a 2012 release, …
The last few months have proved to be a treasure trove of rumors about the upcoming Ghost Busters III project. First it was a question of whether the film would be made. Now that it's scheduled for a 2012 release, questions of casting abound. Will Jack Black, Michael Cera, Jonah Hill and Seth Rogen take over as the younger generation of Ghost Busters? For every sane individual on the planet, let me say succinctly, "Dear God, I hope not." Will Bill Murray, Dan Akyroyd, Harold Ramis and Ernie Hudson really be back? And, how in the hell is Hudson 63 years old? To put this figure in perspective, Hudson is older than both Bill Clinton and George W. Bush. It hardly seems possible.
My own experience with Ghost Busters and Ghost Busters II is not a lengthy one. I missed out on seeing Ghost Busters in the theater in 1984… and then missed out again in 1989 by actually seeing Ghost Busters II in the theater. My only viewing of Ghost Busters II was that ill-fated day in 1989. If I recall correctly, the climax of the movie involved Dan Akyroyd using the Statue of Liberty as method of transportation… which still doesn't sit right with me. Since I missed it in theaters, I've seen Ghost Bustersa couple of times, but nothing in recent memory.
All the buzz about the upcoming Ghost Busters installment piqued my curiosity about the original film. I hadn't seen it in fifteen years—I remembered the Stay-Puft Marshmallow man, an annoying siren on the Ghost Busters car, the Ecto-mobile, and little else. I pulled a DVD copy of the film out of the Stumped video library and decided to record my thoughts as I watched. Welcome to the Ghost Bustersrunning commentary.
:21Wow. The first 21 seconds of the movie are of the Columbia Pictures logo. That seems, I don't know, long.
1:00 Ghost Bustersopens with a scene in the New York City Public Library. Everybody's image of a librarian—a short, old woman—is pushing a cart filled with books through the main room of the library. What I find interesting is that there isn't one minority in the entire place.
2:07 Thanks to a mischievous ghost, the cards from the card catalog start flying into the air. High schoolers watching this today will have no idea what's going on. If they ever remade Ghost Busters, the ghost would infect the library's computer system with some malware.
2:24 Is that Ray Parker Jr, singing "Ghostbusters" that I hear? Absolutely. The over/under on times the song will be heard is four. Whether it will top the amount of time "Danger Zone" was used in Top Gun(just a hair this side of infinity) is anybody's guess.
4:09The viewer is introduced to Dr. Peter Venkman (Bill Murray) as he cheats his way through his own study on paranormal perceptions. Venkman is holding up a card with a symbol on it, with the back of the card facing his two subjects. It's up to his subjects to use their 'paranormal' abilities to discern what the symbol is. If the subject guesses incorrectly, Venkman shocks him with a jolt of electricity.
What makes this interesting is that Venkman doesn't care about the results. He seems to have set up the entire experiment in order to shock his rather annoying male subject and hit on his attractive female subject. Why he's not getting thrown off campus for this violation is really the question.
7:16 Harold Ramis makes his first appearance as Dr. Egon Spengler. The last time America saw Ramis on-screen—1981's Stripes—Ramis' hair was in glorious jewfro form. It looked like a topiary on his head. You know those fake afros that you can buy as part of a Halloween costume? Modeled off of Ramis' do, circa 1981, and toned down by about 50%. Now in Ghost Busters, Ramis looks almost professorial with a weird jewpompador, I guess. Never has one actor made a bigger hair leap than Ramis from Stripes to Ghost Busters, though Bruce Willis was close when he decided to give up the charade of having hair and shaved it all clean in the early 2000s.
8:35 My head is throbbing a little bit. My eyebrows are furrowing. My stomach is a little bit queasy. I'm either coming down with food poisoning or experiencing a bad case of Attempting to Understand Eighties' Movie Logic (ATUEML). Fortunately, I'm watching Ghost Bustersat the time I have these symptoms, so it's not the former.
What's causing my ATUEML is that director Ivan Reitman is positioning Murray's Venkman as the skeptic of the Stantz (Akyroyd)-Spengler-Venkman trio. The problem with this is that Venkman—he who is supremely suspicious of these 'ghosts'—not only has a doctorate in paranormal psychology, but also works as a professor of paranormal activity. How he can be skeptical of anything in the paranormal realm is beyond me.
10:58The three doctors, Stantz, Spengler and Venkman, see an apparition in the Library. Venkman turns to Stantz and asks, "So, what do we do?" How do men with this much knowledge about paranormal activities possess so little, uh, knowledge about what to do when confronted with, you know, paranormal activities?
12:15The answer to the 'what do we do' question has been revealed: they run out of the library screaming.
14:04The dean of the unnamed university where the three doctors teach is firing them. He looks at Venkman and says, "You are a poor scientist." Never have truer words been spoken.
17:00Sigorney Weaver is a solid six feet tall. She absolutely dwarfs her on-screen neighbor, Lewis Tully, who is played by Rick Moranis. Moranis is 5'5" at most.
18:36What is interesting is that, in spite of his miniscule frame, Moranis' pants are at least three inches too short. I think Chris Webber's shorts at Michigan were substantially longer than the pants Moranis is wearing.
20:45Ah, sweet eighties. Murray is wearing a sweater vest… with three different and distinct patterns on it.
24:20 Murray's hair has seemingly changed with the scene during the film's first twenty minutes. It's been flat, poofy, short, long, slicked back and now resembles something that graced Tom Hanks' head in The DaVinci Code.
26:42There are two different types of Coke cans in Barrett's refrigerator. One is marked Coca-Cola, the other simply Coke.
27:18My head is throbbing again. ATUEML strikes again. Venkman has been in Barrett's presence for roughly forty-five minutes and has just announced to her, "I am madly in love with you." This is not cute, it is not funny, it's kind of creepy. Who tells a woman that he is madly in love with her after forty-five minutes of knowing her? Particularly when he doesn't have a spatula around to perform the Aunt Jemima treatment on her?
29:10While the three doctors are discussing how they are out of money—they spent the last of their 'petty cash' on Chinese food—three video arcade machines are visible in the background of Ghost Busters headquarters. I'm guessing they aren't great at resisting impulse buys.
31:06On their first job, Stantz let's this gem fly: "It just occurred to me that we really haven't had a successful test of this equipment… Well, no sense in worrying about it now." No sense worrying about it now!!! As Venkman points out, "Why worry? Each one of us is carrying an unlicensed nuclear accelerator on his back." Sure, why would you test out something like that before using it?
This bothers me a great deal because by simply changing Stantz's line to something like, "Good thing we tested these out at the university before they fired us," the whole thing where three men with doctorates deciding to use nuclear devices before running a single, successful test on them is avoided. Ugh.
35:26The Ghost Busters break an enormous chandelier while trying to apprehend 'Onionhead'. Man, I can't imagine the insurance that they need to have.
36:02After firing their special made ghost busting weapons, Spengler mentions that if the streams of the weapons cross, life as we know it will stop. Kind of the type of thing that you mention before you fire your weapons.
39:05Ray Parker Jr. is back! Who are you gonna call?
40:13As a parade of fake magazine covers featuring the Ghost Busters fly by in a montage, one catches my eye: a fake Atlantic Monthly cover. Has this ever been done before? The odds are actually better that Ray Parker Jr. will have another #1 hit before Hollywood does another fake cover involving the Atlantic Monthly.
41:46The ghost busting business is booming. Things are going so well, the Ghost Busters are actually looking to hire a fourth, uh, buster. So they do the only thing they can think of: they put an ad in the paper. One guy shows up in response to the ad.
42:10They ultimately hire that one guy because he's, uh, well, sitting in front of Janine? Dammit! ATUEML strikes again!
43:46Venkman can't pronounce 'Hittite'.
45:30I know that the character of Winston Zeddmore* was originally written for Eddie Murphy. And I know that after Murphy pulled out of the project, the character of Zeddmore shrunk substantially. Even with that in mind though, the role of Zeddmore that exists seems designed simply to explain things to the audience. Stantz or Spengler will say something very scientific sounding and Zeddmore will say, "That's good, right?" Or, in different situations, "That's bad, right?" Poor Ernie Hudson.
* Zeddmore's name is spelled this way in the credits… therefore, it's how I spell it. Rumor has it that it's spelled 'Zeddemore' on his uniform, but I can neither confirm nor refute this.
46:12The Environmental Protection Agency sends their most grating and dickless agent (William Atherton) to Ghost Busters headquarters to poke around. Given that the Ghost Busters walk around with unlicensed nuclear accelerators on their backs and seem adverse to filing any and all permits with the city and state, one can only guess what the EPA will turn up.
One mystery is cleared up with the EPA agent's arrival though: what Venkman's doctorate is in. Interestingly, it turns out that he has TWO. One in psychology and one in abnormal psychology. This is impressive for a number of reasons. Assuming Venkman is the same age as the actor playing him, he is 34. This means that he spent 5 years working to get a Phd in psychology, another three years getting his phd in paranormal psychology and has been teaching for a number of years. This is a lot of studying for a man who relishes the fact that he didn't, you know, study.
47:30The EPA is worried about—any guesses?—hazardous chemicals that the Ghost Busters might have in the basement. To this point in the movie, we've seen the Ghost Busters operate weaponry that can cause life as we know it to cease to exist, we've seen them walking around with nuclear accelerators on their back, we've seen them use a portable trap that jails ghosts for transport and we've seen them create a weird, laser containment unit in their basement as a permanent home for the ghosts that they do actually catch. The one thing we haven't seen them deal with is any kind of chemicals of any sort. Not even hydrogen peroxide.
47:45EPA AGENT: Show me [what's in your basement]! … Or I come back with a court order.
VENKMAN: You come back with a court order and I'll sue your ass for wrongful prosecution.
THE ONLINE DEFINITION OF 'WRONGFUL PROSECUTION': the conviction and punishment of a person for a crime that he or she did not commit.
49:13Cement statues are coming to life. This is not good.
50:49Weaver undresses using one hand while talking on the phone. Even stranger looking than it sounds.
52:34Rick Moranis doesn't get anywhere near the credit that he deserves in this movie. The man is truly funny. Short and really, really funny.
53:40As the end of the world (?) nears, spirits from the demon dimension begin appearing. One of these demons, a large dog like creature from the depths of hell, appears in the apartment bedroom of Lewis Tully while he's throwing a party. When the 'dog' bursts out of the bedroom into the living room, Tully turns tail and runs. Everyone else stays in the apartment. This is the only time I've ever heard of the deer-in-headlights strategy of evading trouble actually working.
53:40(again) The dog from hell is incredibly badly CG'd. How bad? He looks like cheap pre-vis graphics today.
53:57ATUEML rears it's ugly head again. When the dog from hell appears in Tully's bedroom, Tully does the following: 1) He takes the elevator to the first floor of his building and runs outside screaming that there's a bear in his apartment. 2) He runs across six lanes of traffic, narrowly avoiding getting hit so that he can 3) dive head first over a wall into Central Park. 4) Once he has righted himself, he begins loping to Tavern on the Green, were the dog from hell ultimately catches him.
54:08How bad is the CG? The dog has a yellow outline around him as he crosses a street.
55:45This is hands down the best scene in the movie. Venkman goes to Barrett's apartment to pick her up for their first date. When he arrives, he knocks on her door to find her possessed by Zuul. Everything in the scene is from a true sci/fi horror film… except Bill Murray's performance. That is precisely what makes the scene so genius. If you want to know what Murray can bring to a movie, you should watch this scene and marvel.
59:34What's nice to note is that the real life geography of this scene matches its on-screen counterpart. Tully entered Central Park over a wall, walked south to Tavern on the Green and then exits Central Park by Columbus Circle. It's nice to see that Tully doesn't exit the park into Chinatown.
1:00:38ATUEML… again. The police take a possessed Tully to Ghost Buster central and tell Spengler that they figured he'd like to see this guy. Apparently there is a way of knowing that crazy people are actually possessed by Sumerian gods of destruction and not just, you know, crazy.
1:01:18 Never has there been a less intimidating merchant of doom than the possessed Lewis Tully. Moranis seems to be channeling a hungry squirrel in his scenes, while vocally matching his inflections in the classic Strange Brew. Good times all around.
1:03:16Venkman is talking to Spengler and reveals that Barrett has been possessed. He then tells Spengler that he just gave her 300ccs of Thorazine to knock her out. I find this amusing for several reasons.
Let me count them:
1) 300cc's of anything is a little more than 10 fluid ounces. Coke cans? 12 fluid ounces. Basically this means that Venkman almost gave Barrett a full Coke can worth of Thorazine… 2) That he just happened to be carrying around with him… 3) along with a syringe.* 4) Which makes me wonder just what kind of a first date he had planned; do you really bring 300 ccs of an anti-anxiety medication with you on a first date if you're not planning on date rape? 5) Though Venkman studied for years obtaining his two doctorates, neither one of them gives him the right or knowledge to proscribe or administer people with medication.
* Since Venkman refers to the amount of Thorazine he gave Barrett in 'cc's and not 'mg's, I will assume he gave it to her in liquid form and not pill form.
1:05:57Here's the downside of Murray's apathetic charm. He, unfortunately, can't seem all that concerned about anything. Ever. Even if the end is nigh.
After calling Spengler from Barrett's apartment and learning of the world's imminent doom, Venkman announces that he'll be at Ghost Busters headquarters right away. He then shows up twelve hours later.
1:06:24Ah, sweet eighties fashion. Murray is wearing a tweed jacket, a sweater vest and a pastel, plaid, possibly flannel button down.
1:07:10The EPA is back and wants to shut of the power to the Ghost Buster's containment grid. You know, the place where they hold all the ghosts? This seems like a really bad idea and one that you might want to think about for a little while before actually following through on.
1:07:40All hell breaks loose.
1:08:38After Stantz and Zeddmore arrive, Venkman and Spengler explain that the EPA shut down the containment system. Stantz expresses shock and disgust. Zeddmore waits a beat and asks, "That's bad, right?"
How on earth did he land (and keep) this job?
1:09:21A possessed Dana Barrett looks really hot. When you get possessed, you automatically wear a lot of eye makeup and really sexy clothes.
1:11:01The Ghost Busters are thrown in jail.
1:11:02Oh, sure, now the minority extras show up…
1:11:11The man who has not one, but two doctorates to his name, who also knows how to administer drugs to possessed people and obtain supreme amounts of venture capital in a depressed economy states, "Ray, for a moment pretend I don't know anything about metallurgy, engineering or physics and just tell me what the hell is going on."
1:11:15Maybe he's joking around—
1:11:16Nope. Stantz confirms Venkman's idiocy by smiling and saying, "You never studied."
1:11:40This is awkward. Stantz calls Central Park West "Spook Central". Interestingly, none of the black guys in the holding cell seem to have a problem with this terminology. A lot has changed in 25 years.
1:13:13Look for it. Look for it! Reginald Vel Johnson makes a one-line appearance.
1:13:43It just dawned on me. Despite being possessed by Sumerian Gods, Tully and Barrett speak English. Hell, so does Gozer.
1:14:50 The EPA agent explains why he is out to get the Ghost Busters: he sees them as con artists. In his eyes, the Ghost Busters have sense and nerve gasses that they utilize in order to cause the public to hallucinate and see apparitions. When the public calls them to come and bust the 'ghosts', Stantz, Spengler, Venkman and Zeddmore arrive, put on a fancy light show and get the 'ghosts' to disappear. The screenwriters of Transformers 2have some problems with the believability of this statement.
1:15:19"Yes it's true. This man has no dick."
1:15:52Ernie Hudson is wearing a plaid flannel shirt.
1:16:28Hudson pronounces his character's last name as "Zed-uh-more". The addition of the 'uh' is new. The end credits spell Hudson's character's name as "Zeddmore". Is Zeddmore mispronouncing his own name? The mystery thickens.
1:16:47As the Ghost Busters meet with the mayor of New York City about the coming of Gozer, one thing becomes obvious: the mayor uses a rotary dial phone. Barrett had a push button phone in her apartment!
1:18:05The mayor agrees to let the Ghost Busters go and do their thing. He asks them what they need. Apparently what they need is the National Guard and Army driving around and soldiers outfitted with M1 Assault Rifles traipsing up and down Central Park West. About the only positive in this situation is that Reitman doesn't include a shot of the soldiers firing their (completely ineffective) weapons at ghosts.
1:18:58 A montage takes place with Alessi's "Saving the Day" playing. I can't believe I'm saying this, but Ray Parker Jr.'s "Ghost Busters" would have been a much better choice. I find myself yearning to find out what I should do if there's something strange in the neighborhood.
1:20:57The Ghost Busters have some devoted fans, I'll say that. As the Ghost Busters are preparing to do final battle with Gozer, a dark cloud has consumed New York City and the streets have started to spontaneously break apart. In spite of these developments, the crowds remain out in force cheering on their favorite ghoul breakers.
1:21:40Not that notable, but sort of amusing. The crowd is chanting "Ghost busters!" But they're chanting it in two syllables as opposed to three.
1:22:09The Ghost Busters are walking up 22 flights of stairs. I can't be the only one wondering how much a nuclear accelerator weighs, can I?
1:23:56Interesting fact: in Barrett's building, there are eight floors above the penthouse.
1:25:17 I'm not necessarily saying that the videogame Frogger had better f/x than Ghost Busters… but the matter is up for debate. The Ghost Busters are on top of Barrett's building doing battle with Gozer and the forces of evil in front of a backdrop that looks poor when compared to an airbrushed coyote howling at the moon that's been painted on the side of a late seventies conversion van. I mean, these effects are bad!
1:28:11Gozer arrives on scene. The ultimate force in evil is… uh, wearing high heels.
1:29:39I'm not sure what this says, but I feel positive that the voice of Gozer is Marianne Faithfull. (ED. NOTE: It's not Faithfull).
1:30:02 As a supremely passive-aggressive gesture towards earth, Gozer announces that whatever the Ghost Busters think of will be the planet's "destructor". The Ghost Busters instruct one another to keep their minds blank. Strangely, three of the Ghost Busters manage to do just that. Stantz, however, thinks of something. And thus, the destructor turns out to be a ten story tall being made completely of marshmallow. The Stay Puft Marshmallow man. As evil monsters go, this one is not very far up the list. He falls somewhere between the rogue wave in The Poseidon Adventureand Brainy Smurf.
1:33:28Having turned their weapons onto Stay Puft and singed him, the Ghost Busters immediately jump to the last resort. They're going to cross the streams of their weapons. You remember, the thing Spengler warned earlier would cause life as we know it to cease to exist?
1:34:30Life as we know it has not ceased to exist.
1:36:16The Ghost Busters have vanquished Gozer and her legions of demon dogs back to hell (or another dimension). As they take stock of things, Stantz makes a comment about Barrett, who is presumed dead. He immediately apologizes to Venkman for his insensitivity. Venkman thanks him and waves him off.
This is quite intriguing, because, in the context of Ghost Busters, the character of Peter Venkman has had a girlfriend, fallen in love with her, taken care of her after she became possessed, watched her (supposedly) die and felt extreme grief over this, all while never having gone on a date with the woman in question. This is actually more impressive than the two doctorates that Venkman got without studying.
1:38:01Ray Parker Jr. makes his third appearance.
1:39:05On the roof of Barrett's building, every one of the Ghost Busters, save for Venkman, is completely covered in marshmallow goo. Somehow, between the roof and the ground floor, all of the Ghost Busters managed to completely rid themselves of said goo. Even more interesting is that, now on the ground, Barrett and Tully appear with goo, despite being nowhere near the goo explosion.
1:39:18Poor Ernie Hudson. He spends a good three seconds of his video screen credit facing away from the camera.
1:40:12I've heard the song "Ghost Busters" at least 100 times in my life—and yes, it feels like I heard half of those during this viewing of the movie. One thing I've never noticed though is that there is a line in the song that goes, "Bustin' makes me feel good." Oh does it now?
How have I never picked up on this double entendre previously?
And thus ends Ghost Busters. The movie itself is not good by any stretch of the imagination, but it still is somewhat entertaining. Murray's performance as Venkman is superb, even if there are a few hiccups in the on-screen logic of his character. Remove Murray and this movie would now be being mentioned in the same sentences as Howard the Duck and The Ewok Movie as a laughably bad film. He is pure genius at work.
| | | | | | | | | | | | |
| --- | --- | --- | --- | --- | --- | --- | --- | --- | --- | --- | --- |
| Columns | Columns | Columns | Running Commentaries | Columns | The Ten Minute Guide | The Ten Minute Guide | Running Commentaries | Columns | Columns | Articles | Columns |