Oscar Nomination Reactions 2014
The 2013 Academy Award nominations were released this week. Chris Neumer gives his reactions and gets inside how Meryl Streep is even better than you think, why The Lone Ranger deserves its multiple nominations, how the Academy is working to create a new country and a bit of Oscar trivia that will win you money.
In the current media age, the worst thing that can happen for news organizations is that something be middle-of-the-road.  Outrage and conflict generate page views and advertising dollars; having things unfold as expected or, worse yet, transpire without ever potentially offending anyone is a death knell.  If you asked the editor of a publication with a big web audience how he would have liked to see the Academy Award nominations roll out, it would have involved huge snubs, crazily out-of-left-field choices and almost vindictive omissions of major movies from certain categories.  If Grown Ups 2 had been nominated for a Best Picture Oscar instead of 12 Years a Slave, I feel certain that the Internet would have been much happier because of it.
The 2014 Oscar nominations were announced and much to Buzzfeed's chagrin, they are almost boring.  Critics are going to have to squint long and hard to find a snub; Robert Redford not getting nominated as Best Actor for his work in All Is Lost is about the best they're going to do and it's not much.
As such, the outrage is now being aimed at other topics that are more amusing than anything else.  For example, did you know that The Lone Ranger has more Oscar nominations than Before Midnight?  Or that Jackass' Bad Grandpa and Iron Man 3 together have just as many nominations as the Coen Brothers' Inside Llewyn Davis?  Shock!  Horror!  Or something.
While it was entertaining to see someone lamenting that Despicable Me 2 got two more Academy Award nominations than did Tom Hanks, Oprah Winfrey and Redford combined, I have to give the writers a lot of credit for their on-the-spot attempts to create outrage where there was none.  More on this in a minute though.
Lost in the investigation of snubs, accuracy of earlier predictions and how the Golden Globe winners' speeches will impact their Academy Awards chances were several really interesting stories.  In no particular order, they are:
MERYL STREEP IS TRULY DOING SOMETHING HISTORIC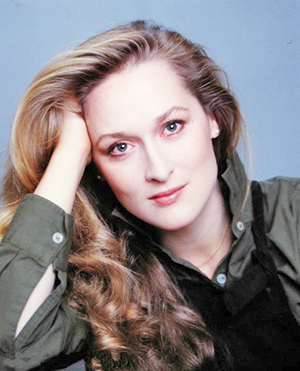 Yes, actress Meryl Streep earned her 18th Oscar nomination this year for her work in August: Osage County.  That is more than Audrey Hepburn, Elizabeth Taylor and Cate Blanchett combined.  This is impressive, but there are two bits of information though that are far more impressive than this:
1)   15 of Streep's 18 nominations are for Best Actress.  Only three of her 18 nominations were for Best Supporting Actress.
2)   Streep has turned on the jets of late.  She picked up four of those Best Actress nominations in her last six films and a total of eight Oscar nominations in her last 14 films.*
* This grouping of films does not include projects where Streep was part of an ensemble cast or simply did voice work.
Are there steroids for acting?  Streep's got me wondering.
Apropos of nothing, I must admit I'm kind of curious to see her 2004 film, Prime.  It's the only movie where she's been a lead or co-star since 1998 where she didn't earn a Golden Globe nomination for her work.
DAVID O. RUSSELL HAS ONE HELL OF A CLAIM TO BEING THE 'BEST DIRECTOR'
Writer/director David O. Russell has a very interesting career split going.  Russell has helmed six films that opened with a wide release.  Despite an extremely positive critical response to his first three films, Flirting with Disaster, Three Kings and I Heart Huckabees, none of the three landed a single Academy Award nomination for acting.  His next three films, The Fighter, Silver Linings Playbook and American Hustle, snagged a whopping 11 Oscar nominations for acting.  That is almost unbelievable.
For the second year in a row, Russell has been nominated for a Best Director Oscar (this year for American Hustle) and, for the second year in a row, the film that he was nominated for has a representative in each of the four acting categories.
There is a certain, sweet irony that Russell currently appears to be the best director on the planet when it comes to working with actors and that he is also the only director on the planet to have a widely viewed video on youtube where he is screaming at his actors and calling one actress a cunt.
PALESTINE IS NOW A COUNTRY
Despite all evidence to the contrary, the Academy of Motion Pictures Arts and Sciences isn't especially political.  Sure, there are intra-Academy politics involved behind-the-scenes, but the organization as a whole tries to be as apolitical as possible lest their views turn off potential audience members.
It's for this reason that the Academy's decision to announce that one of the nominees for Best Foreign Language Film, director Hany Abu-Assad's Omar, originated from the country of "Palestine".
First, some background.  The way the Academy has structured its submission process for the Best Foreign Language Film is unique: the films that are submitted have to be submitted as the product of a specific country.  This means exactly what it seems like it means: in order to submit a film, it has to come from a country that actually exists.  Since Palestine isn't currently considered a country, the decision to label Omar as a film from Palestine is quite interesting.
The Academy is no stranger to this very situation, but their position on it seems to be evolving rather rapidly.  In 2002, they didn't accept a Palestinian film for submission because it didn't come from a recognized country.  In 2005, the Academy accepted Abu-Assad's Palestinian film Paradise Now, but after an intense amount of negative feedback changed Paradise Now's country of origin from Palestine to the "Palestinian Authority" and then later the "Palestinian Territories."
Now, the Academy finds themselves in the same place but, rather than go back to labeling Omar as a product of "the Palestinian Territories", it is, again, listed as being from Palestine.  I will be interested in seeing if this label makes it into the Oscar telecast.  If it does, it will mark a huge step in the right direction.
DALLAS BUYER'S CLUB SUCCEEDED BEYOND ITS WILDEST DREAMS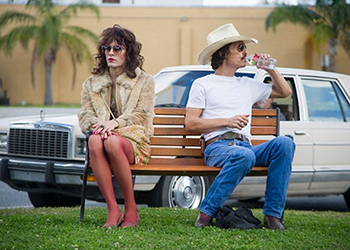 God damn it, Academy members!  You took the bait!
If I were to attempt to create a parody of an Oscar bait movie and role for the sake of comedy, I'd never be able to come up with anything remotely as good as what Dallas Buyer's Club actually did.
Consider that Dallas Buyer's Club is a period piece movie that is based on a true story about a homophobic, drug addicted, rodeo cowboy who gets AIDS and, while struggling to beat the system and get medication to sick people, ends up befriending a transgender woman who also has AIDS and is a drug addict.  And did I mention that lead Matthew McConaughey lost 50 pounds to play the lead role and that co-star Jared Leto spent the entire movie dressed in drag?
I mean, holy shit, there is absolutely nothing more that anyone could possibly jam into this movie to attempt to make it more appealing to Academy voters than this.  Nothing.
And the Academy voters ate it up with a spoon.  McConaughey and Leto got acting nominations, the film got a Best Picture nomination, the script got a Best Original Screenplay nod as well as two other technical awards.
Brace yourself for a slew of obvious Oscar bait films to be released in the next two years.