Box Office Round Up – September 25 – September 27, 2015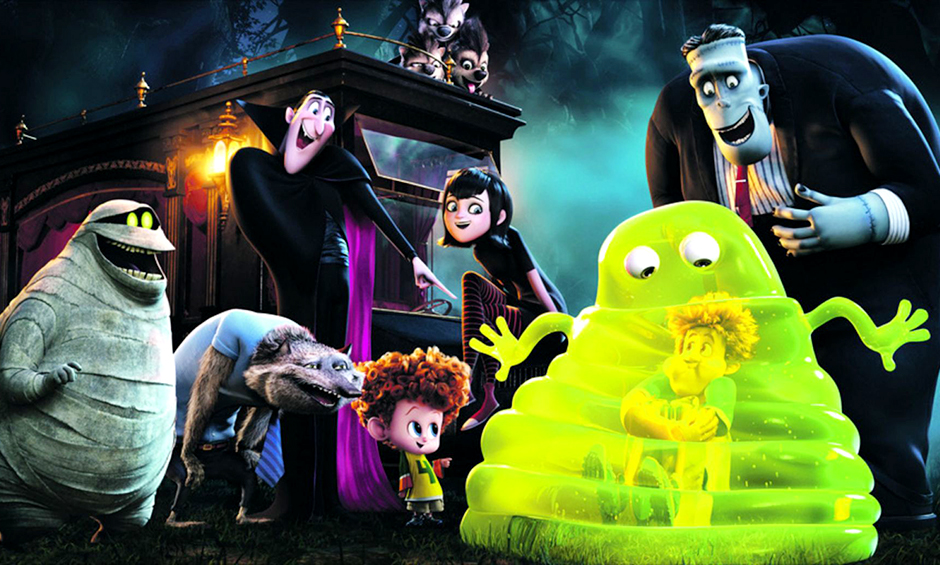 Get behind the numbers of the last weekend's box office! Hotel Transylvania 2 broke all kinds of September box office records and Chris Neumer puts a damper on the Adam Sandler love affair; there are many reasons for Hotel Transylvania 2's success, but Sandler's presence is not one of the major ones.
One of my favorite bits of historical trivia involves railroads. In the 19th century in the United States, the railways were an almost entirely privately owned industry. Each railroad company owned and built its own tracks. In order to keep a competitive advantage, the companies didn't particularly like to work or interact with one another. Monopolies weren't just good for business, they were the business model!
Companies went out of their way to ensure that their competitors could not, in any way, benefit from their own rail lines. As such, railroad tracks rarely connected with one another—though it would have greatly benefited the consumer—and would often go as far as to use different gauges to ensure that their competitors trains couldn't run on their lines.
What this meant was that in the 19th century, some train tracks were spaced four feet apart and others were six feet apart. It wasn't until after the Civil War, when the North ended up rebuilding most of the South's train tracks that any type of standard gauge (four feet, 8 ½ inches) ended up in place.
I couldn't help but think of this as I read about Hotel Transylvania 2's impending release last week. Journalists and box office pundits kept calling Hotel Transylvania 2 "Adam Sandler's Hotel Transylvania 2". When Hotel Transylvania 2 smashed the September box office record, journalists and box office pundits began wondering whether Hotel Transylvania 2 would mark "Adam Sandler's Biggest Opening Weekend Ever?" Vanity Fair crowed that Sandler was back!  Other outlets trumpeted that Sandler's last film, July's huge flop, Pixels, hadn't kept him down.
Surprisingly, no one anywhere ever mentioned that voice over work often doesn't get counted as part of an actor's total box office. Sure, they sometimes do on boxofficemojo.com; Craig T. Nelson's stats have definitely received a nice bump because of his work on The Incredibles. However, sometimes they don't; while Scott Weinger should be able to state that he was the lead in a movie that grossed more than $500 million worldwide (Aladdin), he is not actually able to.
Where it counts though—at the studios' bargaining table—no one cares about voice over box office. Mike Myers may be able to get $30 million for Shrek 5, but it's only for continuity, much the same way that Kristen Stewart got $12 million for her last Twilight film. It has absolutely nothing to do with Myers' ability to pack asses into seats. If you are even considering this as a possibility, let me remind you about The Love Guru. That was the summer tentpole that Myers made in 2008 that opened to $13 million and finished with something in the neighborhood of $32 million. The movie didn't even crack the top three at the box office the weekend it opened. Hell, it just barely edged out M. Night Shyamalan's horrendously reviewed film, The Happening, in its second week in theaters for fourth place. The Love Guru was such a lousy experience for Myers that he basically retired after it was released. He has only appeared in two movie since, a bit part in Inglourious Basterds and providing the voice of Shrek in Shrek Forever After.
If Nelson's agent goes in to a meeting to discuss Nelson's financial compensation for an upcoming project, he knows not to bring up Nelson's prowess in The Incredibles when discussing the pros of working with him. Because it's not. Besides his immediate family, it's hard to think of anyone who went to see The Incredibles because of Nelson's presence in the voice cast. Double that with Weinger.
What makes the media fascination with Sandler making a come back with Hotel Transylvania 2 worth delving into is the fact that it's not only wrong, but it about as far from the truth as you can get.
First things first: Sandler has a pretty big fan base. There are large amounts of people who will go and see him in anything and everything he does. It's why Sandler still commands the hefty price tag he does. However, that said, his fan base is a lot older than you'd suspect. The majority of Sandler's audience is in their late, thirties, forties and early fifties. They grew up with him on Saturday Night Live, and fell in love with him twenty years ago in Billy Madison and Happy Gilmore. Sure, there are some people who first saw Sandler in Bedtime Stories and are now in their late teens and early twenties, but for all intents and purposes, Sandler's main fan base is about as old as he is. And they are not going to see Hotel Transylvania 2. They aren't even bringing their kids to see Hotel Transylvania 2 because their kids are not in the film's target demographic.
When Pixels was released back in July, a few prescient writers wondered why Sony had muted some of Sandler's humor in favor of a PG-13 rating; what 13-year olds were going to see a movie about guys in their early fifties playing video games that came out in the early 1980s? Judging from Pixels' box office, the answer was: not many.
The supreme irony of this whole topic is that there is voice over lead in Hotel Transylvania 2 who absolutely, positively might bring in the tweens, and yet Selena Gomez's participation in the project is almost an after thought. With Rihanna generating lots of love for her voice work in Home, you'd think Gomez might get a little taste of the same here, but such is not the case. Instead it's attributed to Sandler… who, as we've already mentioned, really doesn't deserve any of it.
Even from the perspective of making a better story by trumpeting Sandler's return to form, the accolades that are being thrown at him don't make any logical sense. If he couldn't open Pixels two months ago, why the hell is he now able to do bang-up business for Hotel Transylvania 2? More to the point, shouldn't that very point be the perfect example of why Sandler hasn't returned to the top of the A list? If the two films' release dates were reversed, would that mean that Sandler was a terribly over paid star who can't secure an opening?
Actors' careers are built up over time. They're like freight trains. 99% of the time they accelerate slowly and stop the same way. They do not go from zero to 60 in four seconds. And this is precisely what is being bandied about with Sandler in connection with Hotel Transylvania 2. Well, if we want to be accurate about it, the Sandler train went from zero to 60, back to zero then back up to 60 in no time at all. That's just not the way it works.