Box Office Round Up – May 8-10, 2015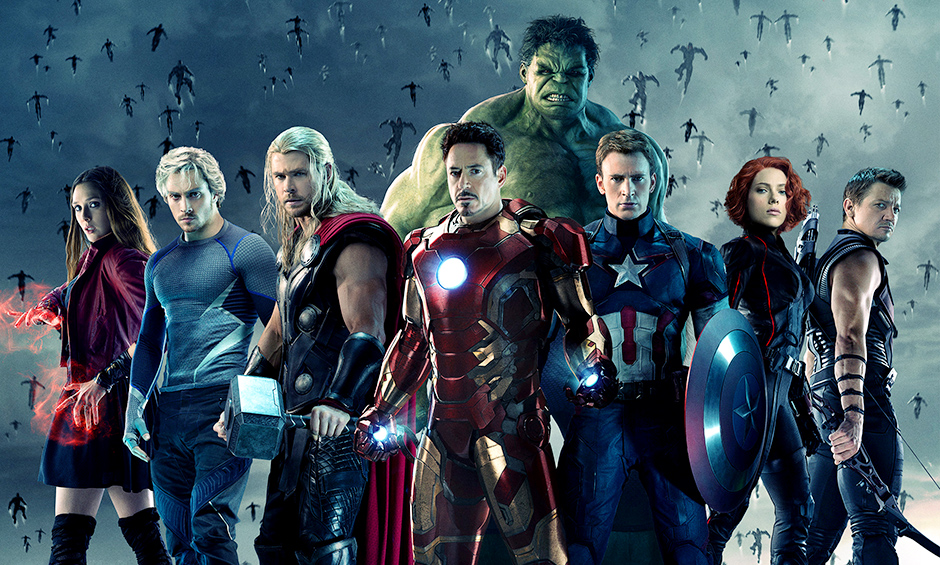 Get behind the numbers of the last weekend's box office. This week, The Avengers: Age of Ultron continued its rampage through theater box offices, vanquishing Reese Witherspoon's Hot Pursuit in brutal form. Chris Neumer delves into the concepts of 'box office rain shadows', whether there is a finite amount of money that can be taken in at the ticket booth and why May of 2013 was such an unusual month of movie releases.
When I saw the initial box office estimates this week, one figure and one figure alone stood out to me: the Reese Witherspoon/Sofia Vergara film, Hot Pursuit, grossed an abysmal $13.3 million its first weekend in theaters. That was a worse figure than John Wick opened to and I'd just spent the last week questioning how anyone could call that movie a 'hit'.* My first reaction to Hot Pursuit's $13.3 million take was one of confusion. It was a big May release! It had star power! How the hell did this happen? Then I looked a little bit more closely at the numbers and realized that the story of Hot Pursuit isn't anything unusual; as a matter of fact, it's pretty much the norm.
* The short answer is that anything can be a 'hit', you just have to call it a 'hit'. It's a beautiful world we live in!
There's an interesting meteorological phenomenon called a 'rain shadow' that helps to explain why so many deserts of the world are on the leeward side of mountains. As clouds move with the wind, they will often pick up moisture as they travel over bodies of water. As the clouds pass over the mountain range, the high altitude causes the water to form into droplets and it to rain. By the time the clouds get by the mountains, they are effectively rained out. There is no more water to go around. Thus, the leeward side of the mountain range is often a dry, barren wasteland.
I couldn't help but think of rain shadows as I looked at The Avengers: Age of Ultron sucking up all the money and leaving none for Hot Pursuit or the other films in theaters, just as it seemed that Furious 7 did in April. By the time would-be theater patrons had spent their cash seeing The Avengers: Age of Ultron (again) it didn't seem as if they had enough money or will to see a second film.
It got me wondering: is there a finite amount of money to be made at the box office that is basically split between all entrants? Far be it from me to give you a 'you'll never believe the result!' intro—though you won't—but the answer is emphatically yes. It seems as though there truly is a finite amount of cash that the American public spends at the box office. Granted, that 'finite' amount is in the multiple billions of dollars, but it is finite.
One easy way to see if this was true was to see whether, while the individual movie's box office totals differed, the overall performance remained basically the same. If something like that were to happen, we'd know with certainty that the huge movies like The Avengers: Age of Ultron were "stealing" audience members and box office receipts from the simply big movies.
Since I thought of this while dealing with The Avengers: Age of Ultron, I figured I'd take a look at the box office totals for May, a month that generally is considered the biggest box office month of the year. Since I didn't really care how the smaller films were influenced by this, only the massive behemoths, I decided to take a look at the five highest grossing films of the month. I went back more than 15 years to see if I could find any type of pattern… and man, did I ever.
For six of the last eight years, the total box office of the top five films released in May has been between $1,006,500,000 and $1,041,200,000. A three percent fluctuation in total box office. The outlier years were 2013 with a $1.139 billion take and 2010 with a $842.6 million take.
Marvel's The Avengers came out in 2012 and made $623.5 million at the domestic box office. That figure made it the highest grossing movie of May and the year and the third highest of all time (behind Avatar and Titanic). The Hangover Part II came out in 2011 and made $254.5 million. That figure put it as the highest grossing movie of May that year. Interestingly, the total amount grossed by the top five films in May 2011 and 2012 was almost identical. The top five films of May 2011 topped the top five of May 2012 by $4.4 million.
It was May of 2007 that confirmed my initial hypothesis for me.
In May of 2007, three monstrous hits were released: Spider-Man 3, Shrek the Third and Pirates of the Caribbean: At World's End. All three made over three hundred million, with Spider-Man 3 leading the charge with $336 million. Despite that fact, the top five movies of 2007 again finished almost identically with the top five movies of May of 2011. Even though May of 2011 didn't feature one $300 million hit and only had two $200 million hits (The Hangover Part II and Pirates of the Caribbean: On Stranger Tides), it still finished just $6 million behind May of 2007.
The reason for this was because the fourth and fifth highest grossing movies of May 2007 took in a combined $47.6 million and the fourth and fifth highest grossing movies of May 2011 took in a combined $334.4 million.
It was a constant give-and-take. If there was one super big movie like Marvel's The Avengers, the other movies in the top five took in much smaller amounts. In 2012, the third, fourth and fifth highest grossing movies of May combined to take in $204.8 million. In 2007, the third highest grossing movie of the month alone did $309.4 million. And both months total box office were the same.
The real outlier of the last few years was 2013. This was not only the year with the highest total box office for the top five releases, but the only year that also featured seven $100 million hits. The only other year that featured more than five was 2009 and that had just six. It featured the $400 million hit, Iron Man 3, a couple of $200 million movies, Fast and Furious 6 and Star Trek Into Darkness, and then four $100 million movies, The Great Gatsby, Now You See Me, The Hangover Part III and Epic. There's no real take away from this—the latter five movies were seen as either something of a disappointment or one-offs—it's just interesting.
So, in short, it appears that the more money The Avengers: Age of Ultron pulls in, the worse it looks for Mad Max: Fury Road, Poltergeist, Tomorrowland and San Andreas.
Assuming that the numbers for May 2015 follow this same basic trend—let's call May 2015 a billion dollar month for sake of ease—and that The Avengers: Age of Ultron makes $500 million, that is going to leave $500 million to split between the other four titles mentioned above. Suffice it to say, I will be very curious to see how this plays out.
Seeing the numbers in front of me, it made me wonder something else: how many studios are now going to start making a point to open big movies a week after something huge opens? With this very limited study in place, it just doesn't seem especially wise to open a film in the week immediately after a Fast and Furious, a Star Wars movie or an Avengers movie. What makes this dilemma all the more fascinating is that the majority of these box office rain shadows will come during prime movie releasing territory, like, for example the second weekend in May.
Unfortunately, this is something that Witherspoon and Vergara learned about the hard way.