Box Office Round Up – May 29-31, 2015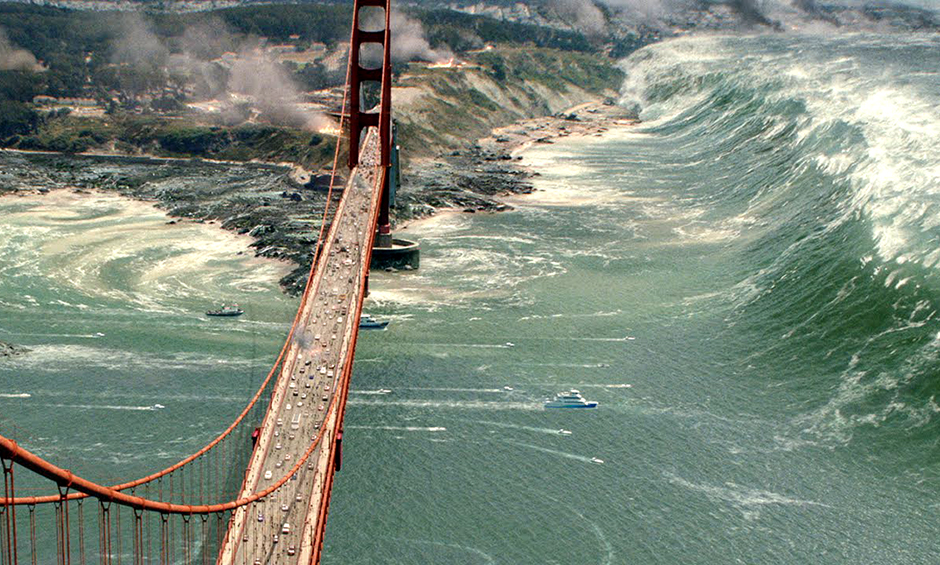 Get behind the numbers of the last weekend's box office! This week, Chris Neumer investigates what constitutes a 'success'–hint: San Andreas is not on solid ground–and why Tomorrowland is more of a disaster than all of San Francisco being destroyed. Suffice it to say, it's never good to be negatively compared to John Carter.
At first glance, writing about the Hollywood box office seems pretty easy. If you write about the box office in simple terms of 'winners' and 'losers', it actually is a pretty cushy gig. Just label the lead and/or studio that starred in or released the top moneymaker as the big winner, if a film doesn't hit expectations, call it the big loser and go from there. In this case, there's a pretty tried-and-true formula to follow and one that doesn't necessarily require any.
For me, it's generally more complicated. I do not write my box office columns in a vacuum; the lessons I learned while writing a column last October are still pertinent and should still hold true today. I also tend to ask 'why' a lot. And in the field of entertainment, if you can find answers to the 'whys', they're never particularly satisfactory. Such is the nature of the business when writing about company earnings that are only given to the public for show and marketing purposes.
This morning, as I looked at the box office results from this past weekend and saw San Andreas atop the charts with a $54.5 million opening weekend, I couldn't help but wonder what qualified a given motion picture as a success.
A $54.5 million opening is a good opening weekend total. It's the 8th highest of 2015 so far (and may get bumped to tenth after Entourage and Jurassic World open) and good for 147th of all time.
However, as is always the case, the studio releasing the film, New Line, will at most only see about 70% of that total. That means that New Line will take home about $38 million. That's well and good, but the budget for San Andreas is a reported $110 million and the marketing budget for it is a reported $120 million… which, until I hear otherwise, we will assume all came out of New Line's pocket.
So New Line will have spent $230 million making and marketing San Andreas. If San Andreas ultimately ends up making $160 million, which is frankly on the higher end of expectations for a movie with its opening numbers and reviews, New Line will stand to make something in the vicinity of $90 million. If we assume that San Andreas pulls in $275 million in foreign markets, again a total on the higher end of expectations, New Line would make something like $140 million on that. So when San Andreas finishes its theatrical release, best-case scenario it will have returned roughly $230 million to New Line on their investment of $230 million.
Now, these figures are speculative and based off of commonly held yet never confirmed beliefs about what the split between studios and theater owners is and are also absent any video on demand, home video or streaming video splits (as well as several additional costs as well), but they do make me wonder: does a film breaking even after its theatrical release constitute a true success?
My guess is that while it's certainly better than not breaking even, it does not remotely begin to constitute a project being considered a runaway hit. Applying my logic to an everyday situation: making $25/hour is good. It's certainly better than making $15/hour, but it wouldn't constitute a figure that should be heralded as a truly successful number.
Using Deadline.com's profitability charts from last year, Interstellar was the 20th most profitable movie of the year and, assuming Paramount spent $90 million on domestic marketing that put its total take at $269 million and its total production and marketing budget at $255. Given that the difference between the 19th and 20th most profitable movies of the year was a little more than $5 million, the fact that Interstellar finished its theatrical run up $14 million (and itself was considered somewhat disappointing) seems like it would position itself above San Andreas.
So the answer, at least in my eyes, is that, no, breaking even after a film's theatrical release is complete does not constitute a true success.
What absolutely, positively does not constitute a success is director Brad Bird's Tomorrowland.
Tomorrowland opened over Memorial Weekend to supremely sub-par numbers. It pulled in $33 million on Friday, Saturday and Sunday, putting it behind such films as American Wedding and The Green Hornet and just barely ahead of, gulp, Jackass Presents: Bad Grandpa and Evan Almighty. It's not a recipe for a celebration, that's for sure.
On the heels of its $33 million opening weekend, Tomorrowland dropped 57% in its second weekend. This puts the movie on par with director Spike Jonze's Where the Wild Things Are. Where the Wild Things Are opened to just under $33 million and dropped 57% its second weekend. After the completion of its second weekend, Where the Wild Things Are had grossed $53.5 million; Tomorrowland stands at $14.3 million.
That $10 million difference between the two films' cumulative totals at this point came with the extra weekend day Tomorrowland had to work with on Memorial Day. It earned nearly $10 on that first Monday (Memorial Day) after it opened; Where the Wild Things Are made just under $2 million on its first (regular) Monday.
Using this model and looking ahead, it seems like a good bet that Tomorrowland will close with a total domestic box office just a Smurf's hair under $90 million. What makes the whole situation that much worse is that Tomorrowland isn't making any money overseas either. After two weeks of release, it has only made $70 million outside of North America. This is an anemic figure that looks to put Tomorrowland well behind John Carter. After two weeks of worldwide release, John Carter had pulled in $126 million. Or, in other terms, almost double what Tomorrowland has done so far.
When compared head to head, after two weeks of worldwide release, John Carter had a combined $179 million box office, Tomorrowland has a combined $133 million box office. With Tomorrowland spending almost $300 million on its production and marketing, this has to hurt. It can't ever be good to be negatively compared to John Carter.
The only two films that have been released during the 2015 summer season that seem like true successes are The Avengers: Age of Ultron and Pitch Perfect 2. The latter of the two is still humming along, holding onto its #2 spot on the chart for a second straight weekend and well on its way to a $175-$200 million box office that absolutely no one saw coming. Now that is a success!