Box Office Round Up – November 4 – 6, 2016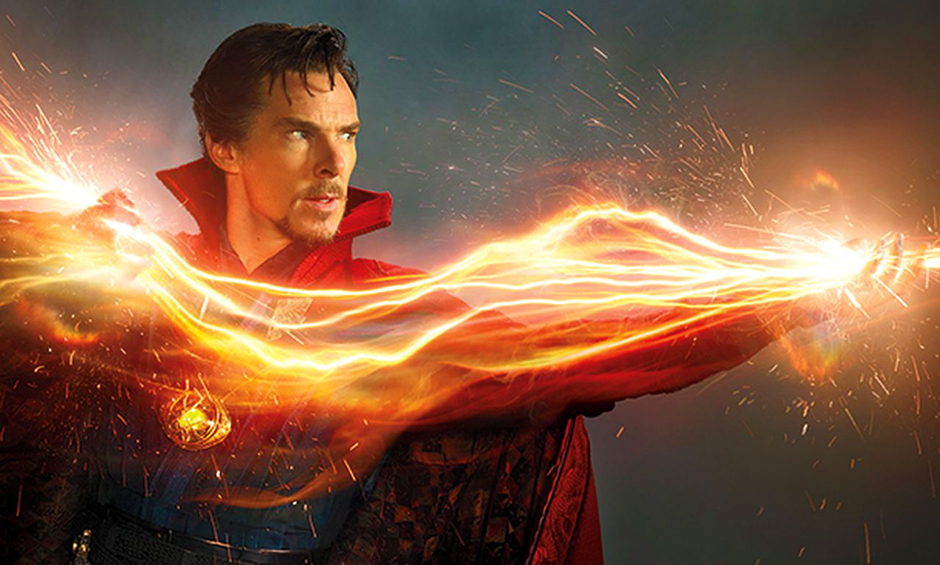 Get behind the numbers of last week's box office! This week, Chris Neumer tries to figure out whether Marvel Studios is just showing off or whether they have hit upon the exact right formula that even unusual films like Doctor Strange can be enormous hits.
Marvel's Doctor Strange opened on Friday and pulled in almost $90 million its first weekend in theaters. And, as I look at it there, just about everything in that sentence seems wrong.
For those of you not in the know, a designation that included me prior to last Friday, Doctor Strange is yet another Marvel deep cut superhero.* And despite the fact that Doctor Strange is a C or possibly D-List Marvel superhero—he specifically "sat out" of Captain America: Civil War—the film wing of the company green lit a $165 million adaptation of his story and that subsequent movie has burnished yet another franchise for them.
* Doctor Strange is one of those weird superheroes who is actually just a regular guy with some interesting training. Due to an interesting plot point, he doesn't even have Bruce Wayne or Tony Stark-like money to fall back on. He spends all of the money he does have trying to find a cure for a medical condition he suffers in a car accident. So Doctor Strange is really just a former surgeon with access to a book of magical spells. When the only thing that stands between me and being a superhero is a book, I think it's time to recalibrate the designation.
            At this point one thing is apparent: Marvel's name is a bigger selling point than even the words 'Oprah's Book Club' were. I'm not sure if there has ever been a bigger marketing tool in entertainment than the 'Marvel' brand.
   Doctor Strange is the 14th entry into the Marvel Cinematic Universe and the 13 previous films have just been printing money. The closest thing to a flop that Marvel has experienced was the second film they released, The Incredible Hulk, which 'only' made $134 million domestically.
Interestingly, other companies, most notably Twentieth Century Fox and Sony, have produced movies that were based upon Marvel comic book characters, but the results have been spotty at best.
Daredevil, Elektra and The Fantastic Four (both of them) were released by Fox and serve as the bottom of the barrel in terms of critically reviled superhero movies. The most recent iteration of The Fantastic Four in 2015 was so universally loathed that it was deemed only 9% fresh by Rotten Tomatoes.
On the flip side, Fox's X-Men series has been relatively successful for them… but is slowly losing both focus and purpose. Also worth noting: the highest grossing entry in The X-Men series has been 2006's The X-Men: Last Stand, that grossed $234 million domestically. X-Men: Days of Future Past did pull in $747 million worldwide, but that number isn't as big as it sounds. It places X-Men: Days of Future Past as the 73rd highest grossing movie of all time on a worldwide level, just ahead of Madagascar 3: Europe's Most Wanted and several positions below both Indiana Jones and the Kingdom of the Crystal Skull and The Amazing Spider-Man (the one with Andrew Garfield).
Speaking of which, the most notable (and profitable) Marvel character to appear on-screen in a non-Marvel Studios produced film is unquestionably Spider-Man. When Tobey Maguire first donned the body suit for Sony in 2002, it's debatable whether Marvel even had toyed with the notion of producing films based upon its properties as it is currently doing. Thus, they sold the rights to the character to Sony for an incredibly hefty sum. Sony came out and made two fantastic movies with Maguire and a third film, Spider-Man 3, that, like Kingdom of the Crystal Skull, I have spent countless hours trying to forget that I ever saw. Nic Cage was 100% right in 8MM when he announced through clenched fist that there are some things you just can't unsee.
Deciding that a new direction was in order, Sony cast Garfield in a series reboot and things got decidedly worse. After two new Spider-Man films came and were met with a resounding 'meh', Sony cancelled plans for the previously green light third film in the rebooted trilogy. Marvel saw their opening and called to see if Sony would like to work out a deal to give the rights to the character back to Marvel. Sony was ecstatic to do so.*
* One proviso in most movie licensing deals is one where the company obtaining the rights to a given character has to actually, you know, make a film with the character being licensed. If the company lets X amount of time pass without making a film involving the character or characters, they will then lose the rights of the character. This is a fascinating story about the loopholes surrounding these clauses in regards to the 1994 version of The Fantastic Four that went unreleased: because of these clauses, companies are often relieved to simply give back the rights of different properties to the owners because it means that they won't be forced to spend money making a film they don't think is going to work. Thus, Marvel gives Sony a token sum of a couple million—the exact amount of the deal was not released—and Sony gets to chalk it up as a win!
The flipside to the coin is that Marvel now is going to be able to release the most kick-ass Spider-Man movie ever under its own umbrella. And that should break all kinds of box office records whenever it happens.
But this is the power of Marvel at the moment: they have convinced the world that they are doing things differently than every other studio. Spider-Man doesn't work for you? Fine. We'll take him back and show you where you went wrong… and everyone believes them! Because that's what 14 straight mega hits will do for you.
Even something called Doctor Strange that stars Benedict Cumberbatch, is directed by a guy named Scott Derrickson and that's plot is described on imdb as the tale of Doctor Strange who must, "act as an intermediary between the real world and what lies beyond…" is a huge hit, nearly crossing the hundred million dollar mark its first weekend in theaters!
At this point in time, it seems like Marvel is just showing off. If they remade Gigli, I'm pretty sure it'd have a $75 million opening. While the questions plaguing Warner Brothers and the DC Comic universe (Batman v. Superman and Suicide Squad) are many and myriad focusing on how the movies will ever work, Marvel is at a much different point: hardened entertainment journalists are peering at their work and wondering if it's possible for them to ever make a mistake. It doesn't seem likely prior to 2020.