Animal House: The Movie that Changed Comedy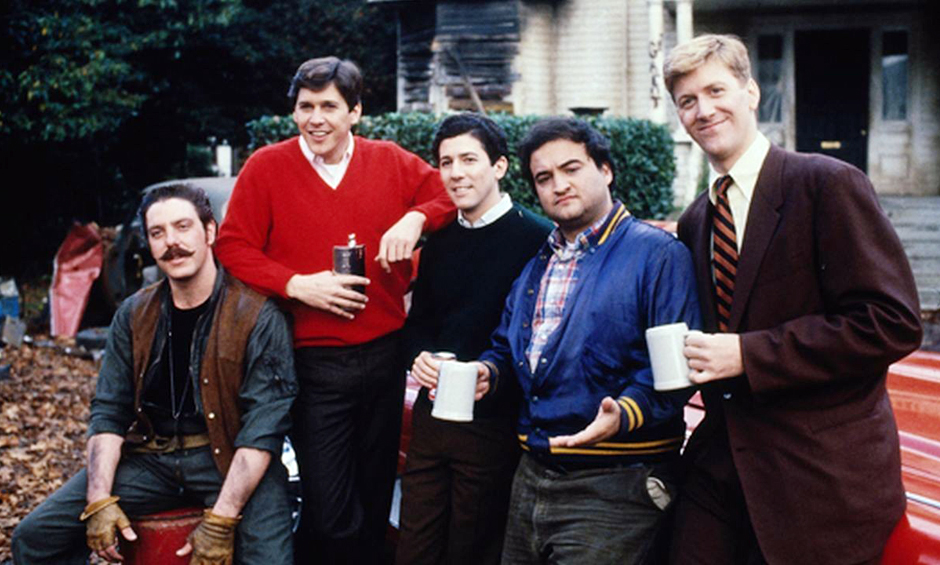 National Lampoon's Animal House is the comedy that changed everything in Hollywood.  In honor of its 25th anniversary this year, Josh Karp talked to director John Landis, co-writers Harold Ramis and Chris Miller as well as studio executive Thom Mount to get the full behind-the-scenes picture on this pop culture icon.
In mid-1975, a 23-year old North Carolina native named Thom Mount reported for his first day of work at Universal Studios, where he had just been hired as the assistant to Ned Tanen, the studio's famously explosive production chief.  "Tanen was nuts," says Animal House's director, John Landis (The Blues Brothers, Trading Places).  "He just bounded off of the walls.  People would leave his office ashen-faced."
Immediately upon Mount's arrival at the office that day, Tanen gave the young assistant his first assignment.  He directed Mount to find an executive named Jerry Miller (no relation to Animal House screenwriter Chris Miller), fire him and then figure out just what the hell the soon-to-be-deposed Miller had been working on.
Mount did as he was told.  Not surprisingly, Miller was displeased by the turn of events; to say nothing of the fact that he was being fired by someone that he'd never met.  Launching into a rant about what a bastard Tanen was, Miller predicted that Mount wouldn't last 6 months working for such a madman.  Then Miller refused to be fired.  He quit.  Mount wasn't about to quibble over the details.
After Miller's dramatic departure, Mount began sifting through a pile of papers, scripts and film treatments that Miller had left behind on his desk.  One treatment that caught his attention was for a project entitled The Night of the Seven Fires.
"It was all over the map," says Mount, "It was essentially about frat parties, initiations and a lot of throwing up at Dartmouth College."
Though the treatment lacked a clear story line, Mount found that there were certain basic elements in place for a compelling film.  Namely, there was a renegade fraternity bent on fun and destruction in equal parts; an overbearing, almost Nixonian administration with a creepy dictatorial Dean; and an unchecked desire on the part of the characters to have an unfettered, uncensored good time.  Mount saw huge potential.
"It was inspiring, though decidedly non-linear," Mount says of the treatment.
Thus, on his first day of work, 23-year old Thom Mount discovered the beginnings of Animal House on the desk of a man he had just fired.  The film would go on to become one of film history's most successful and influential comedies.
#  #  #  #  #

National Lampoon  magazine was founded in 1970 by three recently graduated Harvard Lampoon editors (Doug Kenney, Henry Beard and Rob Hoffman) who were looking to stave off real jobs, and Matty Simmons, a hustling former press agent turned Weight Watchers Magazine publisher.
Between 1970 and 1974 National Lampoon became a massive cultural and financial success.  With a gigantic pass-along readership of 12 million, the magazine was breaking the traditional boundaries of comedy by taking no prisoners in pursuit of a laugh (it famously published a post-Chappaquiddick Volkswagen Bug ad parody featuring Ted Kennedy after the company had bragged that their car floated) and setting the stage for the brand of humor that producer Lorne Michaels would soon co-opt for Saturday Night Live.
By the end of its first year in publication the role of each founder had been clearly established.  Simmons was the moneyman.  Kenney was the mad genius that set the magazine's edgy, sophomoric and totally counterculture editorial tone.  Beard functioned as the Lampoon's calm, steady center: the man responsible for making sure that there was a magazine to put out each month.  Hoffman had little to do with the magazine since he'd bailed out early for business school and his family's Coca-Cola bottling business in Texas.
In 1975, under the terms of their original agreement, Simmons bought out Hoffman, Kenney and Beard (known as "The Harvard Boys") at roughly $2.5 million apiece.  Suddenly rich, Beard immediately packed up his office and left the magazine, declaring it his happiest day since being discharged from the Army.
Only Kenney remained on board.  Profoundly talented and equally erratic (he often disappeared without a trace for months at a time — once living in a tent on the beach at Martha's Vineyard) Kenney was still the magazine's driving creative force.
Kenney specialized in off-the-wall humor that revolved around nostalgia and a firm understanding about what there was to both love and hate about Middle America and its institutions.  Above all, however, was an improvisational and highly literate quality typified by the following story told by Harold Ramis.  "Doug stood in my living room and randomly pulled a book off of my shelf, opened to a page and started reading aloud.  Then he stopped reading and improvised in the style of the book," Ramis says. "I couldn't tell where the reading had stopped.  He told me that he could do it with any book on the shelf."
Simmons, and the magazine, needed him badly.  Knowing that Kenney was obsessed with show business, Simmons told him that the Lampoon was going to get into the movie business.  They had already produced several successful comedy records, as well as radio and stage shows.  Simmons thought film was the next logical step in his burgeoning comedy empire.  Even more, however, it was a way to keep Kenney engaged with the Lampoon.
Simmons teamed Kenney with Ramis — who at the time was working with Second City and a Lampoon traveling stage show — and put them to work on writing a film treatment and script based on the magazine's immensely successful 1964 High School Yearbook Parody which Harpers had called "The best example of group writing since the King James Bible."
The yearbook had been Kenney's brainchild (though humorist P.J. O'Rourke was also a major contributor) and took the reader through the senior annual of Larry Kroger (the Animal House character Pinto's real name), a non-descript student at Estes Kefauver High School in Dacron, Ohio.  It was a clear, devastating and hilarious depiction of life in the innocent world that seemed to precede the Kennedy Assassination and the Vietnam War.
Also on board with the project was a young Czech-born Canadian B-horror film producer who was responsible for projects like Rabid and They Came From Within.  His name was Ivan Reitman (who would go on to direct Stripes, Ghostbusters and Dave); Animal House would be his first venture into the world of Hollywood filmmaking.
Kenney and Ramis first tried high school as a backdrop and produced a treatment for something called Laser Orgy Girls, about a Charles Manson-like high school student and some extraterrestrials that he meets in the desert.  Simmons objected.  Though he liked the material, he was wary of involving teenage characters with sex and drug use on film.
They moved to college, but couldn't find the correct tone or rhythm.  Desperate, Kenney suggested using the college-based short stories written by the Lampoon's Chris Miller.  A Dartmouth grad and real-life Delta, he had produced several pieces for the magazine using his true-to-life fraternity escapades as inspiration.
A Brooklyn native, Miller found tremendous happiness within the fraternity system and had worked on and off on a memoir recounting his experiences at Dartmouth.  "I'd written about my freshman year, when I felt alienated from all of the football-playing, prep school-going, big corporate executive guys who went to Dartmouth.  All those Republicans," Miller says, (also the screenwriter of Club Paradise and Multiplicity).  "I finally found a home in this sick fraternity."
The goings on at Dartmouth's Alpha Delta Phi house were a tad wilder than those that would eventually wind up on screen when Animal House made it to the theaters. Miller's house, where he was known as Pinto, took part in such odd behaviors as public masturbation contests, the charting of penis sizes (flaccid and erect), a wide variety of vomiting rituals and at least one case of sodomizing a pledge with a frozen hot dog.
On deadline and stuck with writer's block one night, Miller dug into his Dartmouth memoir files and submitted "The Night of the Seven Fires" for publication in National Lampoon.
"It described a typical Hell Night," Miller says of "The Night of the Seven Fires".  "There is sick and then there is sick with elegance, inventiveness and innovation.  It's not just about blowing a booger out of your nose.  We Deltas believed that we were the artists of sickness.  Our motto was 'sickness is health, blackness is truth and drinking is strength'."
"When you talk to people about Dartmouth," Ramis chuckles, "they mention Chris' fraternity."
The piece Miller submitted was concerned with a particular ritual in which pledges were instructed to put out campfires by repeatedly vomiting on them.
With this as their original source material, Kenney, Miller and Ramis convened at a Greenwich Village restaurant for Sunday brunch to kick off the film project.  The three writers spent several hours simply telling their favorite college stories, which Ramis (who was deposed as president of his Washington University fraternity in a scandal related to missing dues) jotted down on a yellow legal pad.  There were many different stories they told that day and, by the end of the session, the three all agreed on one thing of great importance: at the heart of any great animal house, there is a great animal.
"The moment after we said that, we did that thing where we all looked around and said: Belushi," Miller states.
All three knew John Belushi through his work in National Lampoon's "Lemmings" stage show and they decided to tailor write the part of Bluto with the Saturday Night Live star in mind.
"We knew nothing about Hollywood norms," Miller says of the 114-page treatment they ultimately produced (35 pages is considered long by most executives).  "We weren't operating within normal parameters at all.  [Animal House] is now referred to as a brilliantly structured movie — which was a total accident."
In fact, neither Miller, Kenney nor Ramis had even attempted to write a feature length screenplay before they set to work on Animal House.  A former ad copywriter, Miller had written :30 and :60 commercial spots and Ramis had worked on developing skits for Second City, but nobody had so much as a general idea of how to go about taking on the task of writing a film treatment.  As a result, they devised a system that would make most writers cringe: Miller would write the first ten pages, Ramis the second 10 and Kenney the next 10.  Then the three would exchange what they had written and discuss and edit each other's work.  Then they would switch pages again until each writer had spent time working directly on both editing and composing each page of the treatment.
"[The system] worked because we all had a lot of subversive sensibilities in common," Miller smiles about the trio's unusual writing practice, "We didn't like authority and thought it was more important to have fun than to worry about your permanent record."
Just the kind of wisdom one might expect from a Delta who once vomited out a campfire.
And beneath it all the three writers had a sense that they were somehow capturing the spirit and aesthetic of their generation and its common experience in a way that Hollywood had never attempted, much less achieved.  "I remember having this grandiose feeling that we might be writing the biggest film comedy of all time," Ramis says matter-of-factly.
With a finished and gigantic treatment in hand, Simmons approached several studios about making Animal House.  The treatment was uniformly rejected everywhere Simmons went.  Persevering through the setbacks, Simmons continued to pitch the treatment across Southern California.  He continued to meet with a lack of interest until the treatment fell into the hands of Mount, who by now was an executive with his own assistant, Sean Daniel, at Universal.
"They saw something in Animal House and decided that there was an audience who would see it," Miller states, "Nobody else got it.  But, those guys did."
#  #  #  #  #
Mount and Daniel convinced Tanen (who, depending on his mood, either loved and hated the project) that Animal House was a worthwhile project and that they could capture the dollars of the twelve million strong Lampoon readership.  After some initial disapproval of the idea, Tanen told Mount to make a deal with Simmons, get to work on the script and find a director.
One of the first tasks for Mount was to clean up the script slightly.   "We had to get rid of the constant vomiting on fires," he laughs.  "Meanwhile we'd bring the script to Matty Simmons who would make insightful comments like, 'This isn't funny enough, boys.'  It was hilarious."
Mount commuted back and forth between LA and New York, working with Kenney, Miller and Ramis on the script while bearing first-hand witness to the early days of the cultural phenomenon that was Saturday Night Live in its first season.  Prior to Saturday Night Live's 1975 debut, the only two television shows that had ever managed to capture the "youth market" were American Bandstand and The Monkees.  Saturday Night Live signaled an entirely different ethos.  It was aggressive, political, raw and very funny.  Miller, Mount, Kenney and Ramis all intuitively saw that there was a sea change in the culture and, if written correctly, Animal House could capitalize on the same new wave of comedy.
"I wanted [Animal House's] script to be smart and radical — just like SNL," Mount says.
When it came to finding a director the dark specter of The Monkees again reared its ugly head.  Tanen recommended Jim Frawley (a frequent Monkees director) to helm the project.  Other studio-approved directors included Mike Nichols, John Schlesinger and Bob Rafaelson.
At Tanen's request, Mount dropped off a copy of the script at Frawley's house.  A few days later Mount spoke to Frawley and was relieved at the response.  "Frawley said, 'It's garbage.  I hate it," Mount recalls.
At the same time as Mount was making his way through some of Hollywood's least likely Animal House directors, Sean Daniel's then-girlfriend Katherine Wooten was working as the script girl on a wild independent production called Kentucky Fried Movie.  Shot in 20 days, the film was essentially a series of blackout sketches organized together as a feature length movie.  The film spoofed television, commercials and movies, including a legendary Kung Fu scene.  Its director was a 27-year old high school dropout and film junkie named John Landis.
Wooten's stories from the set intrigued Daniel and she encouraged him to come look at the Kentucky Fried Movie dailies with Mount.  After a few minutes of viewing the wholly irreverent guerrilla film, Daniel, Mount and Simmons knew that they had found a director with National Lampoon sensibilities that could translate Animal House from page to screen.
Excited, "We told Tanen about Landis," Mount says.  Tanen's immediate reaction was, "Fuck that guy."
Not dissuaded by his boss's "fuck that guy" decree, Mount and Daniel eventually nagged Tanen into meeting with Landis and watching portions of Kentucky Fried Movie.  After the meeting, Tanen relented that he may have been too harsh about Landis and agreed to hire him with the strict caveat that Landis must deliver the movie for less than $2,500,000.
"It was some number that Ned pulled out of the air," Mount sighs of the $2,500,000, "which was status quo at the time."
#  #  #  #  #
Landis came on board and immediately suggested some changes to the script.  "It had a sense of anarchy and real wit and it was brilliantly funny," Landis says of the script, "but it was kind of hateful."
This didn't come as much of a surprise to anyone given that such humor was precisely the kind of hard-edged thing the Lampoon was known for (the magazine once published a parody of the traditional, syrupy American baby book for Vietnamese parents during the Vietnam War — featuring sections for "first X-Ray," "first funeral" and the like).
Overall, the consensus on the matter was that the film was shockingly harsh.  Too East Coast.  Too conservative.  Both the Deltas and the Omegas were pigs.  There was no one to root for.
"My major contribution was to say that you had to have good guys and bad guys," Landis says, "You had to make the conflict much simpler.  Us against them. You needed a good guy fraternity."
He also eliminated all scenes that involved projectile vomiting onto campfires.  And true to form, "Not all of this," Ramis recalls, "was met with great excitement by the screenwriting team."
Approaching the project, Landis had another movie in mind that he had briefly been considered for.  The film was called The Big Bus and it had a decent script and a great concept.  It was essentially a parody of disaster films set on a bus.  It was Airplane! before its time.
Just 24-years old at the time, Landis only had the low budget film Schlock under his belt.  Then studio executive Barry Diller called Landis in for a meeting about the possibility of his directing The Big Bus.  Diller asked Landis about his thoughts on casting.  "As the bus driver I saw Rock Hudson," Landis says, "For the female lead I wanted Elizabeth Taylor."
Diller didn't get it.  He asked why you would cast straight actors in a comedy.  He wanted comedians.  In other words, the belief was that you needed comedians to make a comedy.
"I wanted to use serious actors," Landis says, "I wanted people to believe the parts."
With his anti-establishment ideas on this matter, Landis didn't get The Big Bus job.  In a strange twist of fate, the project ultimately ended with the aforementioned director Jim Frawley at the helm.  Distinctly non-straight man Joe Bologna was cast in the lead.  The film was a gigantic failure.
Landis refused to give up on his idea of straight actors in comedy and Kentucky Fried Movie had succeeded based, in part, on getting straight actors to do outlandish things.  Landis wanted to apply the same principle to Animal House.  However, Tanen had other ideas.  He wanted movie stars and comedians, much like Diller had.  Landis stood his ground and continued to hold out for character actors and unknowns.
"They wanted Dom DeLuise to play the [Mafia-connected] mayor," says Landis.  "I love Dom DeLuise.  I just didn't want him for the part."
Rather than DeLuise, Landis hired a character actor named Cesare DeNova who had been in other dramatic films like Cleopatra and Mean Streets, where he had even played the role of a Mafia don.
As the evil Dean Wormer, Landis wanted Jack Webb, the deadpan, crew cut, crime-fighting star of TV's Dragnet.  Over a booze-soaked lunch, however, Webb confided to Landis that he couldn't understand why anyone would want him for a comedy.
After Webb turned down the opportunity to play Wormer, Landis turned his sights onto veteran character actor and film heavy, John Vernon.  Landis was inspired to contact Vernon after he'd seen the actor perform in Clint Eastwood's The Outlaw Jesse Wales.  At one point in the film, Vernon delivers the unforgettable line, "Don't piss down my leg and tell me it's raining."
"I saw that and thought, 'Dean Wormer!'" Landis exclaims.
For the Dean's bored lush of a wife, Landis wanted to really go straight and suggested the lavender-clad former starlet and leading lady Kim Novak.  Tanen and other Universal execs thought Landis was insane.
Instead he cast Verna Bloom (After Hours, The Last Temptation of Christ) a gifted stage actress who had made her film debut in Haskell Wexler's 1969 independent film classic, Medium Cool.
As casting continued, executives at Universal began to fear that the film lacked anyone with movie star credentials.   Belushi himself was only considered a supporting ensemble actor at the time and, consequently, the prevailing opinion was that he couldn't carry a film at the box office.  Tanen and Reitman desperately wanted Landis to cast Chevy Chase as Otter (the charming Omega lady-killer), a role that had been written with him in mind.  Landis hated the idea.  "The role [of Otter] was so close to Chevy," Landis says, "It would have thrown off the balance of the film."
The decision not to cast Chase was made for Landis when Chase chose to star opposite Goldie Hawn in Foul Play rather than appear in Animal House.  With Chase out of the picture the role went to Tim Matheson, a former child actor whose most recent role had been on The Quest, a short-lived TV series in which he co-starred opposite Kurt Russell.
In order to appease Universal's growing fear that there were no stars in the film, Landis and Mount called on Donald Sutherland.  Landis knew Sutherland because he'd appeared in Kentucky Fried Movie.  Sutherland agreed to appear in the film as a favor to both Landis and Mount, taking the role of Jennings, the English professor who turns Katie, Boon and Pinto on to pot.  He ended up only spending two days on film's Eugene, Oregon set, commuting from San Francisco where he was shooting The Invasion of the Body Snatchers.
Sutherland's decision to commit to the project was crucial.  No longer as concerned about the star quotient of Animal House, the project proceeded. Landis says summarily, "It was Donald Sutherland who essentially got the movie made."
The rest of the leads went to several unknowns and stage actors, just as Landis had hoped.  Karen Allen (Raiders of the Lost Ark) was cast as Katie; Peter Reigert (Local Hero and The Mask) landed the role of Otter's sidekick Boon; Tom Hulce (Amadeus) became Pinto; Kevin Bacon got his first film part as Chip Diller, a smarmy Omega pledge; and a pizza deliveryman / struggling actor named Stephen Furst (St. Elsewhere) won the role of Flounder.
In a now classic Hollywood story, prior to being cast, Furst was supporting himself and promoting his career by delivering boxes of pizza… with his headshot in them.  Unbelievably, that's how he was discovered by the production.  Matty Simmons opened the box of pizza he'd ordered only to find the future Flounder smiling back up at him.
With the cast in place, Landis, Mount and Reitman set out to find a location.  However, as you might be able to surmise, when the script was sent to university and college administrators across the country, it met nothing but rejection.  No one wanted to let his campus be used to promote frat partying.
Concerned that they might not be able to find a place to film, the production was rescued when the dean of students at University of Oregon offered his campus to them.  The reason for the Oregon president's genuinely warm reception was that nearly a decade before he'd been the president of another school and rejected a producer's request to film The Graduate on his campus because he didn't like the script.   After The Graduate's resounding success, the president had decided that he was no expert on film and vowed never to turn down another such request.  So he didn't.
In preparation for the film, Landis brought the actors who would play the Deltas (Matheson, Riegert, Hulce, Furst, Bruce "D-Day" McGill and James "Hoover" Widdoes) up to Eugene a week and a half early to rehearse, get to know each other and bond like real fraternity brothers.  His efforts proved to be an unqualified success.  By the time that Kevin Bacon, Jim Daughton (who played Gregg Marmalarde) and Mark Metcalfe (who played Doug Neidermayer) arrived, the Deltas were a unit who screamed when their rivals entered the cafeteria, immediately calling them "dickheads", and started throwing food at them.
Another bonding experience for the on-screen Deltas came when Matheson, Reigert, McGill, Widdoes and Allen wound up at an Omega-like frat party on the Oregon campus and got their asses kicked by a real-live bunch of uptight, young Republican frat brothers.
Mercifully, Landis never was told about the fight, as he was saved by his first assistant director Cliff Coleman. A crusty, cowboy boot wearing, Sam Peckinpah veteran, it was Coleman who insisted that nobody tell the director a thing about the brawl and he also found the necessary medical care for the actors' bruises, chipped teeth and other wounds.
"He was gruff and big and we were kind of like the grizzled old Sarge and the Private," Landis says of Coleman, adding that he was glad he never heard about the fight, noting, "I would have freaked out."
The 32-day shoot in Eugene was decidedly low-budget.  Landis had no trailer or office on the set and wasn't able to see dailies for three weeks.   Landis' wife, costume designer Debra Nadoolman, purchased most of the authentic period costumes (circa 1961) at local thrift stores.  Nadoolman and Belushi's wife, Judy, made the togas for the famous party scene themselves.
Ultimately, the film was such a low priority for Universal that a crane was only available for two days of the Animal House shoot; the crane otherwise belonged to the studio's far more important Incredible Hulk television series.
"We were given the dregs because we were a silly movie under the radar," Landis says.
The director's years in film production, however, came in handy as far as getting around the problems that the project's lower status brought about.  Having worked nearly every film set job imaginable since he had dropped out of high school 11 years earlier, Landis knew exactly what could and couldn't be done.  Nowhere was this more evident than in shooting the film's courtroom scene.  Overwhelmingly long on the page, Reitman bet Landis that he couldn't complete the shoot in a single day.
"I started doing all of the tricks I knew," Landis says.  "I kept the camera in the same place and simply changed the people for reaction shots."
He won the bet.
Properly directing Belushi's Bluto was another matter that Landis needed to deal with effectively in order to pull off the film.
"We had to be careful with Bluto because he was the least realistic character," says Landis, "He's a cartoon.  He is appetite."
Landis told Belushi that he should play Bluto as a cross between Harpo Marx and Sesame Street's Cookie Monster.  Both characters possess voracious and rapacious appetites, but at heart are sweet.  If he didn't get the essential sweetness of the Bluto character into Belushi's performance, Landis would be left with a vulgar, primitive animal with no redeeming qualities.  Belushi understood the direction intuitively and delivered the film's most memorable performance, punctuated by the fact that he is only on screen for short bursts.  "Bluto has entrances and exits; nothing else," Landis says, "He's like a meteor flashing across the sky."
Kenney and Miller so enjoyed working on the project that they paid their own way to Eugene for the filming and took small roles in the film as Deltas named Hardbar (Miller) and Stork (Kenney).  Though they were just along for the ride at this point, their presence became essential when a classroom speech was needed to beef up Sutherland's role.  Kenney (in a seeming replay of his performance in Ramis' apartment) simply wrote it up while sitting on the set.
This moment was indicative of the manner in which much of the film's charm derived from the improvising of material that occurred on the set.  The Delta trip to the grocery store was also improvised as Landis began throwing food items at Furst as he followed Matheson through the store aisles.  Refusing to cut, Landis captured the dismayed Furst as he tried to catch each piece of food while not dropping anything.  The moment is one of the film's classic scenes.
#  #  #  #  #
When the film finally wrapped, Landis was completely spent.  He was suffering from walking pneumonia and immediately headed for Mexico to dry himself out.  "It was all a great adventure,' Landis says of the shoot, "And it rained every fucking day."
Back in LA, Universal executives (with the exception of Daniel and Mount) generally ignored the project and simply hoped that it had stayed on budget.
After his vacation, Landis returned to LA, where he again frightened Tanen by hiring the legendary Elmer Bernstein (The Great Escape and The Ten Commandments) to create a completely straight-faced score for the movie.  Using the same principle that guided his casting choices, he wanted a professional and serious score to make the film more believable and its satire more effective.
As Bernstein was crafting his score, Landis started showing the rough-cut of his film to Mount, Daniel and Tanen.  This was where some trouble began.  "Ned loved parts of the film and he hated parts of it," Mount states.
This came to a head after Tanen viewed the scene where several members of the Omega fraternity beat up Otter at a local motel.  After the scene ended, Tanen asked that the film be stopped and the lights turned on.  Tanen turned to look at Mount, Landis and Daniel who all sat in a dumbfounded silence.  "That's not funny,' Tanen said simply.
"It's not supposed to be funny," Landis replied after a moment.
"We're making comedies that aren't supposed to be funny.  Is that it?" Tanen questioned in disbelief and stormed out of the screening room.
Tanen's crazed behavior was omnipresent throughout the editing process.  During one screening he insisted that the Dexter Lake Club scene (in which Otter, Boon, Pinto and Flounder wind up in an all-black nightclub) be removed from the film, lest it cause African-American viewers to start riots in theaters that were showing the film.  It was only one of many such occurrences.
Mount and Daniel found that the best way to deal with the problem was to pay lip service to Tanen.  And for weeks, the two men promised Tanen that they'd see what they could do about extricating the scene.  With this weighing on their minds for so long, Mount and Daniel began to question whether or not Tanen may have had a point—-was it possible that the scene was offensive to African-Americans?—-so they decided to ask Richard Pryor to view the film and give his opinion on the matter.
Pryor and Mount watched the film alone in a screening room on the Universal lot.  After the film, Mount asked Pryor whether he considered the scene offensive.
"No, man," Pryor chuckled.  "It's just fucking funny.  And you know what else is funny?"
"No," Mount replied.
"White people," Pryor said.  "White people are funny."
The scene stayed in.
Animal House premiered at New York City's Astor Theater on July 26, 1978.  During an after-party at the Village Gate nightclub, Tanen and other Universal executives chased after Mount to express their fear that black patrons would be ripping out the seats when the movie was released to the general public.
#  #  #  #  #
Animal House is a film that was created in part to keep a valued employee from leaving a magazine.  Its source material was chanced upon in a moment of desperation and was crafted by three men who had never before written a screenplay.  The treatment for the film was rejected by nearly every studio in Hollywood.  It might never have been made into a film at all, had it not been discovered by a 23-year old assistant who pressed his volatile and partially insane boss to get the film into production.  It was directed by a high school dropout who had only two underground films to his credit and was it cast primarily with unknowns.  It is a film that the studio could have cared less about and its chances of becoming a hit were not unlike those of Springtime for Hitler.
Released in 1978, Animal House spent years as the highest grossing film comedy of all-time and was the seventh highest grossing film released during the 1970's, behind classics and box office giants like Star Wars, Jaws, The Exorcist and The Sting.  Today, it ranks 49th on Variety magazine's all-time list of adjusted box office champions.  Ghostbusters, Home Alone and Beverly Hills Cop are the only comedies with a higher adjusted gross income.
The film's influence, however, goes far beyond its box office receipts.  Animal House broke down the traditional boundaries of film comedy and dealt openly with sex, generational politics and race.  In addition, Landis set the tone for future film comedy by using a cast of serious actors, backed by a traditional soundtrack, to underscore the inherent comedy and to make the film believable.  It's a formula that has been copied so many times that now it is the traditional method of creating such a film.
Animal House's tone, style and structure have been copied time and again can be seen in many of the films of most successful comedic filmmakers of the last 25 years.
The cast and crew of Animal House also went on to have a major impact on the world of film.  Together and individually, Reitman, Ramis and Landis have produced, directed and written movies like Caddyshack, The Blues Brothers, Ghostbusters, Stripes, Analyze This, Groundhog Day, Trading Places and National Lampoon's Vacation.
Animal House catapulted Belushi into the national spotlight and kicked off a career that saw him become the most bankable male comedy star in the world until his 1982 death from a drug overdose.  Doug Kenney also died young, falling to his death from a Hawaiian cliff in 1980.
Perhaps the strangest developments regarding the cast are that Tim Matheson and Bruce McGill, both members of the subversive Delta House, are now routinely asked to play mainstream authority figures.  Matheson serves as Martin Sheen's vice president on The West Wing while McGill had recently made a career out of playing judges, professors and CEO's.
Kevin Bacon has become a movie star.  Karen Allen and Tom Hulce went on to successful careers as supporting players in Hollywood movies.
As of this writing, Peter Riegert is busy trying to put a film of his into pre-production.
Ned Tanen is now retired and lives in Santa Monica, apparently on the proper medication.
John Landis continues to produce and direct film projects.  He lives in Beverly Hills and can't understand why anyone would chose to live in a cold weather climate, like Chicago.
Chris Miller is a screenwriter and high school film teacher in Los Angeles.
Harold Ramis is an immensely successful film director and screenwriter.  He lives in the northern suburbs of Chicago
Based in part on the success of Animal House, Thom Mount became a Hollywood wonder boy.  For a time he ran Universal and was one of the youngest studio chiefs in Hollywood.  Legend has it that he was the model for the Tim Robbins' character in Robert Altman's The Player.  Today, he is an executive with RKO Pictures where he continues to argue that John Landis is "a national fucking treasure.